Engaging the public in local government decisions: Consult
How can the public engage in government decision making outside of public comment at open meetings?
If you're an elected (or appointed) official, have you ever wondered if there was a better way to engage the public in local government than having them observe and maybe give public comment at an open meeting? If you're a private citizen, have you ever wished you could be more involved in the government/decision making process?
This is the third article in a series of Michigan State University Extension articles that examine the public's participation in local government. The series began by discussing public comment periods at open meetings, which you can find here. Other articles introduced the International Association of Public Participation's Public Participation Spectrum and discussed the most basic step: Inform. Each step on the spectrum can be viewed as a commitment a level of public participation. Each level/step includes a goal for public participation and a promise that a governmental body is making to the public regarding the level of participation that may contribute to the decisions that that will be made.
This article will take a closer look at the second step on the Public Participation Spectrum: Consult.
In Consult, the goal is to obtain public feedback on analysis, alternatives and/or a decision. The promise made to the public is to keep them informed, to listen to them, acknowledge all concerns and provide feedback on how public input influenced the decision.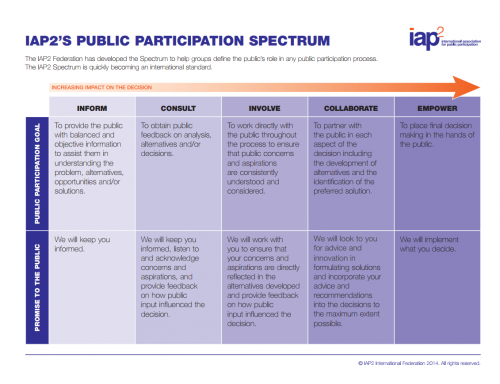 Consulting the public on a decision can be done in a variety of ways. The most common ways include public comment periods, focus groups, surveys or public meetings. Each of these, if well designed, can provide valuable public feedback about a potential decision. As with any public engagement strategy, one of the keys is letting the public know how their input will influence a decision and then following up after the decision is made to let them know how their feedback was used.
During the consult step, there is typically a set point in the process at which input is sought, rather than ongoing opportunities for engagement. For example, many State or Federal Government departmental decisions require a public comment period in which the public can give feedback on a proposed decision within a specific timeframe, such as 30 or 60 days.
Public consult can be useful in situations where public opinion or reaction to a potential decision is desired, but where the decision-making process may follow a strict timeline or otherwise restrict the ability to engage the public more completely in the process, as we will see in other levels on the spectrum.
The next article in this series will look at the next level on the public participation spectrum: Involve.
Those in Michigan State University Extension that focus on Government and Public Policy provide various training programs, which are available to be presented in your county. Contact your local Government and Public Policy educator for more information.
This article was published by Michigan State University Extension. For more information, visit http://www.msue.msu.edu. To have a digest of information delivered straight to your email inbox, visit http://www.msue.msu.edu/newsletters. To contact an expert in your area, visit http://expert.msue.msu.edu, or call 888-MSUE4MI (888-678-3464).
Additional articles in this series: