Enterprise budgets for hops now available
Considering growing hops? Ensure your business model is sustainable.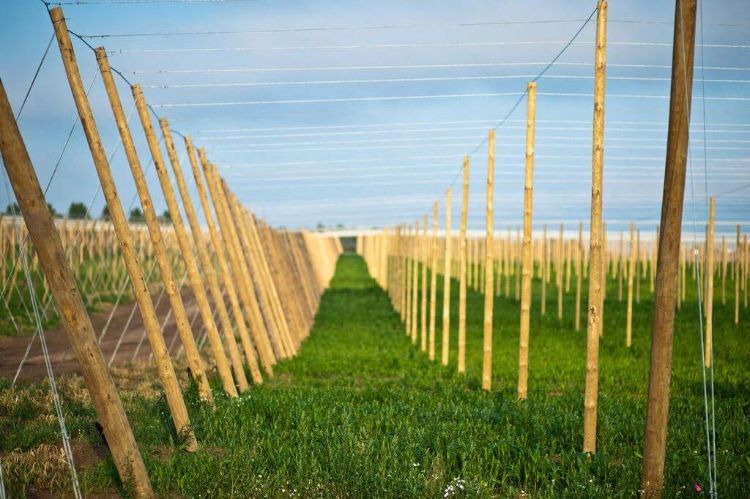 As the craft beer movement continues to grow at a steady pace, many agricultural producers have inquired about the feasibility of supplying raw materials for this sector. The Brewers Association contends that craft beer could reach 20 percent market share by volume by 2020. Since the craft beer sector uses a relatively greater amount of raw materials than the non-craft sector, the demand for hops and barley is projected to increase as well. Michigan State University Extension and others have developed bulletins for hops and malting barley production in an attempt to provide prospective producers with as much information as possible.
As the 2014 MSU Extension bulletin E3236, "Estimated Cost of Producing Hops in Michigan" highlights, the necessary, upfront capital for establishing a hop farm can be daunting. Building upon this effort and with input from multiple hop producers, MSU Extension and the University of Vermont recently released three comprehensive "Hop Enterprise Budgets" that detail the costs and returns of producing hops. The spreadsheets are differentiated by scale of production: five, 10 or 20 acres. Each spreadsheet contains the following tabs:
Instructions and Assumptions
Cash Flow-growing only
Cash Flow-grow + harvest + dry + bale
App. A- Build out Infrastructure
App. B- Buildout Labor
App. C- Equipment
App. D- Loan Detail
App. E- Insurance Detail
App. F- Unanticipated Expenses.
The editable spreadsheets allow producers to enter or delete farm-specific information to develop a model that is applicable to their specific operation. For example, "App. C-Equipment" includes the price of a tractor ($30,000; cell D6). If a producer does not need to purchase a tractor, they can simply clear the cell and the bottom line will automatically adjust. Producers can also change the values for pounds per acre, growing acreage and dollar per pound to determine breakeven points and potential profit margins. The spreadsheets can be downloaded from the USA Hops website. Hopefully this will be a useful tool for those interested in producing hops for the craft beer sector.
For more information on hops, please mark your calendars for the 2017 Great Lakes Hop & Barley Conference. Registration details will be announced very soon. As always, those interested in growing hops can visit the Michigan State University Extension Hop page for detailed information.