Enviroweather adds an additional station at North Central Michigan College
The new station will serve commercial and community agriculture and provide hands-on education in Emmett County.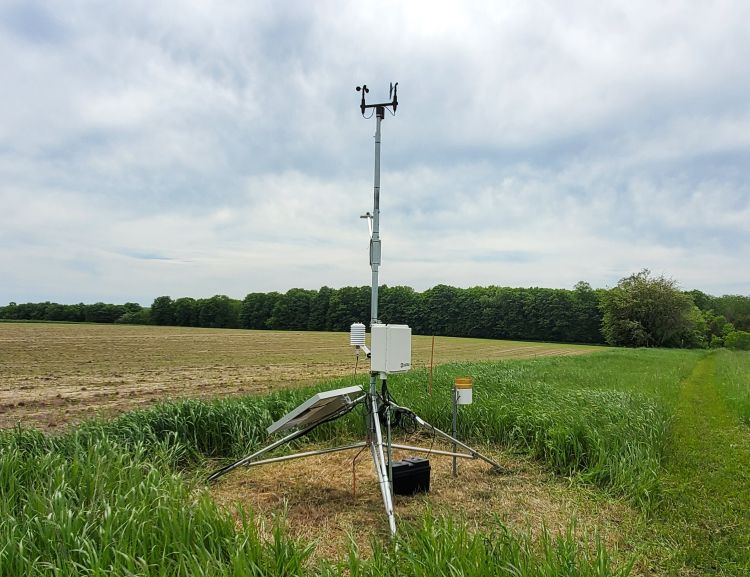 Michigan State University Enviroweather is pleased to announce the addition of a new site to our network of remote weather stations in Michigan and Wisconsin. The new station is located just east of the main campus of North Central Michigan College (NCMC) in Petoskey, Michigan, and situated alongside an established row crop planting. This station will provide weather data that can be used to predict crop development and time scouting or management efforts in crops that are grown in this region. In addition, this station will provide educational opportunities for students at NCMC as well as anyone in the community that is interested in weather and agriculture.
The Petoskey (NCMC) station was installed on June 9, 2020, and connected to the Enviroweather network on July 1, 2020, when it began officially collecting data. This station records air and soil temperatures, relative humidity, leaf wetness, solar radiation, wind speed and wind direction, and volumetric soil moisture. These data are available to view on the current Enviroweather website, and can be used to run crop, pest management and general weather models on Enviroweather.
Note that because this is a new station that has just started collecting and storing data, there is not enough information to run some of Enviroweather's crop, pest and weather models as they were designed. Typically, these models use several weeks of weather data to generate results, and because that data from the early part of the growing season is "missing," relying on model results for this station to inform decision making may be risky. Users are advised to also check out the other established station nearby in Petoskey.
NCMC President David Finley had this to say about the new station, "North Central Michigan College is pleased to partner with Michigan State University Extension to host an Enviroweather station adjacent to our 195-acre natural area. This station will provide access to state-of-the-art weather instrumentation and information for our students, bolstering their critical thinking skills. For all those accessing the Enviroweather website and database, including K-12 learners in the region, it will provide entry to the unique weather conditions and climatology of the Little Traverse Bay Region. It's a win-win for all involved in this initiative!"
Many thanks and much appreciation go to MSU Extension for providing funding for this project and to the administration at NCMC for hosting this station and providing an appropriate site to help make this new station possible. The Enviroweather program sincerely appreciates the continuing support of the Michigan agricultural commodity groups and all our users.