Expand your business at the water's edge: Become a Michigan Certified Natural Shoreline Professional
Registration now open for natural shoreline certification training program located in Traverse City, Mich. In February 2014.
Are you looking for ways to expand business services at the water's edge? The Michigan Natural Shoreline Partnership (MNSP) is pleased to announce that registration is open for its 2014 Certified Natural Shoreline Professional training course. As a founding member of the MNSP, Michigan State University Extension provides educational leadership for this program.
Designed for professional marine and landscape contractors working on inland lakes, Certified Natural Shoreline Professional (CNSP) equips you with the knowledge needed to expand your business to better serve lakefront property owners looking for alternatives to sea walls, rock and turf to the water's edge. Through classroom and field sessions you will learn:
The relationship between lakes and their shorelines
Characteristics of shoreline soils, plants and ecosystems (including native plant communities)
Michigan water law and how to complete a successful permit application
How to assess a shoreline property for problems and potential
Methods, techniques and designs for natural shoreline landscaping and bioengineered (plant-based) erosion control
Shoreline development on inland lakes is often accompanied by the removal of plants, shrubs and trees (vegetative tiers) to create lawns, foot paths, storage areas and lake views. Shoreline and near-shore wetlands may also be lost to these construction activities. Loss of native vegetation can result in the need for shoreline hardening to control erosion from waves and ice, usually in the form of vertical sea wall or rock rip rap. These practices can destroy shoreline and near shore habitat for many kinds of fish, birds and other animals.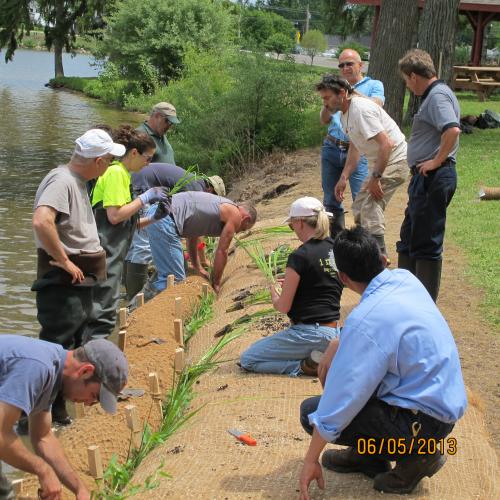 Photo: Trainees install a natural shoreline during the field component of Certified Natural Shoreline Professional.
The Michigan Department of Environmental Quality encourages the use of natural shoreline techniques for shoreline protection. Natural shoreline landscaping and erosion control seek to protect or enhance upland, near shore and aquatic habitats. CNSP trains participants to approach a shoreline project with these features in mind and develop a design that balances lake access, views and aesthetics with shoreline stabilization and habitat restoration.
Certification is through the MNSP. To receive certification, one must: 1) attend all three days of classroom instruction, 2) participate in a one-day, hands-on field construction project (located near Petoskey, Mich.) and 3) pass the certification exam. Continuing education credits are required to maintain certification.
Registration fee is $375.00 and includes all four days of classroom and field instruction, certification exam, lunches and training manual. Register soon as seating is limited. For a video about the program, information on the benefits of becoming a CNSP and a link to the registration form click here. If you have questions about this training, please contact Jane Herbert at jherbert@anr.msu.edu or 269-383-8852.