Exploring livestock disease and its impact on human health
As an employee of the Malawian government, BHEARD scholar Elizabeth Chimera wants to study livestock health.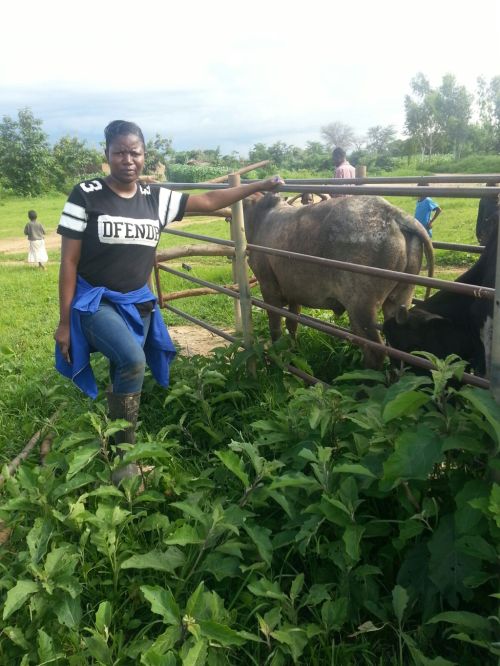 Livestock plays an important role in Malawi's economy. As an employee of the Malawian government, BHEARD scholar Elizabeth Chimera wants to study livestock health. Specifically, she hopes to boost awareness of bovine trypanosomosis, a disease that results in poor productivity and mortality for cattle – and might have implications for human health.
The Borlaug Higher Education for Agricultural Research and Development (BHEARD) program, supported by the U.S. Agency for International Development, develops agricultural scientists and increases agricultural research capacity in Feed the Future partner countries, including Malawi. The program is named after Dr. Norman Borlaug, an American biologist, humanitarian and Nobel laureate who has been called "the father of the Green Revolution."
BHEARD provides scholarships to students seeking master's and doctorate degrees at U.S. and regional universities, and provides funding for agricultural research in their home countries. The program also develops, tests and evaluates new models of small-scale institutional capacity development in partner countries.
Chimera joined the BHEARD program in January 2015, earning a scholarship to acquire a master's of science degree. When she received the news, she was "filled with great joy." It came at a good time for her. After earning a bachelor's degree in Veterinary Medicine from the University of Zambia, she had just been employed by the Malawi Ministry of Agriculture, Irrigation and Water Development as an animal health and livestock development officer. She knew that the chance to earn a master's degree would give her even more skills in the domain of disease surveillance and early detection.
"My parents were over the moon when I got this scholarship," Chimera said. "To them, it meant success and advancement of knowledge and skill for me. I am the first-born daughter in a family of three children. I stand as a role model for my siblings, and excelling in my education is a fulfilment for my parents."
Her BHEARD scholarship allowed her to study at the University of Pretoria in South Africa, pursuing a master's of science in Veterinary Epidemiology. Her research topic was spatial distribution of bovine trypanosomiasis in Malawi. Little is known about the current status of bovine trypanosomiasis in the country (the last study was conducted in 1999), and there's a need for new information – especially since the disease could impact human health. Chimera's goal was to establish which trypanosome species were affecting Malawian cattle, and to determine if infected cattle posed a risk to human health.
Chimera's research confirmed the presence of Trypanosoma congolense and Trypanosoma brucei brucei, which are cattle-infective blood parasites, and also implicated cattle as reservoirs of Trypanosoma brucei rhodesiense, the human-infective blood parasite. However, there was not enough evidence pointing to cattle as a possible risk to human health.
Chimera hopes her work will one day contribute to the development of prevention and control strategies. She believes that diseases like bovine trypanosomiasis can only be fought by a united effort among medical doctors, veterinarians, epidemiologists and environmentalists. During recent outbreaks of Ebola and Avian influenza, she said, it became clear that no single discipline could prevent, control or eradicate these troubling diseases on its own. Only a joint task force can find the best solutions.
Chimera's BHEARD scholarship equipped her with knowledge and resources beyond those she gained studying veterinary medicine. She said her communication and presentation skills have improved tremendously. She's also acquired skills in statistical software and can plot risk maps and perform spatial analysis using Arc GIS software – all important tools in data analysis.
She said a particularly memorable event was a BHEARD conference in Kenya, where she learned more about subjects like etiquette, public speaking, understanding personalities and pitching ideas. She enjoyed interacting with students from other countries, sharing educational experiences and learning more about different cultural backgrounds.
After earning her master's degree at the University of Pretoria, Chimera returned to Malawi in June 2017.
"I know the paper I hold in my hands will take me to greater heights and take good care of my parents as they age, and influence the community around me," she said.