Extend the gardening season with—what, spray paint?
Colorful Allium can grace the garden even after they bloom with just a can of waterproof spray paint.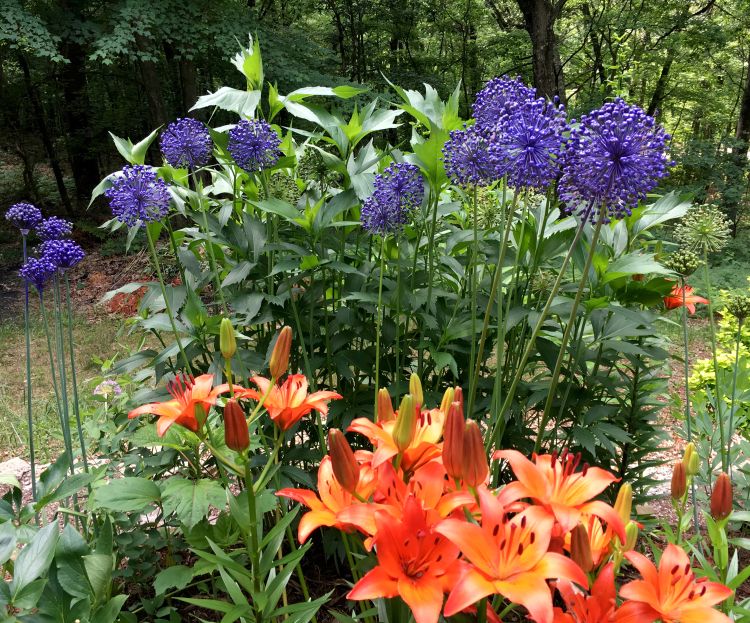 Painting seed heads of perennial plants is nothing new, but I thought I would never succumb to this idea. However, when a friend prompted me to try painting my favorite spring-blooming Allium their natural color (purple), I was all over it!
Armed with a can of waterproof paint called grape, I prepared the "drop cloth" for my paint job. Using a stiff, dinner-sized paper plate, I cut a channel through to the center, just wide enough to accommodate the Allium 'Mount Everest' stems. Earlier blooming Allium such as 'Purple Sensation' were too floppy for this experiment.
I slid the paper plate under the seed head, positioning it in the center and sprayed paint liberally. Working my way from the rear of the flowerbed to the front so as not to get paint all over myself, I transformed spent flowers that would have gone into the compost pile into "still blooming" specimens in the garden border. Two friends came over and exclaimed they had not seen that variety yet, not realizing the spoof!
Selecting the right Allium is, in part, the key to success. Allium gigantem is a consummate flopper. Michigan State University Extension suggests looking for stems that are rigid and thick—that will last at least another month or two in the garden once sprayed. Allium 'Mount Everest' and Allium 'Atropurpurem' are the perfect subjects if you want to try this. The larger Allium such as A. schubertii and A. christophii work too, but you will need a bigger plate.
Since the waterproof paint will last only as long as the stems are standing, I suspect the effect will endure another month or so. Either way, I could cut the stems and add them to a new floral arrangement with the same result.