Farmer Participation Crucial to BHEARD Scholar Study on Sustainable Yam Production
BHEARD Scholar Eric Owusu Danquah conducted a field study on increased and sustainable production of yams.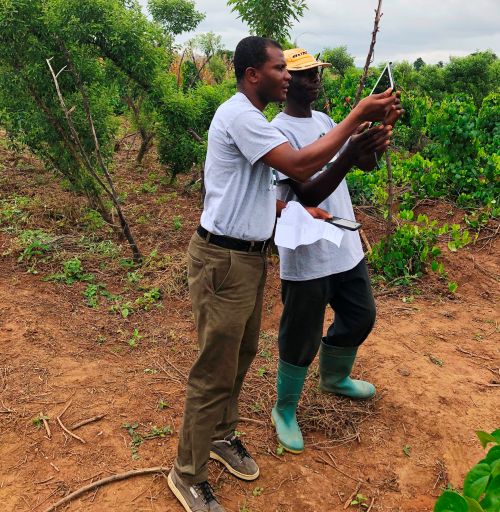 The yam is a staple tuber crop in Ghana and West Africa whose production in West Africa is associated with deforestation and land degradation. The food demands from an increasing population coupled with declining soil fertility and shortage of plant support stakes has resulted in farmers clearing new fields in search of fertile land and stakes. But BHEARD Scholar Eric Owusu Danquah is studying a potential solution that would balance the need for increased yam production with sustainable farming.
The Borlaug Higher Education for Agricultural Research and Development (BHEARD) program, supported by the U.S. Agency for International Development (USAID), develops agricultural scientists and increases agricultural research capacity in Feed the Future partner countries, including Bangladesh. The program is named after Dr. Norman Borlaug, an American biologist, humanitarian and Nobel laureate who has been called "the father of the Green Revolution."
BHEARD gives scholarships to students seeking master's and doctorate degrees at U.S. and regional universities, and provides funding for agricultural research in their home countries. The program also develops, tests and evaluates new models of small-scale institutional capacity development.
Owusu Danquah, a third year BHEARD PhD student at the Michigan State University and a Research Scientist with the CSIR – Crops Research Institute in Kumasi, Ghana is currently studying the proposed adoption of integrated soil nutrient management with leguminous shrub - pigeon pea (Cajanus cajan) for sustainable production using farmer participatory approach. The study is entitled "Evaluation of pigeonpea-yam cropping systems for improved yam productivity and smallholder farmers income and livelihood".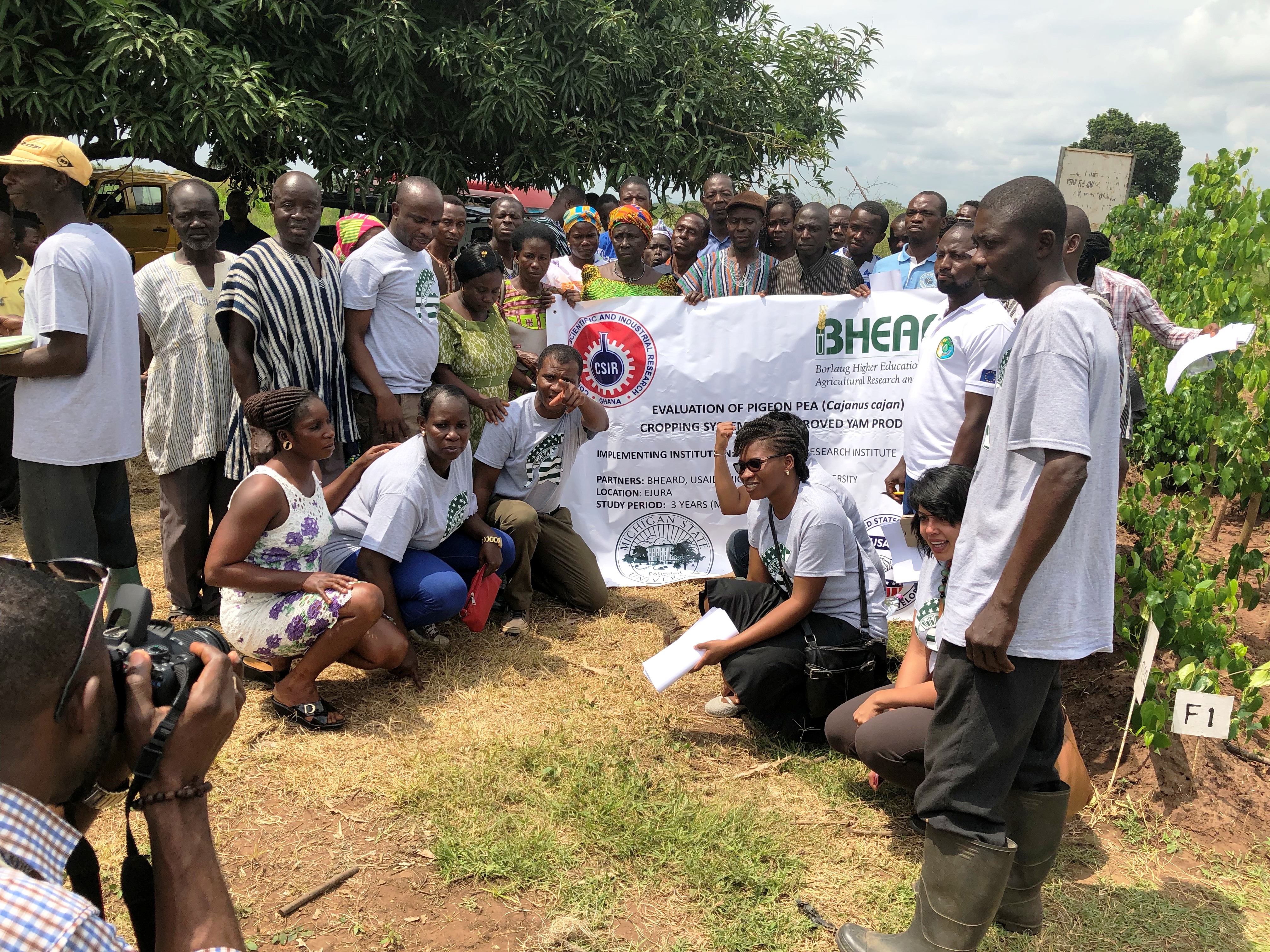 Three options of pigeonpea-yam cropping systems are compared. The first option had pigeonpea planted in alleys and yams planted in-between. Pigeonpea biomass are pruned and incorporated into the soil whiles the stems of pigeonpea are used as live-stakes. An option of planting pigeonpea as border zone where biomass and stakes of pigeonpea are cut and incorporated into the soil and used as stakes for the yams respectively. These options are compared with a third conventional option where stakes are bought and used on the field with no biomass incorporated.
The study is on-going at Kumasi and Ejura and at the vegetative stage of the yam growth. A total of 120 yam farmers, broadcast media, and other stakeholders from Ejura-Sekyeredumasi, Atebubu-Amantin and Techiman districts recently participated at the CSIR – Crops Research Station field at Ejura for vegetative evaluation. The aim was to foster farmer participatory and discussions on the designing of appropriate pigeonpea-yam cropping systems to address yam production constraints. A team of experts from CSIR; Dr. Patricia Acheampong, Dr. Yeaboah, Dr. Princess Hayford (BHEARD Alumni) including Owusu Danquah's research advisors Dr. Weebadde and Dr. Dissanayeke (from Michigan State University) were present to answer all questions and encourage the farmers to adopt the new method.