Farmers markets still going strong through fall 2013
Even though school has started and Halloween candy is visible in stores, farmers markets and farm stands are still going strong. Many are open through the end of October and others are even later. They are great locations to get fall produce.
When the school year starts following Labor Day, many people in Michigan talk about the summer being over and the beginning of fall. That may just be a mental shift but much of the summer's produce is still available at farm stands and farmers markets across the state. The bulk of Michigan's fresh produce harvest is arriving for sale right now – that includes the remainder of summer produce and the start of fall produce at market!
Right now, farmers are still harvesting summer squashes, tomatoes, eggplant, sweet corn and even cucumbers. The growing season's cooler temperatures have resulted in extended seasons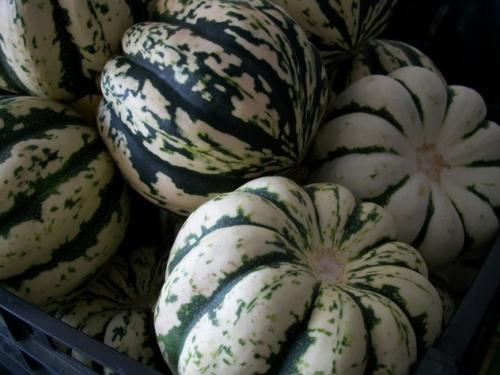 and longer harvest times for some summer items. This means that home canners and preservers have much more time to save the summer harvest at home. Michigan State University Extension has resources for food preservation including fact sheets from Michigan Fresh on canning and freezing fresh produce. There are also MSU Extension classes on food preservation throughout the summer and fall.
Farmers also stagger their planting to maintain supplies at market all summer long – that is why there is still delicious sweet corn coming from farmers through September and into October. At the same time, fall produce is starting to be harvested and appear at markets. This includes fall squash varieties like butternut, buttercup, delicata or sweet potato squash, and acorn. This also includes fall and winter greens like collards, turnip greens and mustard greens, as well as storage or root cellar items like potatoes and onions.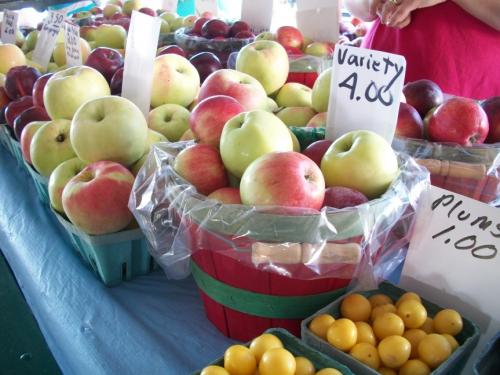 In addition to fall vegetables, fall fruits are available. Compared to a low in 2012, the 2013 apple harvest is expected to be about 30-million bushels. In 2012, only 3 million bushels of apples were harvested in Michigan – a very small harvest for the United States third largest apple producing state. Many apple varieties will be ripening in Michigan until October or early November. Many orchards, cider mills and pumpkin patches invite families and school groups to visit. This can be a great opportunity to engage youth in learning about agriculture and food systems. For younger visitors, it is an opportunity to learn about how fruit grows and taste some apple cider. For upper elementary kids it is a chance to compare the taste of different apple varieties – try buying different varieties and having a tasting. Ask kids to describe the flavor and make a note of the various textures of these apples. This is a good way to introduce the concept that even within one kind of item, like apples, different varieties impart different tastes. In the future, you can try tastings with other kinds of vegetables and fruits.
Harvest the best of summer and fall for yourself and your family now. You can find a farmers market near you through the Michigan Farmers Market Association. Preserve the food along with the memories of a great summer and fruitful fall in Michigan.
Photos taken by Julia Darnton at the Downtown Saginaw Farmers' Market