FCWG Forest Climate Lab: Wildfire + Climate
In this webinar, speakers John Bailey, Mike Zupko, Bill Tripp, and Heidi Huber-Stearns present on Wildfire + Climate.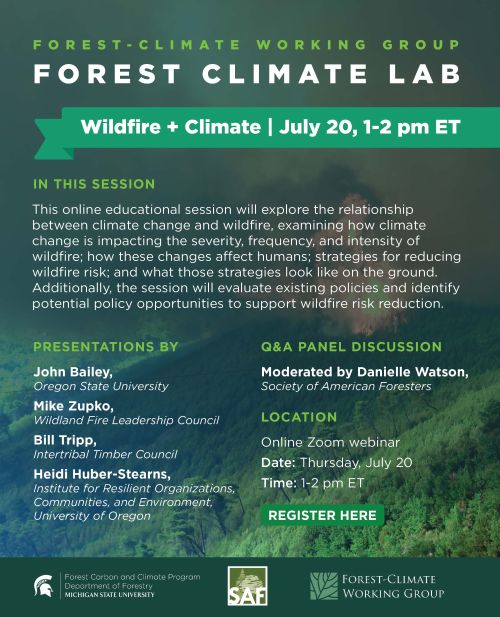 Title
Wildfire + Climate
Description
The session, titled "Wildfire + Climate", will explore the relationship between climate change and wildfire, examining how climate change is impacting the severity, frequency, and intensity of wildfire; how these changes affect humans; strategies for reducing wildfire risk; and what those strategies look like on the ground. Additionally, the session will evaluate existing policies and identify potential policy opportunities to support wildfire risk reduction.
Speakers
John Bailey, Oregon State University
Mike Zupko, Wildland Fire Leadership Council
Bill Tripp, Intertribal Timber Council
Heidi Huber-Stearns, Institute for Resilient Organizations, Communities, and Environment, University of Oregon, University of Michigan School for Environment and Sustainability
Moderator:
Danielle Watson, Society of American Foresters
Supplementary Materials
Recording