FDA suggests two additional food label changes
Proposed changes to the Nutrition Facts label aim to support nutrition knowledge and behavior.
Do you know how much added sugar you typically consume each day? If the latest proposed rules by the Food and Drug Administration (FDA) go into place, answering that question will likely become much easier.
What does the proposed rule include?
According to FDA.gov, the supplemental proposed rule would include the following two changes:
1. Require the addition of the percent daily value (%DV) for added sugars.
The percent daily value indicates how much a nutrient in a serving of food contributes to a daily diet and would help consumers make informed choices for themselves and their families. Percent daily values are based on a 2,000 calorie daily diet for healthy adults. The percent daily value would be based on the recommendation that the daily intake of calories from added sugars not exceed 10 percent of total calories, or no more than 200 calories. Based on these recommendations, a daily value of added sugar would be limited to approximately 12 teaspoons of added sugar.
2.Change the current footnote on the Nutrition Facts label.
The proposed statement on the label would be shorter than the current footnote to allow for more space on the, stating: *The percent daily value (%DV) tells you how much a nutrient in a serving of food contributes to a daily diet. 2,000 calories a day is used for general nutrition advice.
How would the proposed changed look?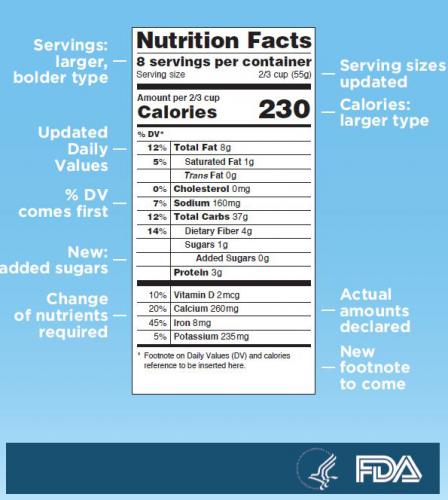 In addition to the noted changes above, the label would also include the percent daily value of sugar.
Why is the FDA suggesting this change to the food label?
The two added changes are a part of a wider effort to revise and support better understanding of the nutrition information displayed on the label. By modifying the label, the FDA anticipates Americans will find it easier to track how much added sugars are consumed in foods and beverages. "The FDA has a responsibility to give consumers the information they need to make informed dietary decisions for themselves and their families," said Susan Mayne, director of the FDA's Center for Food Safety and Applied Nutrition.
For more information on sugar in food and beverages, read related Michigan State University Extension articles:
FDA changes to nutrition facts label coming soon
Sugar-sweetened beverages and their role in chronic health conditions