Fireworks and wildfire: a flame to the tinder
Legal consumer fireworks are the reason for thousands of wildfires annually. A little caution and following a few simple safety steps can prevent fires.
In Michigan, wildfires and forest fires are always a concern. With the coming Independence Day Holiday, fireworks will be used across the state. According to the National Fire Protection Association (NFPA), in the U.S., Independence Day has more fires reported than on any other day, where fireworks account for more than one third of those fires. Additionally, NFPA reports that fireworks are also the cause of a high number of injuries as well. Of the 17,800 fires across the nation on July 4, 2011, 16,300 were outside grass and other fires caused by fireworks.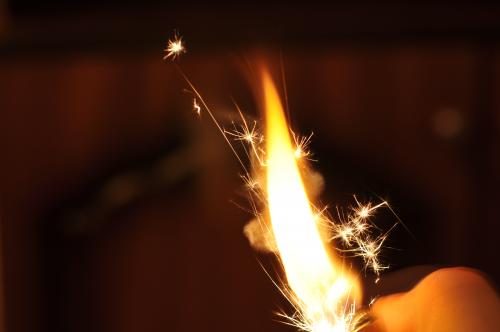 Many areas of the nation have banned legal fireworks and fire work displays for July 4th this year due to drought conditions in the south and southwest. In Michigan, drought is no so much a problem this year but fireworks still pose a threat to grassy and wooded areas. This is especially true in areas that were harder hit by recent storms where there is still a lot of brush down and where dead woody debris is present.
Last year, Michigan Department of Natural Resources had already responded to over 339 fires burning over 23,000 acres by the end of June, including the Duck Lake fire in the Upper Peninsula. Handling fireworks for personal safety as outlined in this Michigan State University Extension article, is only half of the answer. The other half is handling fireworks to prevent fires as well. Following these simple steps can help to prevent wildfires from fireworks:
When improperly used, fireworks that explode or fly into the air are the cause of many wildfires each year.
Fireworks will easily ignite grass or wooded areas and should be used only in areas free of vegetation.
Using fireworks on public property is prohibited without authorization.
Putting used sparklers and spent fireworks into a bucket of water ensures that they are completely out.
Avoid dropping sparkler wires into wooden garden mulch. Sparklers burn at 1200 degrees Fahrenheit.
Be courteous and obey local ordinances for fireworks and noise.
When camping keep campfires small and do not leave them unattended. Period!
Be certain all fires and barbeques are completely extinguished. Stir water into the embers turning unburned pieces of wood over to wet the underside.
This year the number of wildfires are down, we can all work together to keep it that way by following simple safety rules this Fourth of July Holiday. For more tips about preventing wildfires in Michigan you can visit the Michigan Firewise website or DNR's website. Michigan State University Extension educators working across Michigan provide Wildfire and Firewise educational programming and assistance. For more information, you can contact an educator through MSU Extension's "Find an Expert" search tool using the keywords "wildfire" or "firewise."