'Fisheries' magazine focuses on Great Lakes charter fishing industry
Operating a charter fishing business is no way to get rich quick, but captains love what they do.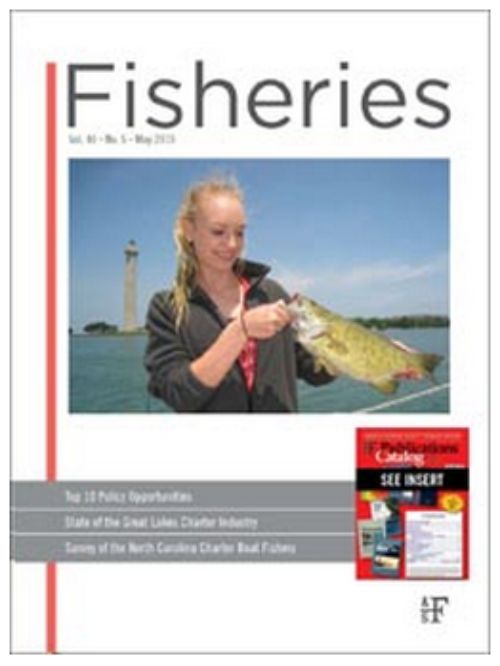 The May issue of Fisheries magazine includes an article on the status of the Great Lakes charter fishing industry. This new research paper builds on previous publication that described trends from 1973 to 2002. Researchers and extension educators with Ohio Sea Grant, The Ohio State University Extension, Michigan Sea Grant, and Michigan State University Extension authored the article based on surveys conducted after the 2002 and 2011 fishing seasons.
The American Fisheries Society (AFS) is an organization of professionals and students in the fields of fisheries management and other aquatic sciences. Over 9,000 members of AFS receive Fisheries magazine each month. This publication highlights topics of interest to an international audience of professionals in addition to providing a forum for thoughts on the future of fisheries, aquatic ecosystems, and the industries they support.
Profile of businesses
In 2011, 1,904 charter captains operated on the American side of the Great Lakes. Of these, 208 were freelance captains who did not operate their own business. Only 11 percent of captains relied on their charter fishing business as a primary source of income, and the average business reported a net cash flow of only $4,177 in 2011. When considering total economic cost (which includes vessel depreciation and opportunity cost of alternate investments), the net return to operator was -$3,916.
In other words, although some charter captains are able to rely on their business as a primary source of income the average captain is losing money. This has not changed since the last survey in 2002, and neither have motivations for being in the charter business. Captains reported that a desire to help people enjoy fishing and high level of job satisfaction were more important motivators than income.
Types of trips
Half-day and full-day trips are offered by Great Lakes charter businesses, and, depending on the location, a variety of fish species are targeted. Salmon and trout continue to be the most popular, with those trips accounting for 60 percent of charter revenues across the Great Lakes.
Walleye trips are also quite popular, accounting for 29.5 percent of Great Lakes charter revenue in 2011. Walleye are the primary target on Lake Erie, and also in Lake Huron's Saginaw Bay.
Plans for the future
Survey results from 2002 and 2011 were remarkably similar regarding five-year plans for charter businesses. Over half of captains expected to increase the number of trips taken each year, and more than 40 percent planned to increase their fees. Roughly one quarter of captains were not planning to make major changes and one out of five planned to quit the business.
Captains were also asked about their top concerns. Aquatic nuisance species and the cost of fuel were at the top of the list, with the economy, fisheries management decisions, and dwindling forage fish populations close behind. Some captains provided written comments in addition to rating a list of potential concerns, and 12 percent of written comments expressed a worry that Asian carp could decimate Great Lakes fisheries.
Although there is little that a charter captain can do to influence gas prices or the national economy, the industry has been active in working with fisheries managers and policymakers to ensure sustainable fisheries for the future.