Flint, Michigan area urban agriculture report – July 21, 2016
Growers are continuing to irrigate crops and hoping for rain to fall this weekend in the Flint area.
Weather
According to the Michigan State University Flint Enviro-weather station, temperatures for the past week ranged from a low of 55.1 degrees Fahrenheit to a high of 91.3 F high. We are at 1,514 growing degree days (GDD) base 50, which continues to be several days to a week ahead of the five-year averages. The Flint, Michigan, area has received 0.25 inch of rain in the past week, and the rainfall deficits continue to grow at this point in the growing season. With the hot, dry weather we are experiencing, growers are continuing to irrigate their crops and urgently need rain for their non-irrigated field crops. There is hope for rain tomorrow, July 22, and Sunday, July 24, with the extreme heat spell we are experiencing.
Crop reports
According to research done in the MSU hoophouses located at the Student Organic Farm and educator observations from the field, many crops are being harvested due to season extension technology as well as field production at this time of year. In area hoophouses and fields, pest loads are low, likely due to the heat. However, downy mildew has been confirmed in cucumbers in St. Clair, Bay and Tuscola counties to date. Thankfully, it is spreading more slowly than the last two years because of the dry weather. The one pest exception is flea beetles, which are prevalent on cole crops and members of the spinach family, like Swiss chard.
Going to area farmer's markets now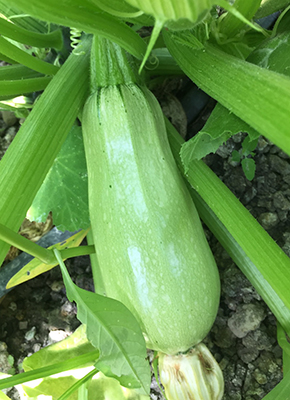 According to a Michigan State University Extension food systems educator, area growers are harvesting and packing their Community Supported Agriculture (CSA) share distributions this week as well as for fresh market sales. Tomatoes are ripe and available from area hoophouses, with heirloom and cherry tomatoes in good numbers at great quality. Peppers and cucumbers are available in good numbers and squash, baby kale and green beans are also going to market. Succession plantings with irrigation are progressing well; those without water are showing signs of drought stress.
Upcoming event celebrating Urban Agriculture in Flint
The Edible Flint Food Garden Tour will showcase 15 of the area's urban farms and gardens on Wednesday, July 27, 2016, and registration is still open. The tour kicks off at 4:30 p.m. from the Flint Farmer's Market, 300 E.1st Street Flint, MI 48503. Over 200 participants will travel by bus or bike to a variety of food gardens in Flint and the surrounding areas. This is a celebration of innovative and inspiring food gardens in the city, and immediately following the tour participants are invited to join edible flint for music and a light meal prepared by local vendors.