For science, for action, for health
Public health professionals converge to network, educate and share experiences on making the healthy choice the easy choice for all.
Where else could one find a room full of hundreds of people enthusiastically and simultaneously performing the #GimmieFive dance? Participants of the 143rd American Public Health Association (APHA) conference were getting down with dance moves made famous by First Lady Michelle Obama to commemorate the five years of her "Let's Move" campaign. Public health promotes and protects the health of people and the communities where they live, learn, work and play. I, a Michigan State University Extension educator, along with more than 13,000 of my public health colleagues recently returned from Chicago where APHA hosted their annual meeting and expo. Touted as the "premier public health event in the world," the annual meeting brings together students, researchers, practitioners and advocates from around the world to network, educate and share experiences.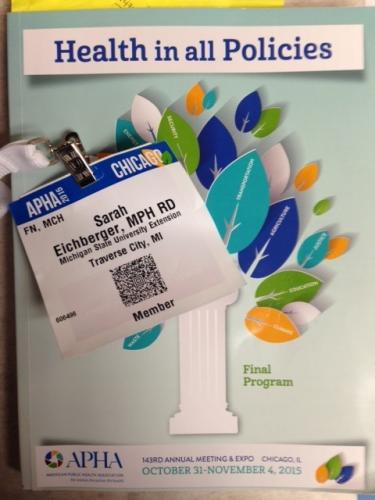 The focus of this year's meeting was dedicated to the concept of health in all policies. Health in all policies (HiAP) uses collaborative approaches to improve population health by embedding health considerations into decision-making processes across a broad array of sectors (Public Health Institute). Linda Rudolph, director of the Climate Change and Public Health Project at the Public Health Institute described HiAP as institutionalizing the consideration of health, equity and sustainability into decision making across all sectors - formalizing legislative mechanisms that allow policy-makers to be informed of consequences of health in all of their decisions.
Our country's top doctor, the U.S. Surgeon General Vivek Murthy kicked off the start of the conference. Dr. Murthy outlined three elements as being central to the work of our public health leaders.
Information - modernize how it is shared, "information matters, but how we communicate this info matters just as much."
Equality - create a world that is grounded in equality - a world where opportunity is available to all. "Health opens up doors to opportunity and is the foundation in which we stand to pursue our dreams. Health stands as the heart of our nation's values. The pursuit of health is the pursuit of justice."
Inspiration - translate information into action that will lead to better health.
An additional highlight of the conference was a panel featuring work of public health leaders whose work helps to further illustrate the health in all policies theme. Marice Ashe, founder and CEO of Oakland, CA-based ChangeLab Solutions shared results of a recent report detailing how exemptions in a state smoke-free workplace policy contribute to tobacco-related health inequities, particularly among the working poor and communities of color. Elizabeth Jacob, Project Director at the recently launched, Cityhealth shared how they are working to create a "blueprint for urban decision makers to significantly improve the health, well-being, and productivity of the communities they lead." Ruth Henning spoke on the developing of Healthy Babies Bright Futures, a new alliance aimed at reducing babies' exposures to toxic chemicals in the first 1,000 days of development. The panel concluded with a conversation on the role health impact assessments have on identifying and addressing health impacts of policies and decisions in non-health sectors.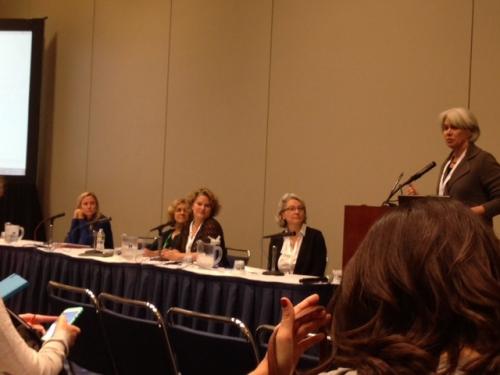 As a public health professional, the APHA annual conference provides an opportunity to be energized and inspired by the innovative and impactful work being done across the globe. Learn more about the field of public health and the American Public Health Association online.