Forestry Student Spotlight – Gillian Chirillo
Gillian Chirillo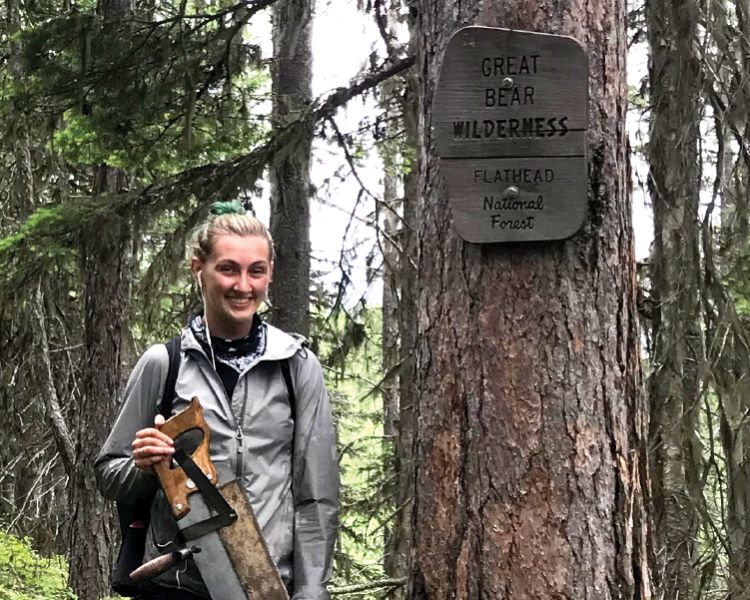 Name: Gillian Chirillo
Hometown: Northville, MI
Expected Graduation: May 2021
What are your favorite hobbies?
I love being outdoors, hiking, kayaking, backpacking, snowboarding, pretty much anything that allows me to be in nature. I also just generally like being active, traveling, and enjoying music in all of its forms.
Experience:
I am currently an Intern for the Bob Marshall Wilderness Foundation in Hungry Horse, Montana. I work as a Wilderness Ranger in the Bob Marshall Wilderness, a complex spanning over 1.5 million acres. This complex is deemed designated wilderness, sections of publicly owned land that meet special parameters to keep them some of the most unaltered and untamed places on earth. As a wilderness ranger I work with the US Forest Service to monitor these parameters and maintain trails using primitive tools in accordance with the Wilderness Act. My workweek usually looks like a 4 to 8 day backpacking trip with some of the most incredible views on earth, hiking up to 20 miles a day on Forest Service trails and keeping them up to standard. We hope these trails provide the public with a glimpse of what wonders the wilderness can hold, and hopefully inspire them to care for these areas as much as we do.
Why forestry?
I love that forestry blends many different subjects and disciplines that I am interested in. Being knowledgable in the many complexities of forests themselves and how they relate to society draws a great path for helping to maintain them for the greater good of the people and the environment. I wanted to be able to use my career to protect wild places and sustain forests while increasing accessibility to public land and recreation areas. It is also a great bonus that many careers in forestry allow you to be on your feet and often work directly in the field watching real change take place. Careers can be found almost anywhere in the US, often in some of the most beautiful places imaginable.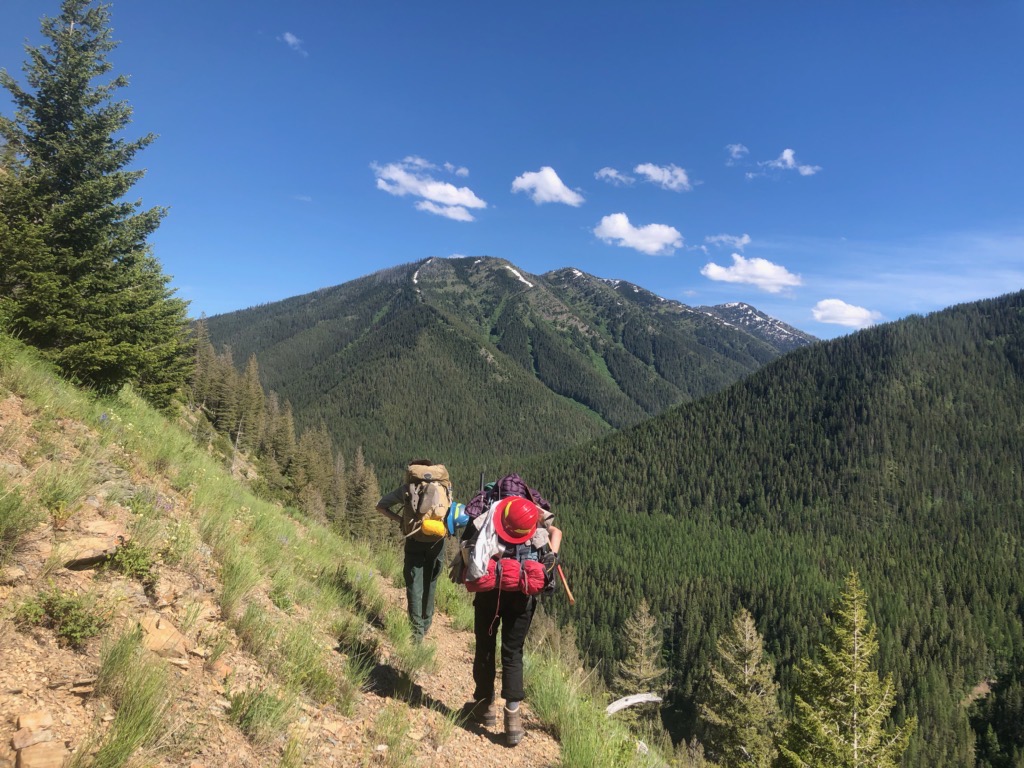 Career Goals
With a double major in Forestry and Sustainable Parks, Recreation, and Tourism, I have a lot of options for where I can direct my career. I hope to continue working for the USFS within the recreation department where I work now, but I am also super interested in exploring other sectors of the Forest Service, and may even try to do work in wildland fire. I am also interested in environmental based non-profits such as the Bob Marshall Wilderness Foundation. Wherever I go, I hope to always remember why I chose this discipline and use my career to work towards sustaining our natural and wild areas and helping public land become more accessible to the average person.
Advice for new forestry students:
There are so many different ways to be a forestry student and a forestry professional, and being at MSU allows you to explore all of these paths and help you find which one you love the most and that best suits your skillset. Do as much as you can that interests you even if it may not relate to your career because you never know when those skills might come in handy later in your career or just in life. Don't be afraid to take part in something you know nothing about, because everyone has to start somewhere, and it could end up being something you are amazing at and absolutely love. The Forestry Department at MSU is amazing and encouraging, everyone wants to see you succeed. It is such a great environment to try new things and improve yourself. Don't waste a moment and dive in right away if you can.
Other comments:
I am extremely thankful for the forestry department for allowing me to start from square one with a love for the environment and nothing else, to becoming a knowledgable and skilled forestry student. I am now able to jump start my career and work in incredible places doing incredible things such as my internship here in Montana, which is basically my dream job.