Forests as therapy
Experiences in nature can help us through the pandemic.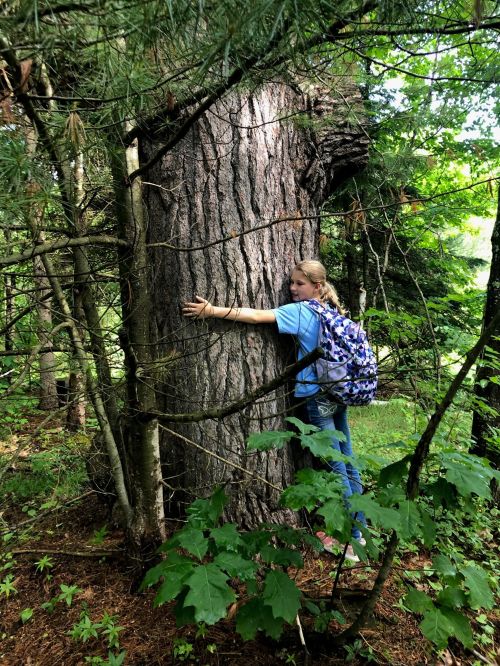 As we start another school year while the COVID-19 pandemic still rages on, Michigan State University Extension recognizes that this is a good time to consider how the pandemic is affecting the mental health of our youth. And, just as importantly, ways that we can help them cope with the stresses brought on by months of uncertainty.
Although it's way too soon to be able to assess the long-term mental health impacts of the pandemic on children, many studies are already suggesting that the harmful effects could be pervasive and long-lasting. According to a study conducted by Laura M. Glynn, Elysia Poggi Davis, Joan L. Luby, Tallie Z. Baram and Curt A. Sandman (Glynn et al.), parents of young children (under 5) who were surveyed last spring about the effects of COVID-19 reported more behavior problems (e.g., temper tantrums, disobedience, fights with other kids) and anxiety in their child.
Additional work from all around the world, including the editorial "Effects of the COVID-19 pandemic on child and adolescent mental health" by psychiatrist Richa Bhatia, have shown that it's not just children and adolescents in the U.S. who are suffering from an increase in mental health problems during the pandemic—the uncertainties and resulting mental health repercussions seem to be consistent everywhere.
One important way that adults can help children cope with mental health struggles during the pandemic is to encourage regular exposures to forests. In Michigan, we are lucky to be surrounded by forests. Regardless of where you live, chances are that there are forested areas nearby—in fact, according to the Michigan Department of Natural Resources, you're never more than a half-hour away from a state park, forest or trail system in Michigan. Even our large urban areas have wonderful local parks.
Regular visits to a forest can help combat mental health issues in several ways. First, forest visits help reduce stress. The reasons why forests can help with stress reduction vary from one person to the next, but Won Sop Shin, Poung Sik Yeoun, Rhi What Yoo and Chang Seob Shine (Shin et al.) in their study "Forest experience and psychological health benefits: the state of the art and future prospect in Korea" found a common one is that it helps a person escape from their normal life and forget about all the factors that cause them stress in their day-to-day activities or life situations. To put it simply, without the constant stimuli and reminders of normal life, a forest experience allows a person to forget about their daily life and all the stressors associated with it, if only for a short period of time.
Additionally, Shin et al. found that a forest visit can also help reduce stress by getting away from crowds and experiencing peace and quiet. Every day we are bombarded by so many stimuli—social media, news stories, interactions with other people and many more. This can all become quite overwhelming and lead to stress and anxiety. A forest visit gives us an opportunity to slow down, gather our thoughts and reclaim our senses.
Forests can also provide therapy through a growing practice called 'forest bathing,' a concept the Cleveland Clinic explores further in their article "Why forest therapy can be good for your body and mind." Forest bathing does not mean taking a bath in a forest—rather, it is a way of completely immersing yourself into a forest. Forest bathing involves using all of your senses in activities that focus on mindfulness and a connection to the forest, utilized for some time in Japan for the enhancement of mental health. Many positive benefits have been achieved, including improved sleep quality, according to Emi Morita, Masako Okawa, Tomiyasu Miyaura and Soichiro Miyazaki in their study, "A before and after comparison of the effects of forest walking on the sleep of a community-based sample of people with sleep complaints."
Even small nature experiences that are reinforced as part of a daily routine can improve mental well-being. Many times, people are overwhelmed with the prospect of trying to fit in an outdoor experience into their busy lives, but it doesn't have to be anything grand. Simple actions can be beneficial: sitting in front of window with a natural view, walking in a park, relaxing in a garden or backyard. Incorporate nature into a regular exercise routine (e.g., jogging on a wooded trail), or find a friend who wants to start experiencing this with you.
Set a goal that is realistic for yourself—perhaps you can commit to a 15-minute walk three days a week. Maybe mornings work better, or maybe first thing after school or work is best. The point is to start small, find what works for you, and get out there! Start incorporating little snippets of forests into your routine, and you just might be surprised how easy it is to start realizing the benefits of nature.