Future Leaders Exchange Program celebrates its 25th anniversary
Michigan 4-H has hosted over 65 students through the Future Leaders Exchange (FLEX) Program and is celebrating its 25th anniversary this year.
Since 2002, Michigan 4-H has hosted over 65 students through the Future Leaders Exchange (FLEX) Program, a prestigious student exchange program for students from Central Asia and Eastern Europe. The FLEX Program is celebrating its 25th anniversary this year.
The program started in 1993 from former Senator Bill Bradley's conviction that democracy in countries of the former Soviet Union could be best realized through its young people. Over its 25 years, the program has awarded over 24,000 scholarships that have allowed young people to spend a year living with volunteer host families in the United States.
With around a 3 percent acceptance rate, the FLEX Program is extremely competitive. Students selected as finalists have demonstrated perseverance and commitment as well as adequate English proficiency and potential to be successful as an exchange student. The students attend local high schools, participate in extracurricular activities and contribute to civic and community service projects.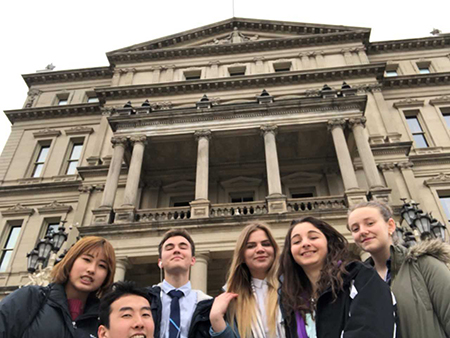 Last school year, Michigan 4-H welcomed five FLEX States' 4-H International Exchange Program students from Romania, Ukraine, Armenia, Georgia and Moldova. Together, these five students completed over 450 volunteer hours in their host communities, participated in Michigan 4-H's Capitol Experience civic education program and gave a total of 30 presentations about their culture to their classmates and community members. Each student returned to their home country with new experiences, new skills, new friends and a new second family.
My family hosted a student from Ukraine last year who attended Otsego High School. Lola Mileta was a pleasure to host and easily became a part of our family. She made many friends at Otsego High School, and her community volunteering and participation in school athletics culturally enriched the community about Ukraine.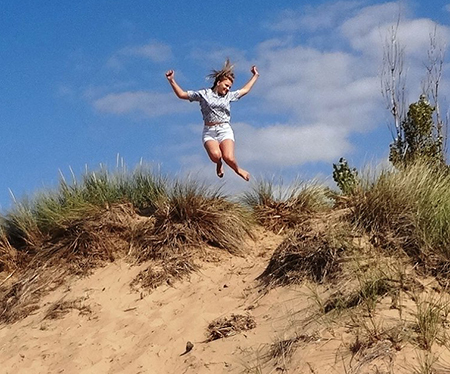 This current school year, our family is acting as a "welcome host" family for two FLEX students from Turkmenistan and Serbia. Opening a family's home and hearts by hosting is a volunteer opportunity, but FLEX students receive a monthly allowance to help offset the financial factor of hosting. Host families get to enjoy learning about a new culture from their new family member, but also have the chance to experience the transformative impact that a year in the United States has on their student.
Congratulations to the FLEX Program for making a positive difference for 25 years!
Michigan State University Extension and the Michigan 4-H Youth Development program helps to prepare youth as positive and engaged leaders and global citizens by providing educational experiences and resources for youth interested in developing knowledge and skills in these areas.
To learn about the positive impact of Michigan 4-H youth leadership, citizenship and service and global and cultural education programs, read our Impact Report: "Developing Civically Engaged Leaders." Additional impact reports, highlighting even more ways MSU Extension and Michigan 4-H have positively impacted individuals and communities can be downloaded from the MSU Extension website.
Find other global educational opportunities on the MSU Extension Global and Cultural Education website. For more information about 4-H learning opportunities and other 4-H programs, contact your local MSU Extension county office. If you would like to learn more about Michigan 4-H International Exchange Programs for hosting or travel, visit the website or contact Michigan 4-H State International Exchange Program Coordinator, D'Ann Rohrer, at drohrer@msu.edu.