Garden center retail survival strategy series: Overcoming challenges with a holistic approach
Utilize a big-picture approach to develop contingency plans for your business.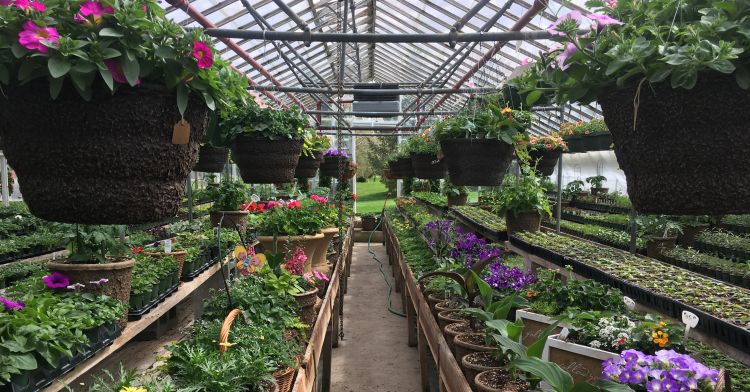 Like most non-essential businesses in Michigan, garden centers and other retail greenhouse operations in Michigan are currently closed to the public in accordance with the Governor's "Stay Home, Stay Safe" executive order. Although the duration of this order is yet to be determined, we know it is only a temporary measure. With that in mind, what are some things retailers can do to prepare for the moment when the restrictions are relaxed?
Bridget Behe, a horticultural marketing professor at Michigan State University, recently shared her survival strategies in an MSU Extension webinar "Garden Retail Strategies to Sell in the Current Environment." The presentation featured a discussion on how garden centers and other floral retailers can adapt their sales processes to fit within the constraints of our current situation and emphasized the importance of positive messaging to help keep you, your family, your staff and your customers safe and moving forward in this challenging time.
In this series of short articles, we will highlight the most important concepts taken from the webinar. A complete summation of Behe's talk can be found in the Electronic Grower Resources Online (e-GRO) Alert article, "Retail Garden Center and Florist Strategies to Sell in the Current Environment."
Part 1: Overcome challenges with a holistic approach
As we personally and professionally work under continuously changing circumstances, it can be helpful to have a set of guiding principles to fall back on when making with tough business decisions. Behe recommends we:
Do what is legal
Do what is ethical
Do what is positive and helpful
Legal considerations
Although the situation changes daily, we must do what is legal at the national, state and local levels. Michigan residents can find an abundance of information at the State of Michigan Coronavirus Resource website. National and state-level green industry associations as well as small business networks are excellent resources for finding up-to-date industry-specific information. Examples of these organizations include:
Ethical considerations
You want your business to survive but you don't want to potentially contribute to the increasing spread of COVID-19, the infectious disease caused by novel coronavirus. What can be done to ensure the health and safety of your employees and customers? Think about your markets and consider whether options such as online or telephone ordering, curbside pick-up and no-contact payments can be integrated into the sales process. Let good ethics and judgment guide your choices.
Planning and action
Across the county we are hearing consumer demand for plants is high and likely to remain that way. However, the constraints imposed by social distancing measures should inspire garden centers to evaluate their entire sales process. Changes made now are likely to be helpful in the coming weeks and months. The retail world has evolved quickly over the past decade with technology changing the shopping experience at a fundamental level. "Use this moment to reset to the new normal", says Behe when talking about online sales.
Contingency plans are important because we never know when we'll need to enact them. When developing a plan for this retail season, start with the people:
Take care of yourself: Your leadership ability will be compromised if your health suffers or you run yourself into the ground.
Take care of your family: Keep to a schedule for meals and exercise.
Take care of your employees: They're the lifeblood of your business. Be frank and honest with them and communicate as often as possible.
Take care of your customers: Make visible steps to keep them safe.
Behe encourages retailers to think about what they would do if they could open next week. "What would you do if you could open April 15 or April 30? The plans you make now," says Behe, "and the greater the detail in those plans, the better prepared you are going to be when you get the green light to open. It's not an 'if', it's a 'when'."
Cash flow and budgets. What do they look like if you were to open on those dates?
Finding new partners. Some local businesses, such as convenience stores and gas stations, are open right now. Can you forge a partnership with them and sell your products wholesale?
(Author's note: This is no longer a legal option in Michigan. A new executive order has been issued and it appears that retail plant sales of any kind are not permissible.)
DO NOT reduce advertising or electronic communications.
Behe puts a strong emphasis on this last point "This is literally your lifeline to your customers! Positive messages, things that you're doing to help your community, things that you're doing to keep your plants growing…those are the messages that you need to be sending now."
Preparing for a reduction in sales (and the impacts they will have on profits) will help your business survive this and other crises. Continuing to communicate and demonstrate how you can sell product will facilitate those sales. "Contingency plans don't have to be within the box", she says, "but we need to be thinking creatively until the businesses open."
Watch for the following articles in this series: