Genome editing can boost beta-carotene in sweet potato
Samuel Acheampong wants to use advanced genetic breeding techniques to harness and enhance the sweet potato's positive attributes for his home country of Ghana.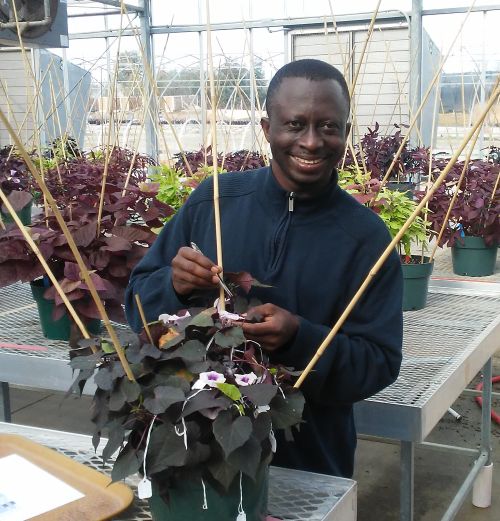 The sweet potato has many positive traits that make it an effective weapon in the global fight against hunger and malnutrition. It can be grown almost anywhere – a crucial advantage in the face of increasing climate change and deteriorating soils. It requires few production inputs – ideal for resource-poor farmers in the developing world. And orange-fleshed varieties are a rich source of vitamin A and other nutrients.
Samuel Acheampong, a scholar with the Borlaug Higher Education for Agricultural Research and Development (BHEARD) program, wants to use advanced genetic breeding techniques to harness and enhance the sweet potato's positive attributes for his home country of Ghana, as well as for the rest of the developing world.
The goal of BHEARD, supported by the U.S. Agency for International Development (USAID), is to develop agricultural scientists and increase agricultural research capacity in partner countries. The program is named after Dr. Norman Borlaug, an American biologist, humanitarian and Nobel laureate who has been called "the father of the Green Revolution."
Acheampong is seeking a Ph.D. in plant breeding and genetics from North Carolina State University. One of his areas of study is genome editing, a tool that can be used to improve genetic traits in all kinds of food crops, including sweet potato. He's particularly interested in CRISPR/Cas9 technology, which allows scientists to alter the DNA sequence at a precise location in the genome. Such a change in sequence can disrupt the structure and function of the gene, which can lead to altered traits in the organism.
Acheampong thinks genome editing could be used to boost the level of beta-carotene, which the human body converts to vitamin A, in Ghana's white-fleshed sweet potato varieties. Sweet potato varieties with yellow and orange flesh have high levels of beta-carotene, but the white-fleshed types commonly grown in Ghana have low levels.
Boosting beta-carotene in Ghanaian varieties is crucial to the country's food security. Sweet potato was recently named the fourth most important food crop in Ghana. With higher levels of beta-carotene, Ghanaian sweet potatoes could better combat childhood blindness, low immunity, maternal mortality and other conditions caused by hunger and malnutrition.
To improve the sweet potato, Acheampong will have to overcome many obstacles. The plant's genome is complex. Traditional plant-breeding methods are slow and inefficient. And though genome editing can speed up the breeding process, it's never been tried in sweet potato – so in many ways he's starting from scratch.
With the support he's receiving from his academic advisers and BHEARD, however, Acheampong is confident the challenges will be met.
When his BHEARD studies are finished, Acheampong intends to become a professor and teach at the University of Cape Coast in Ghana. In addition to teaching, he will study ways to boost vitamin A, iron and zinc levels in sweet potato, cassava, yam and other crops. He also plans to collaborate with national and international partners to address malnutrition in Ghana and the developing world.
– Matt Milkovich