Grand Rapids area tree fruit update – April 20, 2021
Cold weather expected to slow development of apple buds.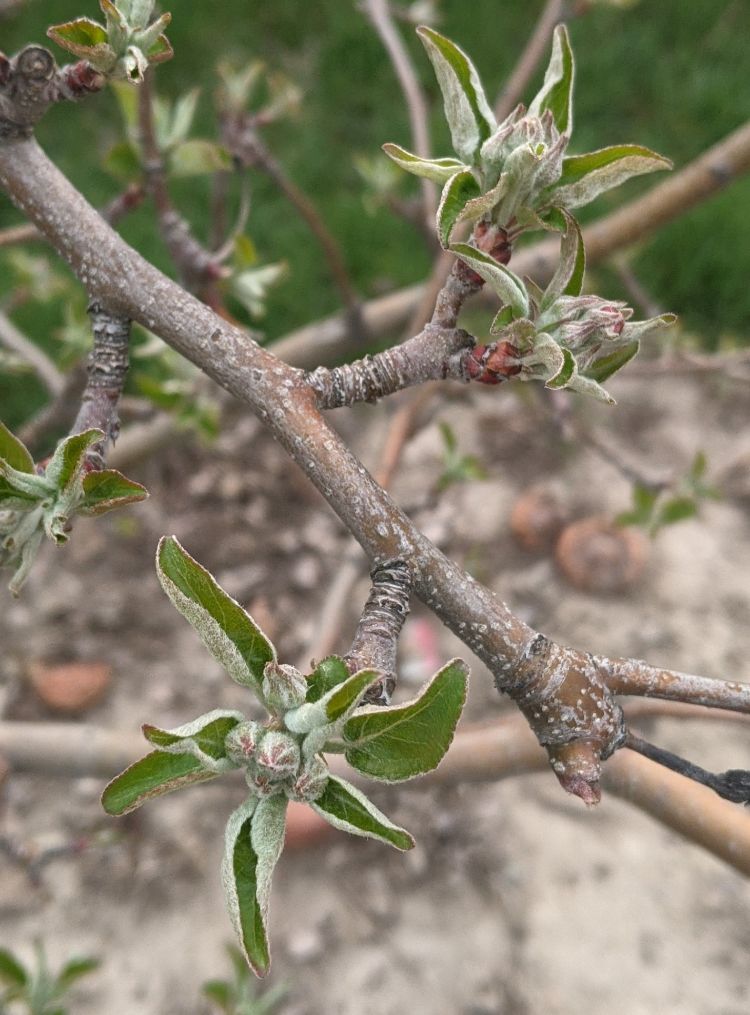 Weather update
In the past week, the Grand Rapids, Michigan, region experienced significantly cooler temperatures in contrast to the very warm conditions prior to this week. The Michigan State University Sparta Enviroweather station has accumulated a total of 300.4 growing degree days (GDD) base 42 since Jan. 1, indicating the region is still approximately two weeks earlier than the average for April 19. To highlight the contrast: in the past week, only about 21 GDD base 42 were accumulated compared to 112 GDD in the previous week.
Conditions continue to be much drier than normal throughout the state. Less than 0.1 inch of precipitation recorded in most locations across the Grand Rapids region in the past five days and a total of only 4-5 inches since Jan. 1.
These cool, dry conditions have significantly delayed apple bud development. Depending on the location and variety, most apples are between open cluster and first pink, with earlier varieties at pink stage. With the weather anticipated in this week, we can expect very little change in growth stage over the next five days. Most varieties are expected to reach pink later next week.
On everyone's mind are the cold fronts that began moving into the region yesterday, April 19, and expected to remain for the next few days. Fortunately, most of the frozen precipitation associated with this system is expected to stay south of the Grand Rapids region. However, a hard freeze is expected overnight both Tuesday and Wednesday, which may pose a threat to floral buds. Potential for inversion is unlikely, given the forecast for approximately 10 mph winds. On Wednesday night, conditions will be less severe, with the core of the cold conditions a little farther east and winds shifting to the west. West winds will bring warmer air than those coming from the east, which are still cooled by the cold temperatures of Lake Michigan.
An abundance of information about frost risk and mitigation is available to growers online through both MSU Extension and other Extension services. The following are a couple of frost and freeze articles of interest:
Freeze damage depends on tree fruit stage of development by Mark Longstroth and Amy Irish-Brown, MSU Extension – March 30, 2020
What can fruit growers do if a freeze is coming?by Philip Schwallier, Mark Longstroth and Amy Irish-Brown, MSU Extension – May 5, 2020
Frost, Critical Temperatures, and Frost Protectionby Rob Crassweller, Penn State University, April 9, 2021
More mild conditions are expected beginning on Sunday, April 25, and into next week. The next week is again expected to be dry. Medium range forecasts indicate more cooler than normal temperatures for the remainder of April, accompanied by a higher chance of precipitation, which may relieve some of the drought the region has been experiencing.
In order to help you continue to prepare for spring, the MSU Extension fruit team offered the 2021 Statewide Spring Tree Fruit Webinar Series over the past two weeks. Recordings of these presentations are now available online.
Pest updates
Very cool weather in the past week had kept insect activity low. Only the cold tolerant species have been flying—speckled green fruitworm, redbanded leafroller and spotted tentiform leafminer are active in light numbers. We continue to find small, overwintering obliquebanded leafroller larvae in known hot spots. Pesticide salespeople and scouts are sending pictures of tiny obliquebanded leafroller larvae as well.
Traps should be in place for major pests such as oriental fruit moth and codling moth. Oriental fruit moth adults could begin to fly at any time especially after this cold weather moves out later in the week. It is not too early to get mating disruption ties up for oriental fruit moth or codling moth, but perhaps we should wait to see what the crop will look like after Wednesday morning.
Once warm weather moves back in, tree and insect development will gear back up and pink sprays will be needed soon for pests such as San Jose scale, obliquebanded leafroller, mites and aphids. There always seems to be some debate about whether pink sprays in apple are necessary given the lack of insect activity in a typical cool, Michigan spring. Perhaps for 2021, insects will get an early start and this pink timing will be more critical to manage early season pests before their populations get too far along. Continued cooler than normal weather is predicted for the remainder of April, which could drag out bloom and the chance to get back in with an insecticide at petal fall. Applying a pink spray will give added insurance for early season pest management.
There have been several wetting events since first green tissue appeared in apples. For most MSU Enviroweather station sites in the general Grand Rapids area, there has been only one rain event with enough wetting hours for a primary scab infection; it started on April 10 and most areas ended up with a heavy infection. Dryer than normal conditions are in the forecast and we all know that can change quickly or be incorrect.
It is best to stay ahead of any potential wetting event to prevent primary scab. Be cautious of stretching protectant fungicides too much. With a good deal of fresh, green tissue showing in apples, the risk for primary apple scab infection is a concern with any rain event. The primary apple scab spore numbers continue to increase with each rain and it's likely the next rains will continue to discharge higher and higher numbers until we get mid or late May.
While it appears there isn't any extreme warm temperatures in the forecast to bring bloom on really fast this spring, there are warmer spots around Grand Rapids where we could see early bloom by the weekend or into next week. Open bloom brings the risk for fire blight of blossoms. We will track that risk and report as needed. You can track potential fire blight risk of blossoms 24/7 using your nearest MSU Enviroweather station.