Grand Rapids area tree fruit update – May 10, 2022
Expect hot, humidy weather for the duration of this week, with bloom beginning in apples likely by the end of the week.
Weather and phenology update
Conditions have been considerably warmer than normal in the Grand Rapids, Michigan, area. As of May 10, the Michigan State University Sparta Enviroweather station has accumulated 306.8 growing degree days (GDD) base 42 degrees Fahrenheit (GDD42). This is below average, which is 376.2 GDD42, and approximately five days behind normal.
There has been minimal rainfall over the past week. Approximately 0.2 inches was recorded at most weather stations across the region on Tuesday, and less than 0.01 inches recorded on Friday. We have moved from very wet field conditions to very dry conditions. There has been very low relative humidity and high winds at the beginning of the week, leading to high forest fire risk.
Phenological development has been rapid. Apples reached open cluster growth stage in most places by Monday, with first pink visible in many places by the end of the day. The first blossoms were open in early varieties such as Ginger Gold and Zestar. Peaches are in full bloom, with the first blossoms open on Friday, May 6. Tart cherries are at first white, with one or two open blossoms in early locations. Sweet cherries are in full bloom.
Hot, humid conditions will persist for the duration of the week. High temperatures are anticipated in the 80s and overnight lows in the 60s. GDD42 accumulation is predicted to move rapidly, from approximately five days behind normal to five days ahead of normal by the end of the weekend. Based on these warm conditions and Enviroweather degree day forecasts, bloom in apples is expected to begin by the weekend.
After very windy conditions Monday, the remainder of the week is expected to be calmer. Scattered showers are possible in isolated locations on Wednesday, and again over the weekend. There will be a return to cooler than normal temperatures next week. Highs are predicted to be in the 60s with overnight lows in the low 50s.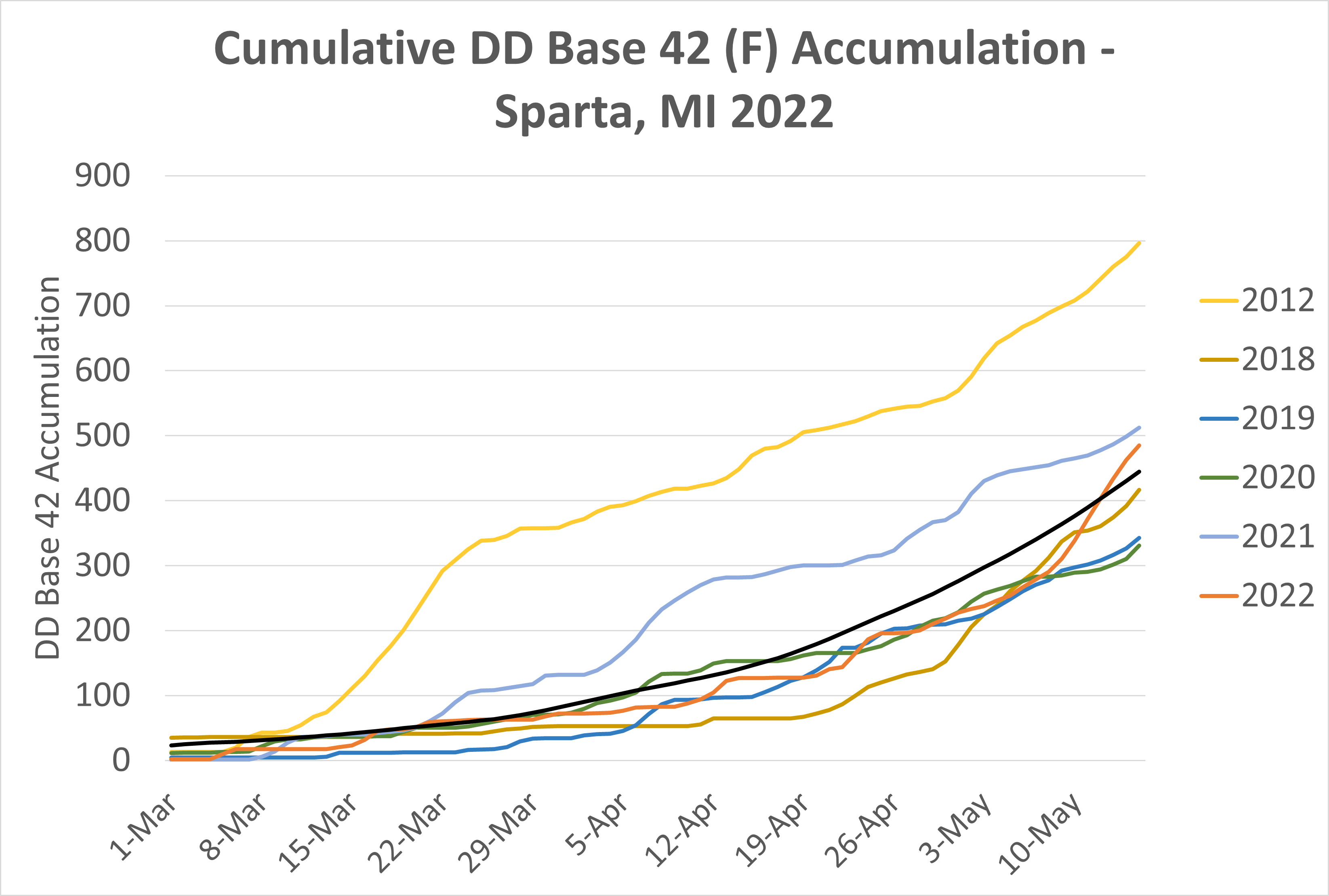 Degree day accumulation at Enviroweather stations in the Grand Rapids area

Weather station
GDD base 32 from Jan. 1
GDD base 42 from Jan. 1
GDD base 50 from Jan. 1
Aetna - Fremont
712.6
290.3
119
Alpine
783.9
322.3
131.8
Belding
744.9
301.3
123.1
Clarksville (CRC)
793.6
323.1
132.5
Conklin
768.7
311.4
122.9
Fremont
725.5
289.8
116.5
Grant
758.3
314.4
133.9
Kent City
733
294.3
118.2
Reeman-Fremont
729.3
288.9
116.4
Sparta
754
307
125.1
Sparta 20m Tower
765.6
311.6
126.9
Sparta - North
759.4
308.5
124.7
Standale
831.2
348
148
Average DD from Sparta historical data for Jan. 1 to date
886.4
376.2
166.5
Comparative Date of Averages @ Sparta
4-May
4-May
3-May
Days +/- Average @ Sparta
- 5 days
- 5 days
- 6 days
For these updates, we used averages for 1997-2021 from the Michigan Automated Weather Network (MAWN) to represent normal conditions. Weather data was gathered from MSU Enviroweather.
More information and reports on normal weather conditions and departures from normal can be found on the NOAA Climate Prediction Center website, NOAA U.S. Climate Normals website, NOAA Climate Normals Quick Access Page (which may be searched by region) and Midwest Regional Climate Center website.
Pest update
Warm weather and sunshine make everyone feel better, including insects. This week of warmer weather should bring on the insect and a good integrated pest management (IPM) program should be in place for the first insecticide sprays of the season.
Some have applied pink sprays to apples already and others are getting that job done this week. Pests to target with pink applications in apple include San Jose scale, obliquebanded leafroller, mites and aphids. While insect activity continues to be very slow to get started in 2020, with bloom starting to open, there are very few pesticides that can safely be used when pollinators are present. Be mindful of your bees and those in neighboring blocks before any insecticides are applied.
Plum curculio activity has not been reported anywhere in Michigan yet. For the Grand Rapids area, stone fruits will likely go through bloom quickly this week and tiny fruits will be present soon. These are the first targets for plum curculio once they start to split shucks. The weather this week is ideal for plum curculio, but the fruit stage is not quite there and maybe the cool weather next week will move back in before curculio gets too active. Monitor early developing tree fruits for egg laying scars.
Small, overwintering obliquebanded leafroller larvae continue to be found in a known hot spots feeding on terminals. Traps should be in place for major pests such as oriental fruit moth and codling moth and San Jose scale. Oriental fruit moth adults have been flying in sporadic numbers and a sustained flight has not been determined. It is expected that oriental fruit moth flight will become established this week with warmer temperatures. Mating disruption dispensers for oriental fruit moth and codling moth can go up at any time—they should be in place by apple bloom timing.
The forecast is calling for very little rainfall this week with warm and humid weather on the docket. Apples are in the stage where significant apple scab ascospore release is expected over the next two or three weeks. Be cautious of stretching protectant fungicides too much as we all know the forecast is often inaccurate at predicting pop-up showers. With a good deal of fresh, green tissue showing in apples, the risk for primary scab is a concern with any rain event from now until at least the first week of June.
Normally, tight cluster to petal fall is the time to start adding materials to manage powdery mildew at bay in apple blocks. Cool weather so far this spring has likely reduced mildew infections. The near forecast is going to provide optimal environmental conditions for powdery mildew in apples—warm and humid—so be sure to add something in for mildew over the next few cover sprays. Mildew infects better with no rainfall and just high humidity.
Some apple bloom is beginning slowly in the general Grand Rapids area. Open bloom brings the risk of blossom blight from the fire blight bacteria. When running the forecasted temperatures through the MaryBlyt model, the risk is mostly high if there is open bloom and if rainfall occurs. Maryblyt uses a baseline average temperature of 60 F to start building the EIP (bacteria numbers) on open bloom. You can track potential fire blight risk of blossoms 24/7 using your nearest MSU Enviroweather station.
Apogee or Kudos applications should be used in high fire blight risk blocks—prohexadione calcium has kept fire blight at bay many times in the past and should be a routine part of your overall fire blight management program.