Grand Rapids area tree fruit update – May 12, 2020
Tree growth is very slow and cold temperatures are on the horizon.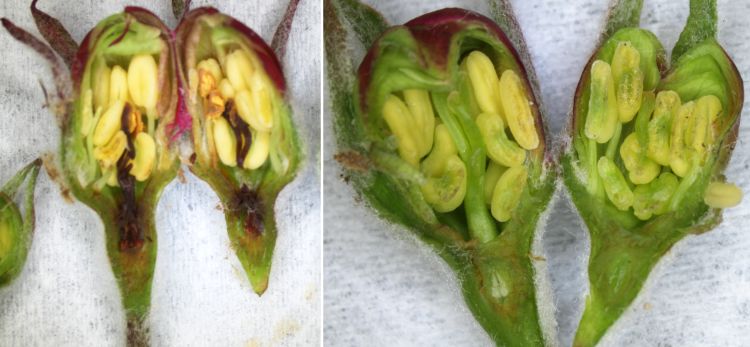 Weather update
The cool weather pattern continues and degree day totals have fallen backwards a bit more this week. The Michigan State University Sparta Enviroweather station has accumulated 263 degree days base 42, which is five days behind the average for Jan. 1 to May 4. Degree days base 50 at Sparta are 89, which is nine days behind normal from Jan. 1.
Crop update
Apple growth stage ranges from 0.5-inch green on the latest developing varieties in northern areas to first blooms open in the warmer southern areas. The majority of apples in the main Ridge growing area are at tight cluster with some pink on earlier cultivars.
Peaches are starting to bloom.
Plums are in full bloom.
Sweet cherries are starting to have a few blooms open. There seems to be some cold damage to sweets from the April 22 freeze, but the overall damage is still not known.
Pest update
The long duration rain event last week was a heavy apple scab infection for all area Enviroweather station data. Heavy rainfall amounts over several days could lead to primary scab despite efforts to combat it with fungicides. It will take at least another 10 days before any lesions start to show up. Primary apple scab spores are moving into the stage where there could be very large numbers dispersed in the next few rain events. Add in tender, new foliage and it is the perfect storm for apple scab infections. The next several weeks are critical to keep good fungicide covers on.
Normally, tight cluster to petal fall is the time to start adding materials to manage powdery mildew in apple blocks. With the very cool weather in place, the conditions for mildew are not ideal and it should be of lesser concern for now.
Insect activity continues to be very slow to get started in 2020 with very cool weather. Spotted tentiform leafminer and green fruitworm continue to fly but in very low numbers, as these are minor pests of little concern. A few oriental fruit moth are beginning to find their way to traps, but a regional biofix has not been set yet – the cool weather this week will keep their flight depressed.
If you need to apply a pink spray this year for rosy apple aphids or San Jose scale, it will be best timed as close to bloom as you can as insects are going to be slow in their development this year. As always, be sure your scouting reports and orchard history are used to make the best management decisions.