The 2022 Greenhouse Growers Expo education schedule offers something for everyone
Education topics include retail & marketing, plant production, specialty cut flowers, and more!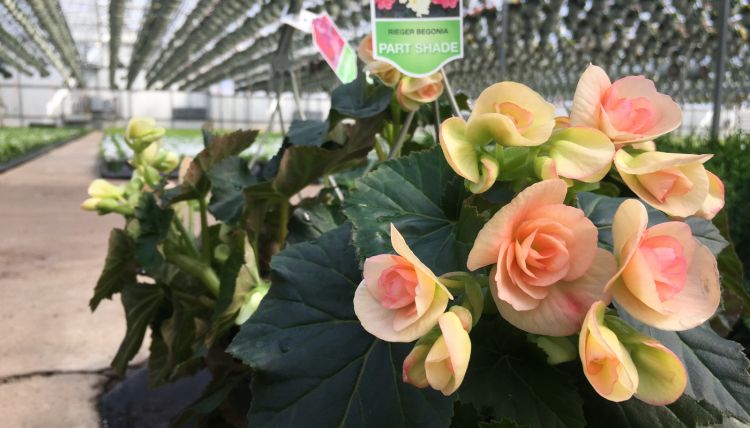 Registration is now open! The 2022 Greenhouse Growers Expo, in association with the Great Lakes Expo, will take place Dec. 6-8, 2022, at the DeVos Place Conference Center in Grand Rapids, Michigan. The Michigan State University Extension floriculture team has been working hard to develop an informative lineup of education sessions that cover perennially popular subjects, current issues and contemporary topics.
With careful advisement from the Metro Detroit Flower Growers Association and the Western Michigan Greenhouse Association, we have selected a schedule that includes retail sales and marketing, landscape performance, specialty cut flowers, and a strong set of plant production and integrated pest management topics. These programs feature presentations by a range of Extension and industry experts and are designed for target audiences across the organizational spectrum from entry-level employees to operations managers.
The retail, marketing and variety sessions cover current trends as well as some classic topics that include social media engagement, variety performance and strategies to boost consumer demand. The speakers this year are a fun group of Michigan greenhouse growers and university researchers including Melinda Knuth from North Carolina State University, Bridget Behe of Michigan State University, and a presentation panel consisting of Andrew Jager from Walters Gardens, Brian Weesies from Mast Young Plants, Greg Michalak and Kristi Challender from Raker-Roberta's Young Plants, Daedre McGrath of MSU (recorded video), and Olivia Ott and Josh Miller from Four Star Greenhouse (also recorded video). Be sure to catch these sessions:
What the Best Plant Sellers Know about Social Media Engagement
Post-Pandemic Retail Strategies
Consumers and their Love Affair with Houseplants
Best-Performing Plants in the 2022 Michigan Garden Plant Tour
This year's offering of plant production education features an outstanding array of topics led by several of the industry's leading academic researchers. Paul Fisher from the University of Florida lays out the environmental factors that lead to success during propagation and provides a framework for evaluating whether investing in automated transplanters makes economic sense for your operation. Horticultural lighting expert Erik Runkle from Michigan State University discusses the basics of plant lighting, crop lighting applications and lighting terminology to help you make more informed lighting decisions. Garrett Owen from the University of Kentucky returns to Michigan to talk about succulent and shade plant production, alternative substrate components and how to extend your peat supply. Sessions include:
Extending Your Peat and Exploring Alternative Substrate Components
Getting Started with Greenhouse Lighting
Succulent Production: Managing pH, Fertility, Temperature, Light, and PGRs
The Ins and Outs of Shade Crop Production
To VPD or Not to VPD? Controlling the Climate for Propagation
By Hand or Machine? Deciding on Automation
In addition to the indispensable disease management updates by Mary Hausbeck from Michigan State University, we are pleased to have JC Chong from Clemson University speak on new insecticides and miticides as well as insect pest identification. Chong is known for his broad knowledge of insecticide efficacy and ornamental pest management. Sessions include:
Greenhouse Disease Management Update
Identification of the Big Five – Mites, Thrips, Whiteflies, Aphids, and Mealybugs
New Insecticides and Miticides and How to Use Them
Back by popular demand, we are pleased to present a fantastic session on specialty cut flower production. Sean Westerveld, ginseng and herbs specialist from the Ontario Ministry of Agriculture, joins us to talk about best practices for growing lavender in the Great Lakes region. Local favorite Michael Genovese of Summer Dreams Farm walks us through his process of producing high quality dahlia stems and tubers. Cut flowers in Utah? You bet! Sit back and relax as Dan Drost from Utah State University shares some of his most interesting experiences working with cut flower growers in the Beehive State. Wrapping things up nicely, Sean Westerveld and colleague Evan Elford return to the Expo on Thursday morning to talk about lavender essential oil distillation.
The Cutting Edge of Lavender Production: Growing Lavender for Fresh and Dried Cut Flowers
An Overview of the Utah Cut Flower Industry
Dahlia Production: From Tubers to Cut Flowers
(Bonus!) Essential Oil Distillation: A Case Study in Adding Value to Lavender (Thursday morning)
Rounding out the schedule, the annual MSU Floriculture Research Update highlights grower-supported projects and will feature reports by Marcela Tabares, Henry Gonzalez, Nikki Lukasko, Daedre McGrath, Debalina Saha and Roberto Lopez from Michigan State University. Growers will also be interested in hearing from a panel of human resources and management staff from a few of our top Michigan horticultural operations as they share their thoughts on creating and maintaining a successful internship program. Featured speakers include Robin Bourdon from Four Star Greenhouse, Dianne Cote from Walters Gardens, John Davies from Henry Mast Greenhouses, Brooke Wiig from Neal Mast Greenhouse, and Bill Winchell from Raker-Roberta's Young Plants.
Visit the Michigan Greenhouse Growers Expo website for the full session schedule.
Registration is now open! Early birds can save $20 by registering before Nov. 15, 2022. Attendees and exhibitors can find registration, lodging, and trade show information at the Great Lakes Expo website.