Greenhouse owner requirements and respirator protective equipment
If your greenhouse workers use a respirator when applying pesticides, you may want to review these requirements for respiratory protective equipment.
According to Michigan Occupational Safety and Health Administration's (MIOSHA) occupational health standards under the Department of Licensing and Regulatory Affairs, there are two primary parts of the standards that apply to greenhouses (agriculture). MIOSHA standard Part 451 applies to general industry and Part 700 for agriculture. To view the complete 38-pages of the standards, visit the MIOSHA Standards and Legislation webpage.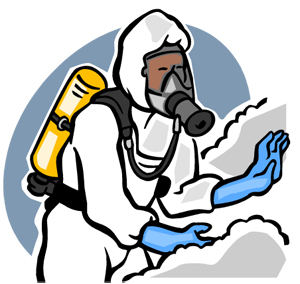 Recently, a grower contacted me to help clarify some questions about what his requirements are for respirator protective equipment. This greenhouse's pesticide applicator uses a respirator when applying any pesticide, even if it is not a required PPE on the pesticide label. While at the safety supply store purchasing new respirator cartridges, the clerk said that he must have a respirator protection program. After reading the entire MIOSHA standards (both Part 451 and 700), I came to the conclusion that I was no closer to answering his question than before I started. So I called the MIOSHA office directly and, unfortunately, I still couldn't get a straight answer.
As all good Michigan State University Extension educators do, I pushed to find the correct answer. I contacted Craig Anderson who is the go-to person from Michigan Farm Bureau with regulatory issues. His explanation was the MIOSHA standard Part 451 applies to general industry. The agricultural coverage is in two areas. Part 700 has rules related to certain listed contaminates, but does not require the Part 451 fit test, etc. It does, however, include the following rules:
R 325.2442 Respiratory protective equipment; selection and use.
Rule 42. (1) Respiratory protective equipment for the safeguarding of the workers' health shall be provided by the employer if other methods do not control the contaminants.
(2) Respiratory protective equipment for the safeguarding of a worker's health may be used in place of other control measures in intermittent or temporary work situations.
(3) Respiratory protective equipment shall be of a type approved for protection against the contaminant and degree of exposure to be encountered. A listing of approved types of respiratory protective equipment shall be available from the director.
(4) Responsibility for equipment selection, issuance, use, training and maintenance shall be vested in a qualified individual who shall have sufficient knowledge of the subject.
(5) A worker shall be trained in the use of the equipment and shall have an opportunity to become familiar with it, have it fitted properly, and test its facepiece to face seal. If a worker needs to wear corrective lenses, then the facepiece and lenses shall be fitted by a qualified individual.
(6) A worker shall use the equipment in accordance with instructions, shall report any malfunctioning of the equipment to the person responsible, and shall guard the equipment against damage.
(7) If the equipment is to be used in an atmosphere immediately dangerous to life or health, then the worker shall use it in normal air for a reasonable familiarity period.
(8) Emergency equipment shall be readily accessible at all times and its location shall be clearly marked.
The second area is the Right to Know provisions. This rule provides for pesticides that contain the Agricultural Use Requirements box the employer is required to follow the label. Most labels require positive and negative fit testing, but not the Part 451 requirements. Here is the rule:
Sec. 14f (1) An employer engaged in agricultural operations is not required to comply with the standard incorporated by reference in section 14a or sections 14b to 14l for a hazardous chemical that is regulated under the insecticide, fungicide, and rodenticide act, 7 U.S.C. 136 to 136y, or the pesticide control act, Act No. 171 of the Public Acts of 1976, being sections 286.551 to 286.581 of the Michigan Compiled Laws, and any rules or regulations promulgated under those acts.
I hope this explanation helps clarify some questions you may have had, or at least you are now aware of the Occupational Health Standards that pertain to respirator protective equipment.