Growing your own Thanksgiving turkeys
If you have ever considered raising turkeys for Thanksgiving feasts, now is the time to get started.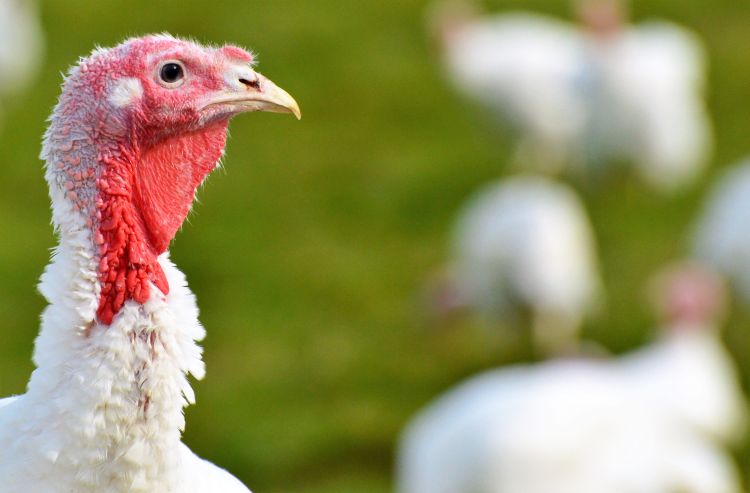 Have you ever considered raising your own turkeys to market for the Thanksgiving holiday? Raising market turkeys can be a fun and rewarding way to provide fresh, local food in your community. It is also a great project youth can do to help build animal science content knowledge and entrepreneurial skills.
Choosing a breed
Most turkey breeds will mature between 14-22 weeks of age, which means you will need to purchase birds early in July to make sure they have enough time to grow. Heritage breeds will take a bit longer, 25-30 weeks, so those birds would need to be purchased in late May or early June.
Turkey poults can be purchased through different hatcheries and are typically a few days old when they arrive to the purchaser. Beginning with the end in mind is a good strategy to help you determine what breed you should purchase. Each breed will vary in the length of time it takes for the bird to mature and the final weight on mature birds. Turkeys should be kept in groups of at least three to six birds.
Care and management
Turkey poults are raised very similarly to chickens. They will need to be kept in a brooder for the first six weeks and can then be transferred into a coop setting. Turkeys will need a larger area to grow than chicks due to their size, and size requirements will increase as the turkey grows. The following is the amount of coop space per turkey that will be needed:
0-8 weeks: 2-2.5 square feet per turkey
8-16 weeks: 3-4 square feet per turkey
16-20 weeks: 5-8 square feet per turkey
20 weeks to market weight: 6-10 square feet per turkey
Turkeys also require different diets during different growth stages. They need a diet very high in protein so that they can grow and gain muscle quickly. Generally, a 30% protein diet is fed as a starter feed from 0-8 weeks of age. After that, birds can be dropped down to a 20% protein grower formula until they achieve market weight. Turkeys must have access to clean, fresh water at all times as well.
"Giving Poults a Good Start" by the University of Maine Extension and "Raising Turkeys" by the University of New Hampshire Cooperative Extension are great resources that can provide more in-depth information.
Marketing
Turkeys are sold at a price per pound. In order to determine what you need to charge per pound, consider the following:
Purchase price of poults
Feed costs
Harvesting costs
Marketing costs
Other expenses—bedding, supplies, etc.
Determining your input costs will help you set a fair price so that your costs are covered.
Raising turkeys can be a fun and rewarding opportunity for youth to build upon their 4-H poultry experience outside of the local fair.