Growing in the classroom
Extension resources for growing edible plants in the classroom.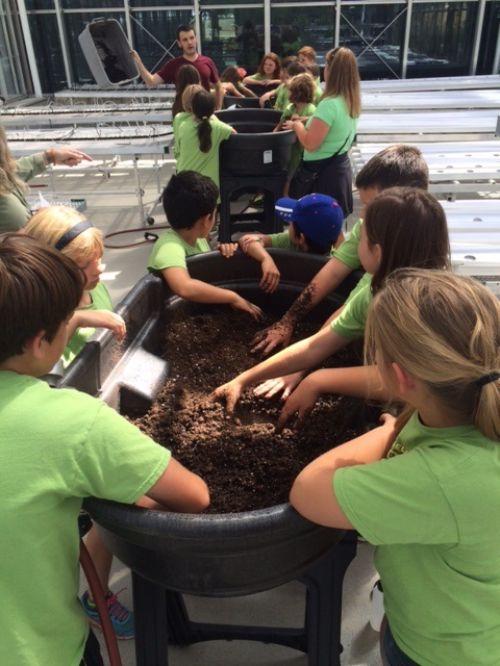 Stephen Ritz, teacher and leader of the national award winning Green Bronx Machine project, visited Grand Rapids, Michigan as a speaker during Calvin College's January Series. Mr. Ritz spoke about how this project, which focuses on teaching youth how to grow edible plants in their classrooms, has increased school attendance rates and achievement levels. He also explained how the project has linked many students with summer jobs and college scholarships. Many people listening to this presentation were inspired by his efforts and wanted to know how their schools could adopt a similar program.
The Green Bronx Machine uses the Tower Garden system, which is a vertical aeroponic growing system that can produce a variety of salad greens, herbs, beans, peas, squash, tomatoes, melons and strawberries. In 2012, Michigan State University Extension's 4-H program and Walmart's Youth Choice, Youth Voice program provided a $5,000 grant to an Olivet High School Junior growing edible plants in a Tower Garden system at his school.
Tower Gardens are just one of a variety of indoor/outdoor growing systems. Others include the Michigan-based LiveWall and LiveScreen systems, Woolly Pocket's live wall and school garden systems, and Miracle Gro's AeroGarden. There are hundreds of hydroponic, aeroponic, aquaponic and traditional container garden systems available online and in retail stores.
For many generations, Extension staff members throughout the country have been supporting educational programs that connect youth to agriculture and nutrition education. For example, Iowa State University Extension's Connecting Learning and Living program is a set of hands-on classroom-based lessons designed for Pre-K through third grade students. In addition, the University of Maryland Extension offers Growing Healthy Eating Habits, which is a gardening and nutrition education curriculum used in classrooms, afterschool clubs and during summer youth programs.
Michigan State University Extension is hosting or co-hosting three upcoming trainings focused on helping educators learn how to incorporate gardening in their lesson planning:
8 a.m. – 3:30 p.m. on Feb. 24, 2016 at the Jackson Career Center in Jackson, MI $75 per person
9:30 a.m. – 3 p.m. on Feb. 26, 2016 at the MSU Tollgate Center in Novi, MI $30 per person
4:30 p.m. – 6 p.m. on March 17 in the Grand Rapids Downtown Market's Greenhouse in Grand Rapids, MI $20 per person
To receive information MSU Extension about school gardening resources and trainings, email Kaitlin Wojciak at kaitwoj@anr.msu.edu and ask to be placed on the school garden e-newsletter list. For more information about Michigan State University Extension programs, visit the website. For information about gardening in Michigan, visit the Michigan gardening website.