Healthy food for all
How one rural school community is taking action to support food and nutrition security.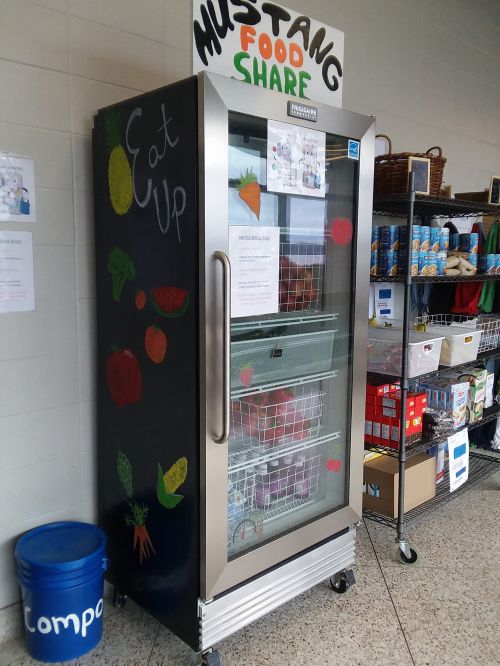 Americans in every state struggle with the complex and persistent challenge of food insecurity, which is defined as the lack of consistent access to enough food for every person in the household to live an active and healthy life. The COVID-19 pandemic exacerbated food insecurity, especially among rural communities and households with children. In places like Munising in Michigan's Upper Peninsula, there is a bounty of natural beauty that include waterfalls and the Pictured Rocks National Lakeshore, and challenges like food insecurity may be invisible, to visitors and community members alike.
Thanks to a collaborative effort among the Munising Public Schools, Alger Wellness Committee, Alger Regional Community Foundation, student and adult volunteers and Michigan State University Extension, more students are accessing healthful food at school. What started as a weekend food backpack program, known as M-Packs, has now been expanded by the Munising Public Schools and their partners. These efforts help address access to additional food among middle and high school students during the school day.
The Mustang Food Share is an innovative initiative that serves as a food pantry within the middle and high school. The Food Share consists of shelves and a refrigeration unit, or "freedge," regularly filled with a variety of healthful food options any student can take. According to Vicki Ballas, MSU Extension community nutrition instructor, local collaborator and city commissioner, the desire to reduce potential stigma associated with taking the M-Packs bag among older students was a driving force behind the development of their new student pantry.
According to 2022 data from the Michigan Department of Education, nearly 68% of the student population of Munising's elementary school are eligible for free and reduced school meals. The middle and high school has a rate just above 50%. Free and reduced meal percentages are commonly used as a proxy that helps determine potential need for added support.
"Our free and reduced meal counts are high, and this shows us that we benefit from something like this in our schools," said principal Nicole Lasak.
But the Food Share is open to everyone, and the greater school and local community support the project. Some of the ways the community and partners have supported the project include:
In addition to other funds, a local service club can and bottle redemption from a nearby party store helps contribute ongoing financial assistance of about $100/week to help purchase food.
Alger Wellness Coalition, including leadership from the Sault Ste. Marie Tribe of Chippewa Indians and community volunteers, offer management, guidance and hands-on support.
Munising High School Key Club, a student leadership club, helped inform the project's development and implementation and gathered student input to choose the name "Mustang Food Share." Key club members also plan to offer education to their peers on food waste, nutrition and food safety.
MSU Extension offers support ordering healthful food choices.
The local health department and MSU Extension wrote and supported a food safety plan for the pantry.
The school hoophouse gardens contribute produce when available.
The Alger Community Foundation serves as the fiduciary.
In addition to a conscious effort ordering and stocking limited processed foods featuring whole grains, limited added sugar and sodium, organizers have made an effort to consider the environmental impact of the pantry. Any food waste goes into the compost near the school garden, plastics are limited, and paper bags and homemade t-shirt bags are available to pantry users and cardboard packaging is recycled.
"We have shown that it's possible to offer healthful food choices that kids will eat and still keep sustainability in mind," Ballas said.
Evidence shows that these healthful choices make an impact, and that well-nourished students are better learners.
According to the student Key Club president, the Food Share is serving its purpose well.
"I see so many students taking food from it every day," the student said. "I think it's a good thing for every school to have, so someone isn't sitting in class starving. I'm glad that they are able to have a good start to the day."
Through collaboration with MSU Extension, the Food Share has benefited from additional support. Munising Public Schools participate in a Midwest multi-state research project that aims to limit food waste and reduce food insecurity through implementation of share tables. Ballas serves to support and coach the school through this process, which also comes along with funds to purchase a share table and additional technical assistance. Additionally, the Food Share was recently awarded a $500 grant from the United Dairy Industry of Michigan.
While the impact of the Food Share has been big, Ballas says starting small was important. She has advice to other schools interested in starting their own healthy food pantry.
"It really hasn't been that difficult," she said. "As a community nutrition instructor with MSU Extension, I help connect the dots. The relationships are so important. Listen and determine what the need is. Ask questions, start small and bring people in. Everyone takes a little piece."
Michigan State University Extension partners with the Michigan Department of Health and Human Services to provide Supplemental Nutrition Assistance Program Education, or SNAP-Ed. SNAP-Ed focuses on good nutrition, stretching food dollars, living physically active lifestyles and engaging partners to build healthier communities. These efforts help to make healthy the easiest choice where people live, work, shop, play, eat and learn.