How MSU Extension and Greater Lansing Food Bank support the right to food
By creating meaningful, culturally preferred resources, the Greater Lansing Food Bank's Garden Project cultivates a sense of belonging among Lansing's newest Americans.
For Stevie Riley, of Greater Lansing Food Bank's (GLFB) Garden Project, people have the right to define their own diet and food system. This idea, also known as food sovereignty, is especially important for mid-Michigan's refugee families and communities.
"We get to help at the most basic level," she said. "Where their food is coming from, supporting the ability to take control of their own nutrition."
With a mission that aims to "alleviate hunger and create a future where everyone has access to nourishing food," supporting access to gardens makes sense. Garden Project, a program of GLFB, works to partner with mid-Michigan communities to contribute to their mission by providing garden space and food-growing resources. Garden Project prioritizes limited- to moderately resourced residents within their service area in an effort to promote community building, healthy eating and self-sufficiency.
GLFB supports a network of 85 gardens that span seven Michigan counties and provides direct management to 17 of the 85 gardens. According to GLFB, Garden Project spring 2023 newsletter, this network of gardens harvested an impressive 975,000 pounds of food in 2022.
For the last five years, GLFB has employed a New Americans Engagement Specialist to serve as a point person at seven refugee- and immigrant-specific gardens that range in size from a half to nine acres in size. The engagement specialist focuses on supporting culturally diverse gardeners and farmers with translation, cultural adaptability, garden resources and identifying community leaders to help support sustainability of their garden network.
Stevie Riley has held this role since February 2022, and she sees her role partly as a cultural broker. According to Riley, the need for such a position came about from observing a large number of international gardeners from refugee and immigrant communities residing in the Lansing area and the realization that a higher level of garden support was a need to support their success.
With approximately 40 languages represented among the greater community, attention to translation and interpretation is critical. Riley recalls needing "someone to dig down deep. Tailor information so it is specific to their needs. Listen and understand as to what these communities wanted to grow, while also helping to mediate cultural differences in the garden."
GLFB also works with and compensates cultural ambassadors who speak languages representative of the communities and help communicate information among gardeners and consults with Riley on how to resolve cultural issues if they arise in the garden.
Identifying, finding and purchasing seeds familiar to refugee communities and being responsive to diverse languages of the community is a priority. For example, when it comes to seed preferences, Riley recounted how bitter melon, a gourd commonly grown in Asia, Africa and the Caribbean, and favored by Nepali and Burmese communities involves extra time and resources. The seed typically costs a bit more than average seed costs, involves a process of germinating and soaking the seeds, clipping them and placing them on a heat pad for six weeks.
"You have to have a greenhouse for many of the seeds and plants," she said.
Through a partnership with a local school district, Garden Project manages a formerly empty greenhouse associated with a career tech center which allows them to be positioned to grow and eventually distribute and share culturally relevant plants to this international community.
Creating meaningful resources
In spring 2022, Michigan State University Extension provided Greater Lansing Food Bank's Garden Project with resources to support an emerging need shared by the food bank to support seeds and resource development for the arriving Afghan refugee community and other newly resettled communities in the Lansing area.
With this support from MSU Extension, Garden Project was able to purchase resources for future container gardening kits and purchase more culturally preferred seeds for their "Grow & Give" garden produce donation program.
Over the last year, Riley and her colleagues hosted potluck gatherings and used a dot-voting technique to learn from Afghan and other refugee communities about what they wanted to grow and/or vegetables they could not readily find in mid-Michigan. For example, gandana was one of the vegetables commonly mentioned, but seeds seemed nearly impossible to locate.
A perennial leek grown in Afghanistan, gandana is a key ingredient for a traditional stuffed flatbread recipe known as bolani.
"Every Afghan we spoke with was asking about gandana," Riley said. "The first seeds we bought didn't germinate and we ended up finding them from a different source online. We're excited to see the harvest."
With the help of volunteers and through existing partnerships with local churches and the Lansing-based nonprofit Refugee Development Center, several container garden kits have been successfully distributed. The kits included:
Two 10-gallon fabric grow bags filled with healthy soil.
Two 3-gallon plastic pots.
Options to select two culturally relevant transplants.
A variety of seeds, herbs, flowers and translated instructions on how to use and care for plants in the containers.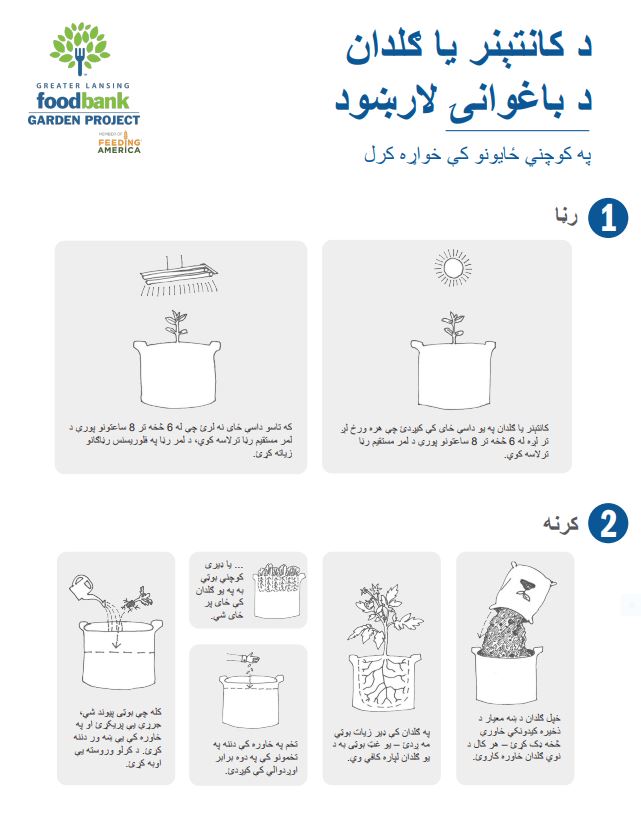 The kits were welcomed by the community with open arms.
"Everyone was so appreciative and surprised at all of the plant varieties we found that are of special importance to the communities," Riley said. "A lot of plants they didn't think they'd ever see again since leaving their country. I hope by distributing these kits, it helped them feel welcome. So many of these plants are culturally important and used in holidays or family gatherings. There's an emotional connection to some of the plants and the food prepared with them. So much of refugee resettlement involves teaching or telling how to fit into American culture. This helps to show that we value their culture as well."
The mindset to learn
Riley draws from her diverse set of experiences as an educator to be successful in her unique role with the food bank. She is quick to point out that she is not a refugee and does not have that lived experience, but references her academic degree in environmental education and two years in the Peace Corps working with an agricultural project in a remote village in Tanzania. Following the Peace Corps, Riley served in AmeriCorps, delivered environmental education with Detroit Public Schools and worked at St. Vincent Catholic Charities Refugee Services as a housing specialist.
These experiences have given her valuable insight that can help others who are looking to partner with refugee communities.
"It's a lot of patience and acknowledging how little you know," she said. "You must go into the experience with the mindset to learn. It's important to know that just because someone doesn't speak a language, doesn't mean they don't know what they're doing. In many cases, so many of these communities are fantastic gardeners and farmers."
Greater Lansing Food Bank's Garden Project appreciates support. Volunteers, financial contributions and supplies are welcome.
Michigan State University Extension proudly serves refugee communities across the state. Visit our Supporting Refugee Communities website for more resources and information.