How to report suspicious fish and aquatic plant sightings
Reporting unusual organisms protects the environment from unwanted invasive species. Be part of the solution by sharing your observations with biologists.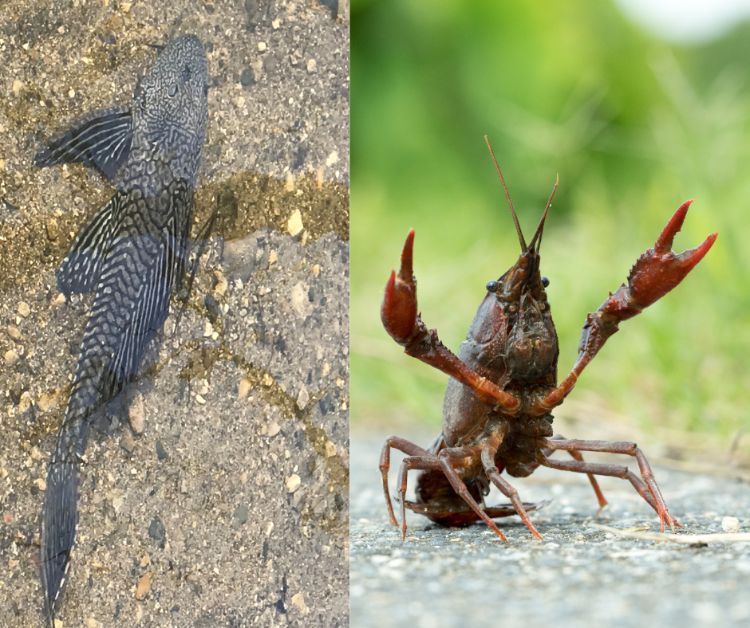 If you enjoy lakes and rivers, you may find yourself staring at an odd-looking animal or plant that doesn't look like it belongs there. The most important step you can take is to report your observation to conservation organizations if you suspect it may be invasive. Invasive species can degrade the environment, causing irreversible harm to your favorite natural areas. That means our best defense against them is you! The more eyes in the water the better. Conservation agencies rely heavily on public reports when responding to emerging invasive species issues.
Report your observations
There are two popular databases monitored by aquatic invasive species biologists and professionals in Michigan.
The United States Geological Survey maintains a Nonindigenous Aquatic Species (NAS) database. When you report your discovery on this website, your observation will be accessible to biologists at local, state and federal agencies, and the public.
The Midwest Invasive Species Information Network (MISIN) is a regional database used by invasive species specialists predominately in Michigan and the Midwest. After creating an account, you can report your observation and biologists will be notified. Reporting is limited to invasive organisms already found in the MISIN database.
After a report is made via NAS or MISIN, invasive species specialists receive an email alert and will determine the risk to the environment and if a response is needed. Even for species with a low invasion risk, it's still extremely beneficial to report sightings.
Tips for successful reporting
Take photos of the organism in question. Photographs should be clear and high enough resolution that they can be enlarged to ensure species identification. Multiple photos and angles are helpful.
Provide GPS coordinates if possible. Many mobile phones record this information when photos are taken. If your phone does not, an address, description to the nearest crossroads or easily identifiable landmark is beneficial.
There are a variety of mobile phone apps and websites that can assist in the identification of organisms and some also have databases that record observations. iNaturalist, and its corresponding identification app Seek, are examples of popular identification tools. While you may find them useful for identification, any suspicious aquatic species should be reported via the NAS database or MISIN.
Have an unwanted fish or plant in an aquarium or water garden?
Never release unwanted fish or plants into the wild. Give or trade it with another hobbyist or connect with a local pet or garden store. Some local retailers will take unwanted fish and plants to stock their ornamental displays. Retailers also have connections with rescue groups that can assist with rehoming.
The Reduce Invasive Pet and Plant Escapes (RIPPLE) program provides guidelines to protect our water from unwanted aquarium and water garden species. The program is a partnership between Michigan State University Extension and the Michigan Departments of Natural Resources, Agriculture and Rural Development, and Environment, Great Lakes and Energy and receives funding from the Michigan Invasive Species Grant Program. RIPPLE educates retailers and hobbyists about proper disposal of organisms in aquariums and water gardens to prevent the introduction and spread of invasive species.