How will you stay active this winter?
The beautiful Michigan landscape can help turn a typical winter day into a wonderland of fun that is good for your health, too!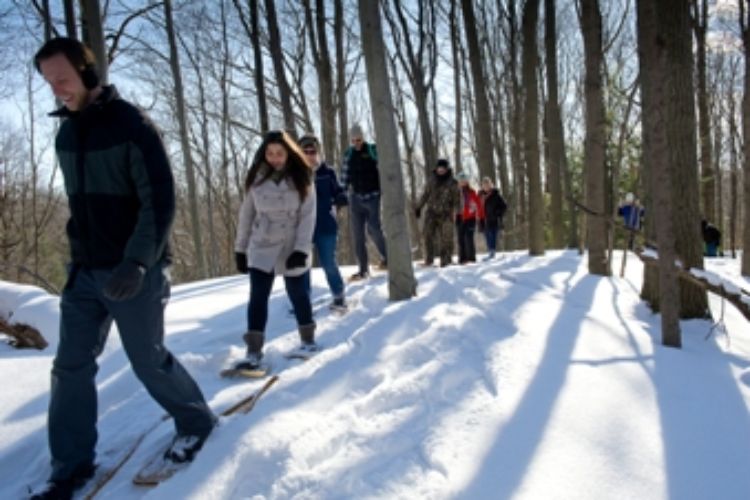 During the cold and snowy winter months, it can be difficult to commit to being physically active. The key to incorporating exercise during this time of the year is to find an activity that is right for you. Winter offers a unique variety of outdoor activities, most of which can take place in your own backyard or local park.
Michigan State University Extension recommends involving the whole family, consider building a snowman, having a snowball fight, going sledding or tubing, creating a snow fort or making snow angels. Activities that incorporate skills such as balance, flexibility, agility and leg and core strength include skiing, snowboarding, snow-shoeing and ice skating. To keep motivated and focused on your goals, it's important to mix up the workouts as necessary.
When exercising outdoors, be sure to warm up and cool down thoroughly to prepare yourself for exercise and to ensure that your body recovers properly. Learn more tips from the Mayo Clinic on how to stay safe while exercising outdoors.
Still dread the idea of going outside and prefer to stay indoors during these cold months? There are a variety of ways to incorporate regular physical activity indoors. Joining a gym or recreation center may provide the incentive you need to exercise by providing access to various classes or a swimming pool. However, incorporating exercise doesn't mean that you need to spend money. You can utilize exercise videos or DVDs from the library; walk your local mall, community college, or schools; take the stairs whenever possible; or perform simple body weight exercises such as lunges and squats to help you stay in shape.
Remember, exercise can be fun while providing health benefits! When beginning an exercise program, even 10 minutes at a time will help you reach your fitness goals.
Benefits to physical activity include:
Achieving and maintaining a healthy weight
Improved heart health
Reduced risk of Type 2 diabetes and metabolic syndrome
Lowered risk for various types of cancer
Strengthened bones, joints and muscles
Improved mental health and mood behaviors
Improved ability to do daily activities and prevent falls in older adults
Increased quality and longevity of life
Regular physical activity is one of the most important things you can do for your health. Why wait for the weather to warm up? Bundle up and challenge yourself to get moving today!
Photo Credit: Michigan Department of Natural Resources