Huron Shores Coastal Water Trail: Lake Huron waterways offer community and tourism development value
Exploring northern Lake Huron's coastline by water offers a wealth of recreational opportunities for residents and visitors, alike, fostering community and coastal tourism development opportunities in Northeast Michigan.
Grab a paddle to experience the best of northern Lake Huron's amazing coastal resources and shoreline scenery from the water. This amazing stretch of Northeast Michigan coastline has been recently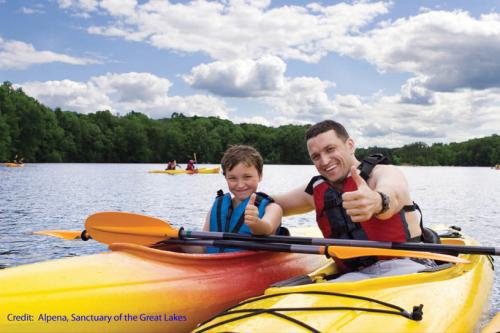 detailed, mapped, and made available to visitors through the collaborative Huron Shores Coastal Water Trail project. Paddling these coastal waters offers an amazing reflection of sustainable coastal tourism opportunities and investments developed across northeast Michigan.
Michigan is rich in more than 3,200 miles of Great Lakes coastline. Enhancing opportunities to explore these coastlines by way of water offers unique coastal tourism development opportunities for communities, while also enhancing quality of life by adding recreational opportunities available to local residents. In collaboration with the DEQ NOAA Coastal Management Program (CMP) and Land Information Access Association, Michigan Sea Grant and Michigan State University Extension helped facilitate the statewide coordination of Great Lakes water trails. More locally, this collaborative provided previous support for the regional Huron Blueways water trail, a project led by the Northeast Michigan Council of Governments and supported also by the DEQ NOAA CMP.
This five-county Huron Shores Coastal Water Trail complements and is promoted in parallel with the shore side U.S. 23 Heritage Route corridor. It serves to accomplish tourism development priorities identified during multiple Northeast Michigan coastal tourism research and planning efforts with local partners and communities. These often identify opportunities to capitalize on these natural and heritage-based assets of Lake Huron to promote sustainable coastal tourism across this region.
If paddling soun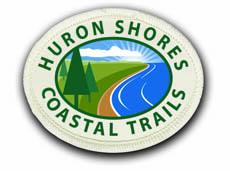 ds like the adventure of your trip to northeast Michigan – take a peek at the Huron Blueways website, and enjoy some of natural, cultural, and historical attractions awaiting your exploration:
Visit online to obtain more maps and information about touring Huron Shores Coastal Water Trail. To plan your trip, visit the U.S. 23 Huron Shores Heritage Route website online: www.us23heritageroute.org. Even access this information while on the water, as the US-23 Heritage Route partnership has also recently launched a smart phone version of the web site, including access to maps of the northern Lake Huron Blueways and Greenways.