I got a positive sample result: Now what?
With third party auditors requiring environmental sampling and product testing, growers are often left wondering what to do when a test comes back positive. Here are answers to some common questions and who to call to avoid costly mistakes.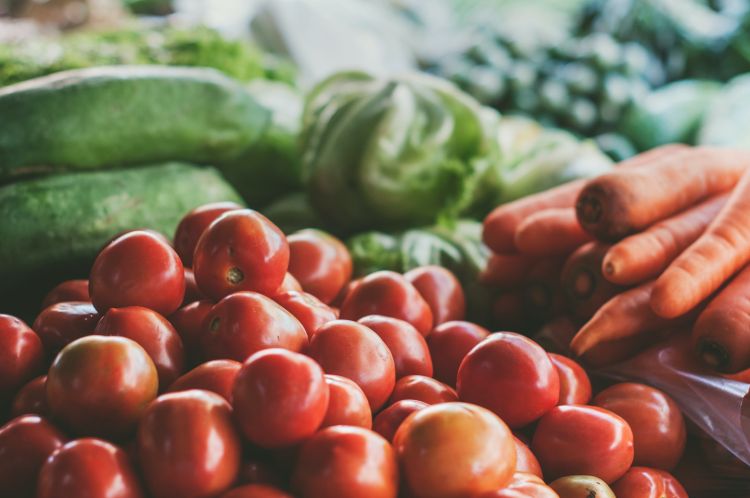 Many third party audits or marketing agreements may require fruit and vegetable growers to have environmental monitoring and produce testing plans in place. Although they are not required by law to be compliant with the Food Safety Modernization Act Produce Safety Rule, they are not to be done lightly.
Because they are complicated, the results prompt a lot of questions from growers. Here are a few questions growers have had about the results and some answers gathered from Food and Drug Administration (FDA) and Michigan Department of Agriculture and Rural Development (MDARD) resources.
What does it mean when my test says I have a presumptive positive or cannot rule out?
A "presumptive positive" or "cannot rule out" indicates the bacteria that was tested for is present, but it may or may not be alive and typically the species or strain is unknown.
How is a confirmed positive different than a presumptive positive?
A confirmed positive indicates that the bacteria tested is present, alive and a species or strain should be indicated.
What does pathogenic or nonpathogenic mean?
In general, pathogenic organisms or bacteria are known to cause disease or harm. Nonpathogenic bacteria are unlikely to cause disease or harm, but they may be used as an indicator that there is a problem with sanitation or maintenance.
What is an RFR?
An RFR is the Reportable Food Registry. The RFR requires a responsible party to file a report with the FDA through an electronic portal when there is a reasonable probability that the use of or exposure to an article of food will cause serious adverse health consequences or death to humans or animals.
An RFR applies only to facilities that are required to be licensed. According to Section 417(a)(1) of the FD&C Act, "Provided that the farm is not a facility required to register with FDA under section 415(a) of the FD&C Act, the farm is not a responsible party under section 417 and is not required to submit an RFR report."
What happens if my produce has not left my farm or pack house?
If you tested product and received a confirmed positive for a pathogen of concern, but none of the product has left the farm or pack house, keep that product separate from other product, consider marking it with tape or flags to ensure all workers know that this product tested positive, and hold the product until you contact a produce safety inspector (see list of contacts at end of article).
What does a recall really mean?
A recall is a voluntary action by a manufacturer or distributor to protect the public from products that may cause health problems or possible death. A recall is intended to remove food products from commerce when there is reason to believe the products may be contaminated, adulterated or misbranded.
The following flowchart might be helpful in walking through a farm's response to a positive environmental sample or product sample.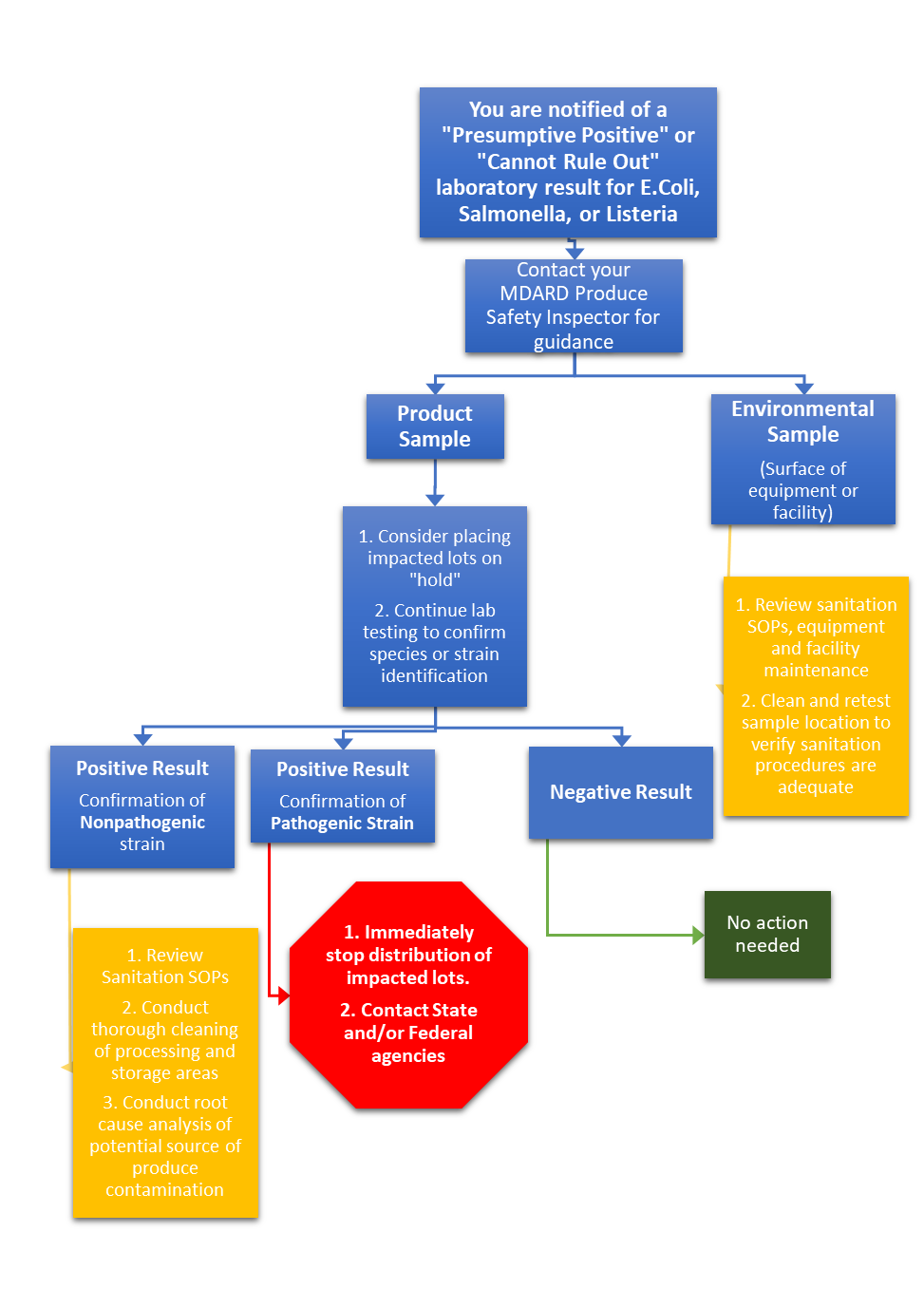 When it comes to developing and executing a sampling plan or determining a course of action after you receive a presumptive positive result, the primary rule is, "Don't go it alone." Reach out to multiple sources of information when you are planning or implementing sampling. If there are big differences in what you are hearing, try to figure out why that is. If you get a positive result, don't panic. If you can wait to ship fruits and vegetables that were processed around the same time as the sample that tested positive, wait. Reach out to resources in-state for guidance on next steps.
State Food Safety Modernization Act Produce Safety Rule inspectors and their contact information are listed below. If you have specific questions about the produce rule or have difficulty tailoring GAPs to your farm, contact the Michigan State University Extension Agrifood Safety Work Group at gaps@msu.edu or 517-788-4292.
Contact list of produce safety inspectors
Brent Kreiger
517-275-0212
kreigerb@michigan.gov
Emily Hollingsworth
231-670-4600
hollingsworthe@michigan.gov
Joe Smith
269-930-0443
smithj133@michigan.gov
Kim Martin
517-743-1343
martink26@michigan.gov
Funding for this article was made possible, in part, by the Food and Drug Administration through grant PAR-16-137. The views expressed in the written materials do not necessarily reflect the official policies if the Department of Health and Human Services; nor does any mention of trade names, commercial practices or organization imply endorsement by the United States Government.