Produce Safety Alliance Grower Trainings
---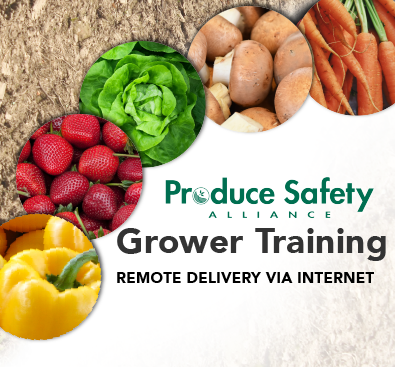 This upcoming season, Michigan State University Extension will temporarily host a remote delivery of the Produce Safety Alliance Grower Training remotely via the internet.

Six day-long remote training courses will be offered:
Must register two weeks before event

Oct. 20, 2020
Nov. 10, 2020
Dec. 1, 2020
Jan. 12, 2021
Feb. 9, 2021
March 9, 2021
FOOD SAFETY & COVID-19
There are many questions and concerns when it comes to both staying healthy and keeping your farm up and running in these uncertain times. Click the link below to find webinar recordings, guidance documents, and other resources that can help answer some of your questions and address issues you may be having on the farm.


FEATURED VIDEO
Evaluating Hygienic Design
---
Chris Callahan of UVM Extension developed five key principles to consider when evaluating hygienic design on produce farms. This interactive video allows you to virtually walk around a piece of equipment to give you an in-depth look at these principles.
For more information on hygienic design, visit
.
Published on October 19, 2020
Despite seeming to make economic and ecological sense, there are potential issues that make reusing single use fruit and vegetable boxes and bins for other produce sales a food safety risk.

Published on August 6, 2020
Implementing food safety practices on fruit and vegetable farms has been challenging. In response, a lot of different programs have sprung up to help. Let's review a few programs that often are confused.
---
Funding for this website was made possible in part by the Food and Drug Administration through grant PAR-16-137. The views expressed in the posted materials do not necessarily reflect the official policies of the Department of Health and Human Services, nor does any mention of trade names, commercial practices or organization imply endorsement by the United States Government.