Useful tips for produce safety water sampling and the opportunity to learn more
Water sampling to meet on-farm produce safety rules and GAP requirements can be confusing. This article offers a few tips to doing it right and announces an opportunity to learn more.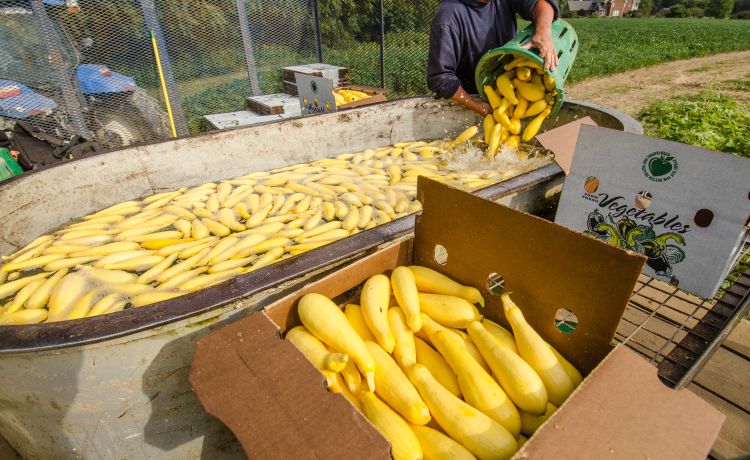 Fresh produce growers looking to comply with either Good Agricultural Practices (GAPs) audits or the Food Safety Modernization Act (FSMA) usually take regular water tests. Because there are a number of different food safety requirements around water, and because none of them are the same, some useful tips on water testing might be in order.
First, it is important to understand that even if a lab conducts a water test you are looking to have done, it does not mean they will be doing that test every day of the week. It is important to call ahead to the lab you are choosing and ask questions well in advance of taking any samples, like, "Do you process generic E. coli samples every day or on certain days?" Some labs may only run irrigation water samples two days a week. In those cases, any sample delivered to the lab after a pickup day might have been sitting for several days before it gets tested, changing the contamination level in the water.
Currently for a sample to be considered valid, it needs to be transported to a lab, on ice, within 6 hours. In most geographic areas, this means hand delivery to the lab is the only way to go. Finding a lab to carry out this test has proven challenging. The Northeast Center for Advancing Food Safety (NECAFS) has put together a curated national list of water labs that do the approved water testing methods for FSMA Produce Safety Rule requirements that you may find helpful.
Some audits require the person taking the water sample to have been trained. With farm work, it can be hard to fit a training in. Michigan State University Extension has created an online water testing certification program. This program was designed for those individuals on the farm who take water samples to meet audit or federal requirements. The training can be completed any time, day, or night, in front of any internet enabled device. Upon completion of the certification and a short survey, participants will be mailed a certificate of completion. To find out more or to sign up, visit the online Agricultural Water Testing Certification Course page.
Stepping back from concerns about federal regulations and GAP audit requirements, it is important to put water testing in context. If you are currently not testing any agricultural water used on fresh produce for generic E. coli, it is recommended you start. Choose any lab or method, as long as the result gives a number of generic E. coli that will help you understand the quality of your water supply.
If you are currently taking water samples for GAPs, use the accompanying guidance for the GAP scheme you are using to determine what to test for and how frequently. Do not change anything about what you are testing for or how often you are testing. As the federal guidelines change, and they WILL change, then change sampling and what you test for. Until then, it is better to know a little bit with not necessarily the best test than to continue to be in the dark about your water quality.
If you would like more information on water testing, contact the Agrifood Safety Workgroup at 517-788-4292 or gaps@msu.edu.