Identifying risks for COVID-19 exposures in the workplace: Agriculture
A new online tool helps agricultural employers evaluate and reduce COVID-19 exposure risks.
The risk for workplace exposures to COVID-19, the disease caused by novel coronavirus, vary greatly by industry. As with many industries, agricultural employers have been required to perform daily health screenings of their employees lessen the risk of virus spread among co-workers. In Michigan, Governor Gretchen Whitmer established Executive Order 2020-114 on June 5, 2020, which adds additional provisions aimed at safeguarding the health of Michigan's workers by minimizing the potential for exposure to COVID-19 among co-workers and the public. The executive order requires Michigan businesses to prepare a written COVID-19 Preparedness and Response Plan.
In response, Michigan State University developed an e-tool, the COVID-19 Hazard Assessment and Mitigation Plan (CHAMP), to assist the Michigan agriculture community in assessing risk for the spread of COVID-19 in their operations. This tool will help identify and implement appropriate and meaningful exposure control strategies to protect workers and the public (customers) consistent with business operations, and to comply with State of Michigan requirements for essential and open businesses under the Governor's Executive Orders.
As agricultural business owners and managers prepare their COVID-19 Preparedness and Response Plan, they will be performing task-based analyses to identify the risk of COVID-19 transmission for each task/job at their operation. According to the Guidance on Preparing Workplaces for COVID-19 by the Occupational Safety and Health Administration (OSHA), risk for occupational exposure to COVID-19 can be generally classified into four categories: very high, high, medium or low (caution).
The very high and high exposure categories are generally associated with workplaces in health care or mortuary settings when workers could come into contact with known or suspected sources of COVID-19. Within the agricultural industry, most workers will be undertaking tasks on farms that fall into the medium or low (caution) exposure categories. It is important to note that while those at greatest risk for spreading disease are those who have a fever and are experiencing symptoms, the Center for Disease Control (CDC) reports that individuals capable of spreading COVID-19 may also be pre-symptomatic or asymptomatic (or don't recognize they are experiencing symptoms. Therefore, it is difficult to determine who you may encounter that has the virus.
What jobs fall into the medium exposure risk category?
Jobs that require frequent or close contact (6 feet or less) with individuals of unknown COVID-19 status (e.g., co-workers, general public).
Those who frequently travel to or work with individuals travelling from known international and domestic COVID-19 hotspots.
Public-facing jobs that would occur with those working in food processing facilities and high-volume retail settings.
Examples of medium exposure risk jobs in agriculture:
Transplanting or vegetative sticking lines in greenhouses
Garden retail sales employees
Loading crews for animal agriculture facilities
Processing plant workers
Milking crews on dairy farms
Produce packing line crews
Fruit sorting line employees
What jobs fall into the low exposure risk category?
These jobs would not require contact with those known or suspected to be infected with COVID-19, nor have frequent or close contact with (less than or equal to 6 feet) of the public and other coworkers.
Examples of jobs in agriculture that fall into the low exposure risk category:
Lawn care professionals in solitude
Greenhouse grower working in solitude
Cropping operations where employees are completing tasks individually
Animal agriculture operations with tasks designated for one person to complete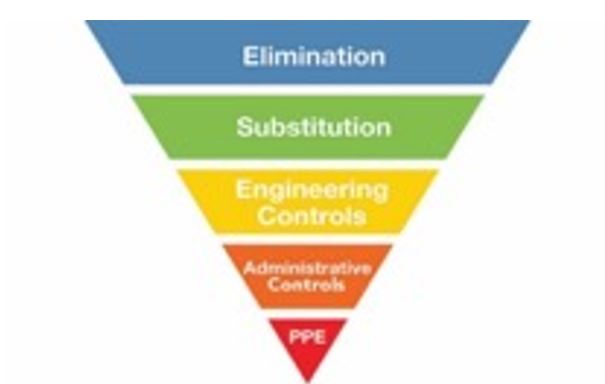 Despite their risk categories, there are methods businesses can employ in order to minimize risk for certain occupations and jobs at agricultural businesses. Exposure can be mitigated by five general categories of control: elimination, substitution, engineering, administrative and personal protective equipment.
Elimination and substitution
Elimination and substitution are the most effective controls. For example, can this task be done while working from home? Some workers for agricultural businesses may fall into this category, including logistics office staff, sales office staff, etc.
Engineering controls
Engineering controls are the next most effective controls after elimination and substitution. Engineering controls are most often employed for roles that have medium exposure risk or those jobs where working within 6 feet of individuals (other workers or the public) is required. These controls are those that improve infrastructure or the physical environment where the employee works. Engineering controls include physical barriers, sneeze guards, improved ventilation.
Administrative controls
Administrative controls are procedural or operational changes the reduce the risk of exposure. Administrative controls can be performed by the business and include health screenings, routine cleaning and disinfection, employee training specific to minimizing spread of COVID-19 and related protocol changes, and effectively communicating COVID-19 updates.
Personal protective equipment
Personal protective equipment (PPE) is the final step in minimizing exposure for workers. These include face coverings, face shields, disposable gloves or disposable lab coats. It is important to note that PPE, including cloth or disposable face coverings, assigned for the purposes of mitigating spreading COVID-19 must not supersede the requirement for PPE assigned to protect the worker from chemical, biological or physical hazards inherent in the job to be performed. For example, if a tight-fitting respirator is required for using or handling pesticides, the respirator must be worn in lieu of a cloth or disposable face covering.
In Michigan, Executive Order 2020-114 requires face coverings in indoor public spaces. As of July 10, 2020, Governor Gretchen Whitmer issued Executive Order 2020-147, which strengthens the mask requirement by:
Requiring any business that is open to the public to refuse entry or service to people who refuse to wear a face covering (with limited exceptions).
Requires using face coverings in crowded outdoor spaces.
Reiterates that individuals are required to wear a face covering whenever they are in an indoor public space.
To learn more and to prepare your own COVID-19 preparedness and response plan, check out the e-tool: COVID-19 Hazard Assessment and Mitigation Plan (CHAMP).