In a Dog Eat Dog World, Are Regulations Strong Enough to Protect Your Pup?
In Canada, there is no pet food nutrient composition enforcement for dog and cat foods. DeAngelo and Haskell review how US and Canadian regulations differ, and why pet parents should be wary of imports.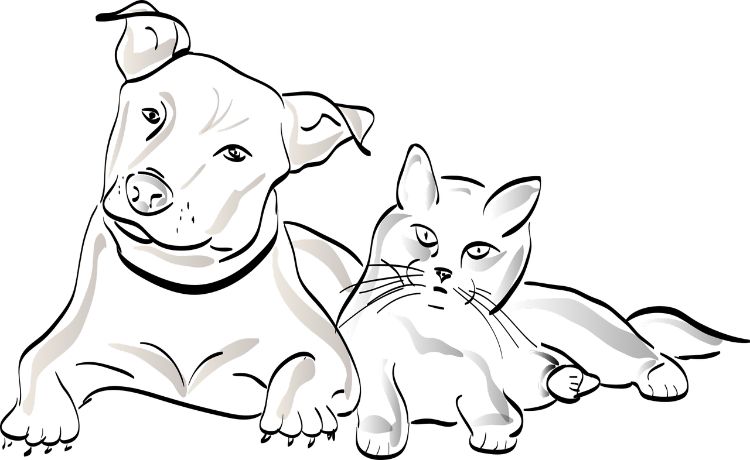 Kris DeAngelo is a lead instructor for MSU's Institute for Food Laws and Regulations and a private practice attorney with 20 years experience. Scott Haskell is a DVM and food safety expert. Both teach online graduate courses throughout the year for MSU's Institute for Food Laws and Regulations.
In 2019, there were 63.4 million households with dogs and 42.7 million with cats; 67% of United States households owned a pet in 2019-2020, equivalent to 84.9 million homes (Statista).
Over the last 2 years with the Covid-19 crisis, an additional 23 million households acquired a pet (ASPCA). Feeding them means pet food is big business. According to the American Pet Product Association, in 2020, pet food recorded its highest domestic sales at USD 38.4 billion (APPA). But to meet this high demand, pet food products are imported from around the world.
The companies that export the most pet food to the US are Thailand, China, and Canada (OEC). It is estimated that the import market for dog and cat food in the US is $1 billion dollars (OEC). Of that, $250 million is imports from Canada. And while research has shown that after the melamine pet food crisis, US consumers are leary of pet products from China, no such caution exists with our neighbor to the north (Huston). But perhaps that trust is misplaced.
The US considers pet food as "food" under the Food, Drugs and Cosmetics Act (FD&CA). Therefore, provisions that apply to human food also apply to pet food, including quality standards, processing standards and safety standards. For pet food, the FD&CA requires that all animal foods are truthfully labeled, safe for pets to eat, produced under sanitary conditions, contain no harmful substances, and that canned pet foods must be processed to conform with low-acid canned food regulations. (eCFR) As Americans, we believe that our pet food is regulated by the government and is safe to feed our pets.
In contrast, in Canada, human food provisions do not apply because their legal definition of "food" does not include pet food. With the exception of enhanced animal health safeguards designed to protect Canadians from bovine spongiform encephalopathy (BSE), known as mad cow disease, there are no national pet food regulations in Canada. This leaves the Canadian pet food industry, and any imports, largely unregulated. There are no laws or regulations that guarantee the quality, type of proteins, or caloric requirements in dog or cat food. Moreover, there are no requirements for cleanliness, lack of adulterants like pesticides or veterinarian antibiotics, or limits on particular types of animals from being made into pet foods, unlike in the US.
For example, one pet food product which is available in Canada is being investigated by the Food and Drug Administration (FDA) within the US for a possible link to a disease that can be deadly in many dog breeds, dilated cardiomyopathy (DCM). DCM is a disease found in many dog breeds that makes it difficult for a dog's heart to adequately pump blood through the body; this can eventually lead to congestive heart failure. The dog foods under suspicion for causing DCM are labeled as containing significant levels of potatoes, lentils, peas, pulses and generally labelled as 'grain-free'. The most common dog food brand noted by the FDA was produced by an Edmonton based company, Champion Pet Foods. But no similar Canadian investigations are being conducted (Heflin).
Likewise, in 2018, the FDA found 8 brands of dog food with extremely high levels of vitamin D. US FDA pushed companies to issue recalls. But the Canadian Food Inspection Agency has no corresponding authority. More recently, in 2021 Mars Petcare Canada issued a voluntary recall of its Whiskas cat food but failed to give the public the reason other than "they were made with raw ingredients that were outside of stringent internal quality specifications." This left owners and veterinarians to guess at the cause of illnesses. It is reported that Costco who sold the product sent notification that the cat food was recalled because it contained dangerous mycotoxins which gave veterinarians information to support care (Thixton 2021). So recalls are left to individual companies with no support, no criteria for notification, or resources offered by the Canadian government.
In Canada, there is no pet food nutrient composition enforcement for dog and cat foods meaning even if there is a label saying the food contains "high-quality ingredients," and there are no provisions for enforcement if a product does not conform to its label. Similarly, despite being prohibited in the US, one particular Canada pet food company was found to be using animals condemned by a Canadian slaughterhouse in its pet food. Because of the condemned animals, the pet foods could not receive a required veterinarian signature for export, and these pet foods were then sold to unsuspecting Canada pet owners (Thixton 2017).
In conclusion, in contrast to the US, pet food made in Canada can have a multitude or origins, contaminants, colors, food additives, irradiation, bacterial or viral or protist concentration, and ingredients come from any number of countries (China is known to be one the worst), and can be sold without being tested, or being industry certified. Pet food and treats are not required to be produced with current Good Manufacturing Processes (cGMP) or current Good Agricultural Processes (cGAP). Although the Association of American Feed Control Officials, and a working group organized by the Canadian government have set up standards for safety and labeling, they are strictly voluntary. Only the Pet Food Association of Canada (PFAC), requires its members to comply with its strict industry safety and labeling standards in order to use the PFAC logo. While consumers can look for the PFAC logo on products, it is unlikely US consumers will understand the ramifications. But maybe our seemingly similar neighbors aren't so similar in terms of pet food.
References
American Pet Products Association (APPA). Pet industry market size, trends and ownership statistics. https://www.americanpetproducts.org/press_industrytrends.asp
American Society for the Prevention of Cruelty to Animals (ASPCA). New ASPCA Survey Shows Overwhelming Majority of Dogs and Cats Acquired During the Pandemic Are Still in Their Homes. May 26, 2021. https://www.aspca.org/about-us/press-releases/new-aspca-survey-shows-overwhelming-majority-dogs-and-cats-acquired-during
Burdett, SW, et al. "Many Canadian dog and cat foods fail to comply with the guaranteed analyses reported on packages." Can Vet J. November 2018. 59(11): 1181–1186.
eCFR Code of Federal Regulations. Title 21 Code of Federal Regulations, Part 113 (21 CFR 113) https://www.ecfr.gov/current/title-21/chapter-I/subchapter-B/part-113
FDA. Investigation into Potential Link between Certain Diets and Canine Dilated Cardiomyopathy. https://www.fda.gov/animal-veterinary/outbreaks-and-advisories/fda-investigation-potential-link-between-certain-diets-and-canine-dilated-cardiomyopathy
FDA. Regulation of Pet Food. May 2020. https://www.fda.gov/animal-veterinary/animal-health-literacy/fdas-regulation-pet-food
FDA. Information on Marketing a Pet Food Product. February 2020. https://www.fda.gov/animal-veterinary/animal-health-literacy/information-marketing-pet-food-product
FDA. Pet Food. February 2021. https://www.fda.gov/animal-veterinary/animal-food-feeds/pet-food#:~:text=The%20FDA's%20regulation%20of%20pet,substances%2C%20and%20be%20truthfully%20labeled.
Government of Canada. Guide for the labeling and advertising of pet foods in Canada. September 2001. https://www.competitionbureau.gc.ca/eic/site/cb-bc.nsf/eng/01229.html
Heflin, Marissa. "Pet Food Reformulations Increase Following DCM Debacle, But Retailers Question the Changes." Pet Product News. April 28, 21. https://www.petproductnews.com/news/pet-food-reformulations-increase-following-dcm-debacle-but-retailers-question-the-changes/article_a7c3079e-a84a-11eb-851f-b79fe8586258.html
(Note: Sadly the exact cause of DCM has not been determined as yet. Cornell University along with Hill's Pet Nutrition are looking at potential nutritional causes of the disease although there may also be infectious or genetic factors such as large dog breeds, and specifically Golden Retrievers and yellow Labrador Retrievers.)
Huston, Lori. "Concerns About Pet Food Recalls and Safety Paramount to Owners, petMD Survey Finds." May 2013. https://www.petmd.com/dog/centers/nutrition/nws_multi_pet_food_safety_recall_concerns_paramount_to_consumers
Observatory of Economic Complexity (OEC). Where does United States import Dog or cat food (retail) from? (2019) https://oec.world/en/visualize/tree_map/hs92/import/usa/all/4230910/2019/
Statista. Number of pet owning households in the United States in 2019/20, by species https://www.statista.com/statistics/198095/pets-in-the-united-states-by-type-in-2008/
Thixton, Susan. "The Failed Trust Of The Canadian Pet Food Regulatory System." TruthAboutPetFood.com. January 13, 2017. https://truthaboutpetfood.com/the-failed-trust-of-the-canadian-pet-food-regulatory-system/
Thixton, Susan. "What Mars Petcare Didn't Tell Canadian Pet Owners About The Whiskas Recall…" TruthAboutPetFood.com. November 8, 2021. https://truthaboutpetfood.com/what-mars-petcare-didnt-tell-canadian-pet-owners-about-the-whiskas-recall/