Inaugural Michigan Chinook Cup awarded
Michigan growers vie for coveted prize.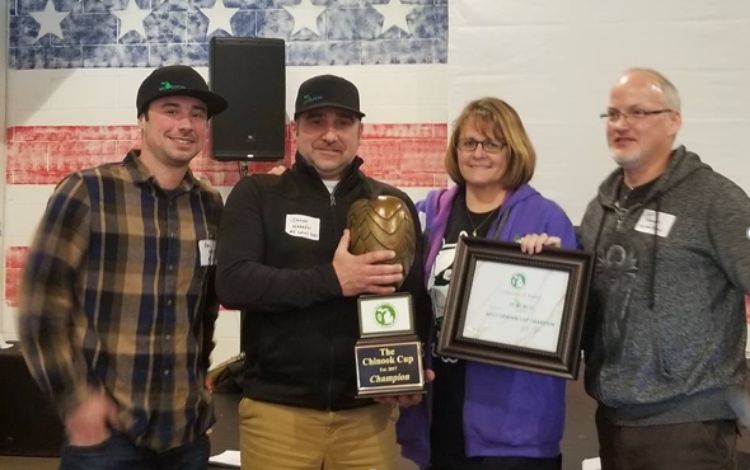 Hop Growers of Michigan were recently awarded the inaugural Chinook Cup to MI Local Hops. In a joint venture with Empire Hop Farms, custom farming and trellis installation specialists, MI Local started the process of converting a defunct golf course into the largest hopyard east of Idaho. MI Local farms over 200 hundred acres of hops, with the capacity to harvest an additional 200+ acres from neighboring farms with twin WOLF 1,000 picking machines, a fully automated WOLF drying system, a state of the art custom processing facility, and cold storage.
Modeled after the national Cascade Cup, the Michigan Chinook Cup is awarded to the Great Beer State's best Chinook hop grower as determined by a panel of expert craft brewers through a series of blind sensory tests. The samples are judged based upon aroma, appearance, and analytical test results. Empire Hop Farms (Empire, MI) was awarded second place, and Top-Hops (Goodrich, MI) received third place for their Chinook submission. Mr. Wizard's Hops (Monroe, MI) and Mystique Hops received Honorable Mentions in the "Wild Card" hop category for Michigan growers who do not grow Chinook hops.
Why Michigan Chinook Hops?
Although there are over 100 different varieties of hops used by craft brewers across the U.S., the top three hops have consistently been Cascade, Centennial, and Chinook. The Chinook hop, released in 1985, is the result of a cross between Petham Golding and a USDA male plant. Chinook are a "dual purpose" hop used for both bittering and aroma (See figure below). In their quest to brew "standout" flavorful beers, many craft brewers have become increasingly interested in newer proprietary varieties such as Simcoe and Citra. However, a small but growing number of brewers have begun to recognize that hops of the same variety, when grown in different locations with distinct soils and climate, impart different flavor profiles. In contrast to Chinook grown in the Pacific northwest that is generally known for its piney, spicy, dank attributes, Michigan Chinook is a cultivar that is increasingly recognized for its citrusy, clean profile.
If you are interested in trying a Michigan-made craft beer featuring Mi Local's award winning Chinook hops, there are many craft beers and locations across the state to choose from, including but not limited to"
If you would like to learn more about Michigan hop or barley production, registration is now open for the 2018 Great Lakes Hop and Barley Conference, March 12-14, 2018 in Kalamazoo, MI. Also, please continue to visit Michigan State University Extension's hop webpage or the MSU Hops News Facebook site for up to date information.