School of Packaging
Read about the School of Packaging and their work and research internationally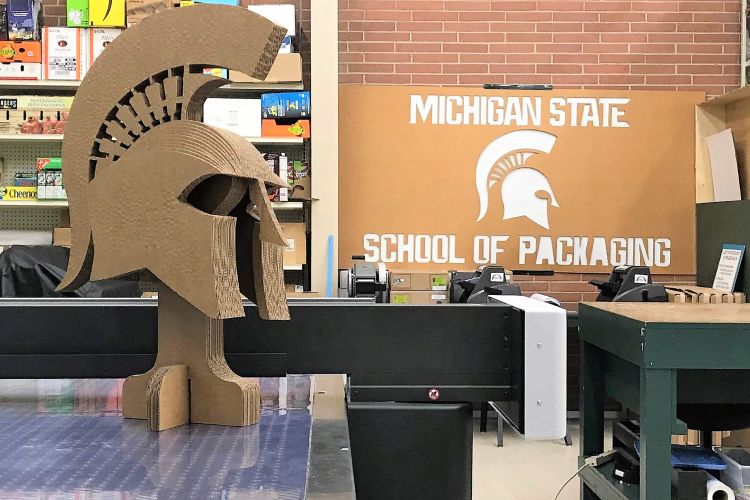 About Us:
For more than 60 years, the School of Packaging at Michigan State University (MSU) has been actively engaged in creating and advancing knowledge in the science of packaging through innovation, sustainability and stewardship. MSU has been a leader in teaching, research and outreach focused on packaging containers, materials, functionality and improvement. Established in 1952, it is the pioneer and continued leader in its field.
The School is engaged in more than six decades of dynamic research development and has built significant research expertise and earned national and international recognition in physical distribution and protective packaging. The school is also known as a leader in the areas of permeability and migration, shelf life, food packaging, product/package compatibility, tamper evidence and legibility. Currently, much research is focused on bio-based polymers, nanocomposites, pharmaceutical packaging and packaging solutions for food quality and safety.
The School collaborates with Industry Advisory Council, the Packaging Alumni Association, executive forums and company visits. A vast majority of students interact with industry partners through their participation in paid internships, as part of their studies. More than half of all packaging graduates employed in the U.S. come from MSU. The school offers bachelor's, master's and doctoral degree programs in packaging, as well as certificate programs and an on-line master's degree aimed at mid-career professionals. The schools has conferred more than 10,000 academic degrees – and currently has approximately 650 undergraduate and 43 graduate students. It is known worldwide as the leading resource for package professionals.
International Collaborations:
Packaging Saves Food Research Group, https://www.linkedin.com/groups/13551573/

Dr. Rafael Auras, aurasraf@msu.edu
The Packaging Saves Food Research Group is a unique and global team of experts, hailing from the Nordic countries, the UK, the USA and Australia, and bringing together a wide range of academic disciplines, including material science, supply chain management, design, food quality, consumer psychology and environmental science. They are bonded by a shared passion for packaging and a dedication to tackle food waste.

Food Packaging – Spain and India

Dr. Eva Almenar (ealmenar@msu.edu) has ongoing collaborations with Dr. Jaime González-Buesa (CITA-Universidad de Zaragoza, Spain), Dr. Pilar Hernandez Muñoz (Institute of Agrochemistry and Food Technology-Spanish Council for Scientific Research, Spain), and Drs. Parvathi J.R. and Becky Thomas (Somaiya Vidyavihar University, India) on food packaging. Work with Dr. Gonzalez is focused on bio-based modified atmosphere packaging for fresh produce. Work with Dr. Hernandez is focused on antimicrobial packaging materials. Work with Drs. Parvathi and Thomas is focused on eco-friendly packaging.

KISR, Kuwait

Dr. Rafael Auras, aurasfac@msu.edu
"Synthesis and Characterization of b-cyclodextrin Inclusion Complexes of Essential Oils for Development of Extruded Polylactide/Graphene Oxide Nanopackaging for Poultry Industry in the State of Kuwait." The aim of this project is to develop antimicrobial novel packaging materials by incorporating essential into polylactide (PLA) via extrusion process with desirable mechanical, thermal, and barrier properties with strong antimicrobial activity. The critical factor in the project is to control release of essential oils for inactivation of pathogens.

Packaging Society, UK

Ron Iwaszkiewicz (Iwaszkie@msu.edu) sits on the board and the education committee. He is also a fellow at IoM3, the Institute of Materials, Minerals & Mining, in the UK.
Education Abroad Programs:
Packaging in the UK: The status of packaging and package development for the European market. Summer, annual

The program provides insight into the British/European approach to packaging, including:

Lectures and field trips covering recent packaging developments; the British approach to resolving packaging problems; U.K. and E.U. (European Union) regulation and economic cooperation; and the contrast between U.K. and U.S. methods.
Information on U.K. and European packaging for transport, storage, and handling of consumer and industrial products.
Discussion with U.K. packaging experts about possible future approaches to packaging, distribution, and retailing in the U.K., the E.U. and Europe.
Visits to manufacturers, converters and fillers of all major packaging materials.
Focus on the wicked problems of recycling, compostability and sustainability

Packaging Logistics in Sweden – summer

Being redeveloped, return Summer 2021
International Collaborative Research:
Research collaborations in Europe, Kuwait, Lebanon, Mexico, Brazil, Argentina, Canada, Thailand, South Korea, Japan, India
International Training and Outreach:
Dr. Eva Almenar presented innovative food packaging in Mexico (2017), Colombia (2018), India (2011, 2019) and China (2019). In 2019, she led the efforts of the Institute of Food Technologists (IFT) Food Packaging Division to launch an international student food packaging development competition. Since 2015, she has been lecturing at the short course on International Food Safety offered by MSU.
Publications and Sharing of Knowledge and experiences with Global Community:
Pranata, M. P., González-Buesa, J., Chopra, S., Kim, K., Pietri, Y., Ng, P.K.W., Matuana, L.M., Almenar, E. 2019. Egg white protein film production through extrusion and calendering processes and its suitability for food packaging applications. Food and Bioprocess Technology, 12(4): 714-727 (https://doi.org/10.1007/s11947-019-2248-0 ).
Sonchaeng, Uruchaya; Iñiguez-Franco, Fabiola; Auras, Rafael; Selke, Susan; Rubino, Maria; Lim, Loong-Talk. 2018. Poly(lactic acid) mass transfer properties. Progress in Polymer Science. 86: 85-121.
Ahmed, Jasim; Mulla, Mehraj fatemah; Arfat, Yasir Ali; Bher, Anibal; Jacob, Harsha; Auras, Rafael. 2018. Compression molded LLDPE films loaded with bimetallic (Ag-Cu) nanoparticles and cinnamon essential oil for chicken meat packaging applications. LWT – Food Science and Technology. 93: 329-338.
Kathuria, Ajay; Al-Ghamdi, Saleh; Abiad, Mohamad; Auras, Rafael. 2018. Multifunctional ordered bio-based mesoporous framework from edible compounds. Journal of Biobased Materials and Bioenergy. 12: 449-454.
Iñiguez-Franco, Fabiola; Auras, Rafael; Ahmed, Jasim; Selke, Susan; Rubino, Maria; Dolan, Kirk; Soto-Valdez, Herlinda. 2018. Control of hydrolytic degradation of poly(lactic acid) by incorporation of chain extender: From bulk to surface erosion. Polymer Testing. 67: 190-196.
For more information, please contact:
Dr. Matthew Daum
Professor and Director
School of Packaging
Email: daummatt@msu.edu
Website: https://www.canr.msu.edu/packaging/