LA Events during the AY 2020-2021
A summary of LA events written by Josh Seyfried and Deb Guenther, board members of Landscape Architecture.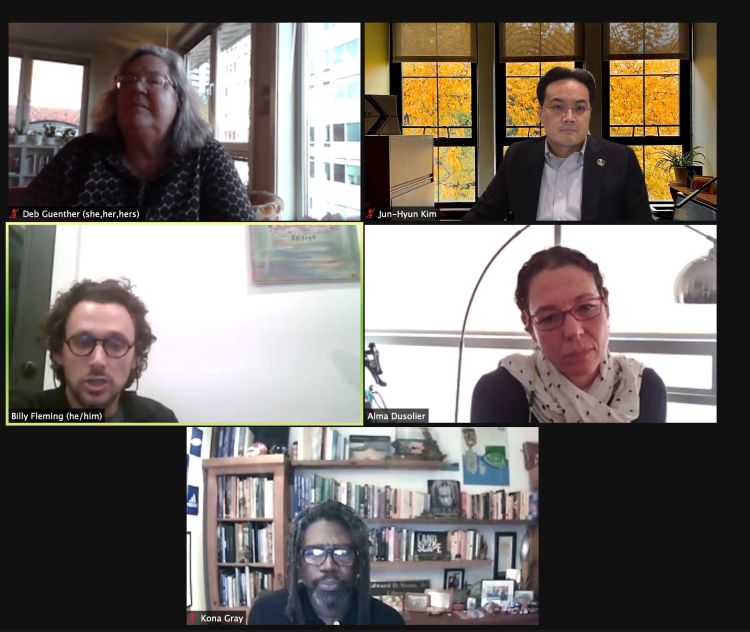 The LA Distinguished Speaker Series tried something new during our shared unusual year on October 22, 2020 and assembled a panel discussion, "Social Equity in a Post-COVID-19 World: A Designer's Perspective" Bill Fleming, Wilks Family Director, The McHarg Center, UPenn Weitzman School of Design was joined by Alma Du Solier, Studio Director, Hood Design Studio and Kona Gray, FASLA Principal at EDSA. Each panelist shared some of their latest thinking and projects, followed by a discussion. The wide range of types of work demonstrated the multiple ways that social equity shows up in design – from policy and advocacy to personal connection to places that reflect and are co-created through ideas generated with community members. There was robust discussion of where funding is coming from to implement projects and the political infrastructure needed to get projects built. In reflection, each panelist also shared ways designers and advocates can share power and resources with community to support existing leadership and knowledge in neighborhoods.
In 2021 Spring, the Landscape Architecture program virtually hosted two of its annual speaker events. The Spring speaker series kicked off on March 4th with the LA Distinguished Alumni Lecture featuring Bob Ford, Founding Chair of the MSU LAAAB, and Founder and Partner of Landscape Architects & Planners, Inc. based in Lansing, Mi for a lecture titled "Embracing Spaces/Changing Places." During this lecture Mr. Ford recounts his path into landscape architecture, what drove him to Michigan State University, and his decision and devotion to maintaining an international design practice in the Mid-Michigan area. Mr. Ford not only provides a glimpse into his creative process and his design thinking, but also his personal values, virtues, and numerous personal and professional lessons learned during a career spanning multi-decades and multiple continents.
On March 4th, 2021, the LA Professional Alumni Lecture Series continued with alumnus Ernest C. Wong, PLA, FASLA, APA, founding principal and president of Site Design Group, delivering a lecture entitled "Challenges and Opportunities in Post-Pandemic Public Space Design and Planning." During this wide ranging lecture, Mr. Wong recounts a childhood growing up with an architecture father, life lessons learned as an adolescent in Chicago, and ultimately the process that directed him into landscape architecture. As the leader of Site Design Group, Mr. Wong has built a practice which prides itself on its wide range of projects, working across many communities within many contexts, all with a strong focus on delivering beloved and memorable public spaces. Mr. Wong's lecture can also be accessed via the link: https://youtu.be/s48CSKOyLnc