Lake Michigan fish research highlighted in South Haven
If you missed the Southern Lake Michigan Fisheries Workshop you now can watch the proceedings online.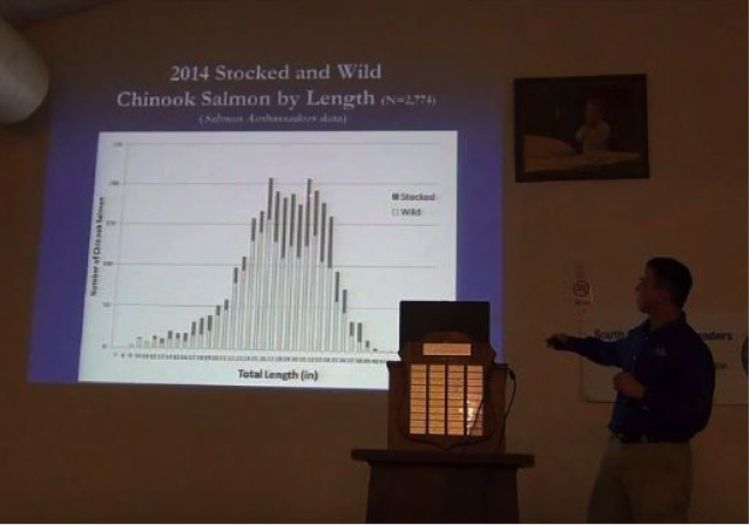 Each year, fisheries workshops organized by Michigan Sea Grant and Michigan State University Extension tackle questions important to Great Lakes anglers across the state. On April 21, the South Haven Steelheaders helped to host a Southern Lake Michigan Workshop that brought local anglers together to hear from fisheries professionals on topics related to Lake Michigan's salmon and trout fishery.
Presentations on the following topics are now available for public viewing on the Michigan Sea Grant YouTube channel:
Declining baitfish
Chuck Madenjian, Research Fishery Biologist with the USGS Great Lakes Science Center, spoke on the topic of long-term monitoring of alewfie and other baitfish. Bottom trawls and acoustic surveys provide complementary pictures of Lake Michigan's forage base, and both surveys showed recent declines in alewife, rainbow smelt, bloater, and deepwater sculpin. Recruitment of young alewife increased slightly from 2014 to 2015, but the 2015 year-class was much weaker than the strong year-classes of 2010 and 2012.
Tagging results for Chinook salmon and lake trout
Matt Kornis, a Fish Biologist with U.S. Fish & Wildlife Service spoke on the topic of mass marking. Results included information on movement and natural reproduction of Chinook salmon and lake trout. Big lake anglers may be surprised to learn that most of the Chinook salmon they catch are not stocked near their home port. In recent years, survival of stocked Chinook salmon had been consistently high in central Wisconsin but not at other Lake Michigan stocking sites.
Volunteer data collection
Michigan Sea Grant's Southwest District Extension Educator Dan O'Keefe discussed citizen science programs available for Lake Michigan anglers. In years to come, the Great Lakes Angler Diary app could provide a way for anglers to track their own catches in addition to sharing data with fisheries management agencies. In 2015, volunteer data from Salmon Ambassadors showed that the majority of Chinook salmon (72-81%) caught from Michigan ports on Lake Michigan were wild.
Lake Michigan fisheries management
Michigan DNR Lake Michigan Basin Coordinator Jay Wesley discussed fisheries management activities and the status of Chinook salmon, coho salmon, lake trout, steelhead, and brown trout in Lake Michigan. Wesley also spoke about habitat restoration at a reef near Elk Rapids, a unique fish elevator on the Menominee River, and efforts to stop the spread of new invaders including the New Zealand mudsnail and red swamp crayfish.
Michigan Sea Grant helps to foster economic growth and protect Michigan's coastal, Great Lakes resources through education, research and outreach. A collaborative effort of the University of Michigan and Michigan State University and its MSU Extension, Michigan Sea Grant is part of the NOAA-National Sea Grant network of 33 university-based programs.