A visit to Lansing Roots introduced students to what an incubator farm is, the Greater Lansing Food Bank, and The Garden Project.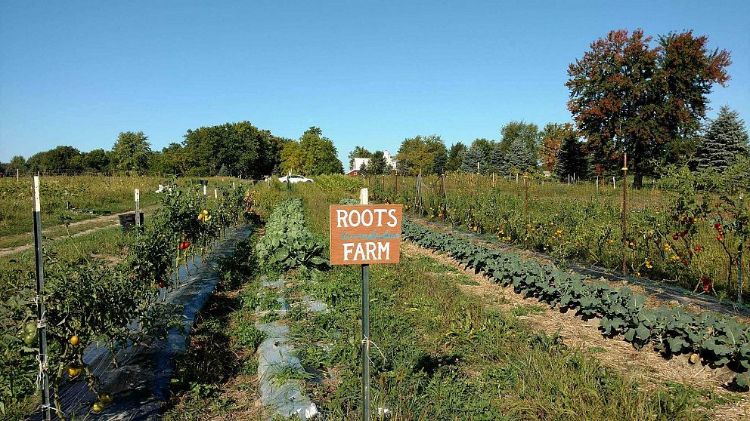 The Lansing Roots Incubator Farm is designed to help young and new farmers get into the system so that they don't have to face the struggle of fronting costs for land, equipment, and tools in the beginning of their production.
It is said that by the year 2050 our population will reach 9.7 billion people. With this in mind, consider that the average age of a farmer is over 57 years old, and 35% of farmers are looking to retire in the next 10 years. With these combined trends and fewer people pursuing careers as farmers, it is important that we begin planning ahead for the future. Currently, 1 in 7 people in Michigan are hungry or "hurting for food." This is when the Greater Lansing Food Bank (GLFB) steps in. In 1982 GLFB started to show people how to grow their own food. In 1983 the Garden Project was born. This project provides farmers access to land, education, free seeds and plants, tools, and networking opportunities. This project supports more than 125 community gardens. However, GLFB sought to help people grow food not only as a source of nourishment, but also an income. Thus giving birth of the Lansing Roots Incubator Farm in 2013.

The Lansing Roots Incubator Farm is designed to help young and new farmers get into the system so that they don't have to face the struggle of fronting costs for land, equipment, and tools in the beginning of their production. To learn more about this program, we talked to Donny Comer, the Program and Education Coordinator at the Greater Lansing Food Bank, and his colleague Dilli Chapagai, the Immigrant and Refugee Liaison for the Garden Project.

Lansing Roots Incubator Farm focuses on historically underserved populations which consist of groups of primarily refugees, immigrants, and women, as well as low-income and minority groups looking to become part of the agricultural sector. This in turn has attracted a diverse community of farmers. The Lansing Roots currently has 12 farmers, and half of them are not originally from the U.S. This being said, all of these farmers are interested in producing food, not only for consumption, but also to earn an income. Through this incubator farm program, each farmer is able to step into the agricultural industry and make a name for themselves. "We need to find a way to get new farmers into the system, so that in the next 10 years when farmers retire this system just doesn't get broken down", said Donny Comer.
Usually, an incubator farm's goal is to produce more farmers. For Lansing Roots, they are focused on the farmer's growth and preparation in owning and managing their own farm businesses. From start to finish, a farmer's experience at the incubator farm usually lasts about 5 years. Farmers can benefit from the demonstration plots and the knowledge shared among the other agriculturalists at this the farm. Lansing Roots also assists them with getting MAEAP (Michigan Agriculture Environmental Assurance Program) certification and gaining access to the market through Community Supported Agriculture (CSA) sales and other avenues. In addition, students coming from the Michigan State University organic farm can utilize this resource to build up their name, brand, and business. Through making connections and marketing, a grower can discover what they grow best in this area and determine their client base and recognition factor.

Often new growers that are immigrants or refugees might experience trouble getting acclimated to growing food in this new area. Differences in equipment, environment, climate, markets, and processes here in the United States can make it difficult for farmers to adjust their growing systems, styles, and traditions. By giving people extra help, through programs like this incubator farm, this allows for a necessary adjustment period for these producers. Lansing Roots has provided a resource where new growers can learn skills in order to provide cultural food for their communities. This also provides a platform for farmers to share their own skills with other fellow growers thus forming meaningful connections.
In terms of sustainability, Lansing Roots is promoting economic sustainability of its participants. New farmers participating in the project get access to affordable land that allows them to start their small businesses as farms and make income using their own plots of land. These farmers can then sell their produce to community restaurants and local farmers markets. Apart from earning income from the sales, refugee and immigrant farmers are able to grow food from their home countries and supply these products to their own cultural demographics. One of the Roots farmers on site is currently processing his jalapeno peppers into jam so that he can sell them to his local community. Farmers can also collaborate and sell their produce as a wholesale, allowing them a greater access to various markets and income levels.

Lansing Roots itself is economically sustainable. It is supported through funding from the United State Department of Agriculture (USDA) as well as the GLFB. Furthermore, their 15 acre land that's available for the program is leased at as low as $100/acre per year. This allows them to keep the costs of the farmer plots as low as $150 per plot per year. Their good reputation and the success of the project allows them to gain access to grants, allowing them to continue funding this program.
For more information about the Greater Lansing Food Bank and The Garden Project, click here.