Lansing farm provides unique setting for workplace skill development
Persons with barriers to employment are learning employment skills in an agricultural environment that teaches them some of the most modern agricultural practices.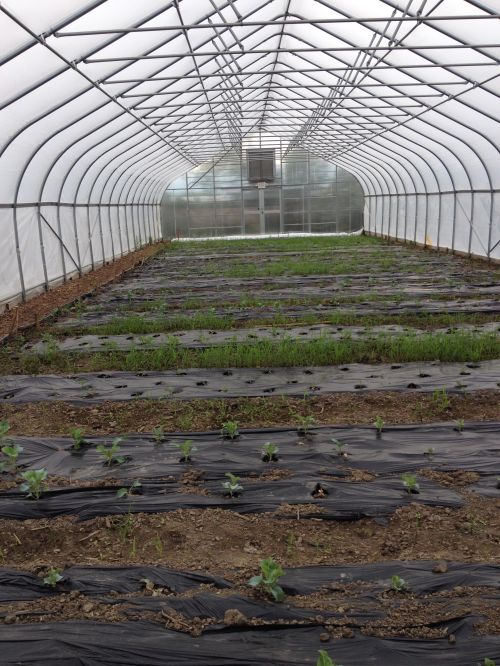 Michigan State University Extension supports increasing the production and distribution of local and regional food as one strategy used to increase economic opportunities for local and regional producers and minimize environmental degradation. One organization local to Lansing, Michigan that further elevates that goal is Peckham Farms.
In an inconspicuous location, just west of the Lansing Capitol Airport and across from a farm supply store, is a bright red barn with a green roof. Spelled out in white shingles is the name, "Peckham." Further investigation reveals several indoor growing structures and rows of fruits and vegetables growing on a site surrounded by warehouses and commercial buildings.
Peckham Farms is one of the business operations of Peckham Industries, a non-profit vocational rehabilitation organization. According to its website, "Peckham provides job training opportunities for persons with significant disabilities and other barriers to employment. Peckham provides people with physical, cognitive, behavioral and socio-economic challenges, a platform to demonstrate their ability, learn new skills, participate in work and enjoy the rewards of their success. Peckham provides opportunities so clients can experience meaningful employment growth."
Peckham further develops their social mission by providing job training opportunities that are led by staff with years of farming experience in state-of-the-art horticultural facilities. The farm has put into practice some of the most modern organic horticulture innovations. Their four-season greenhouse is home to an innovative method of cultivating strawberries in small bags filled with coconut coir, a growing medium made from coconut husks and automatically irrigated. In adjacent high tunnels, roughly .7 of an acre of raspberries (approximately 2250 plants) are being grown using innovative techniques perfected in Europe. Their particular high tunnel structure, by Haygrove, a UK-based company, is the only one in North America.
Computer-managed climate controls are state-of-the-art and control the growing environment in their four season greenhouse, high tunnel, two hoop houses and retail farmers market.
Along the road, a smaller hoop house sports a sign that states, "Farmers Market." This is the retail location for the farm. In early spring, flower and vegetable starter plants raised by as many as 16 staff and team members (clients) of Peckham Farms are available for retail sale. Hanging flower baskets can also be purchased. As produce grown on the farm ripens, it too will be displayed for retail sale.
Peckham Farms also sells produce at the wholesale level to Meijer, a Midwestern grocery chain that sells Peckham Farms-grown fruits and vegetables in select Lansing store locations. As an integral part of the Greater Lansing community food system, Peckham Farms is capitalizing on its unique business relationship with Meijer to provide meaningful workforce experiences and training opportunities at their farm.
Visit the MSU Extension website or contact an expert for more information about how MSU Extension is working with community food systems across the state of Michigan.