Learning to grow on foreign soil
Growers from Bethany Christian Services' Hope Farms attend MSU student organic farm Beginning Farmer Workshop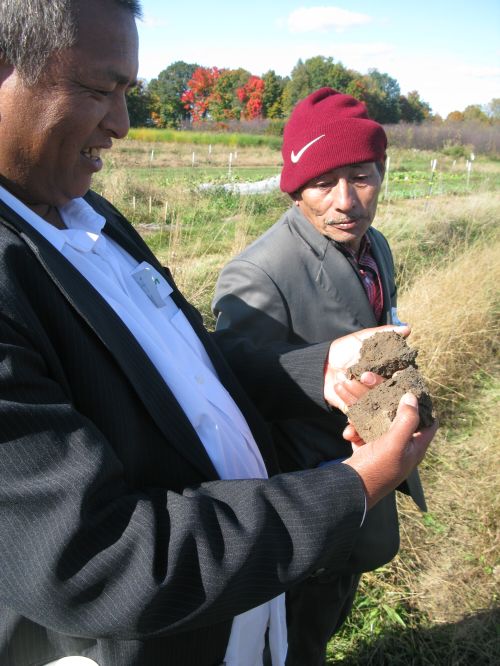 Hope Farms is a two-year old, diverse fruit and vegetable farm in the Grand Rapids metro region managed by Bethany Christian Services. The project focuses on allowing refugees, mostly from Nepal and the Republic of Burundi, to develop their past farming experiences in their home countries into deeper agricultural and entrepreneurial skills. Produce from the farm is sold at local farmers markets, in grocery stores and to area restaurants. While gaining valuable knowledge and experience, refugees also earn a supplemental income and gain access to healthy local foods. Hope Farms is managed like an incubator farm. Bethany Christian Services is hopeful that once growers gain knowledge and experience, they will be ready to go out on their own and operate their own farms after a few years.
In an effort to reach all populations of farmers in Kent County, Michigan State University Extension covered the cost of a translator so that three Hope Farms growers along with an intern and the farm manager could attend a Michigan State University Student Organic Farm's Farmer Field School workshop on soils in October 2015.
Scott Townley is the manager of Hope Farms. He reported that the growers participating in the workshop learned a lot about cover cropping, which will likely help reduce soil erosion and will add nutrients back to the soils on their farm. He also stated that he felt growers really benefited from seeing some of the organic agriculture practices they have discussed at the farm, but haven't had a chance to implement yet. "Seeing is believing," said Townley.
"I think seeing a lot of different ways of doing things balanced on top of some basic soil science was encouraging and sparked some imagination for their (the refugee growers) farms in the future. The scale was different from what we are doing. But again, many principles presented were very relevant. I had a chance to talk to the interpreter afterward. He felt that the trainings were valuable. He emphasized how they gained a deeper understanding of nutrient cycling in soils. These growers used animal manures and vegetable wastes for fertility in their home country, so I think the new information built on their deep experiential knowledge," stated Townley.
Townley feels that the growers may benefit from attending future workshops in this series, especially the trainings related to pests, diseases and business planning. The MSU Farm Field School is comprised of intensive one and two day hands-on workshops, which are tailored to deliver in-depth, practical information for farmers with less than ten years of experience growing for local and regional markets.
Michigan State University professors, MSU Extension educators and other agricultural experts and farmers serve as instructors for the program. Funding for the workshop series is provided by the National Institute of Food and Agriculture of the U.S. Department of Agriculture under the direction of the MSU Center for Regional Food Systems and Michigan Food and Farming Systems. For more information about this workshop series, contact Tom Cary, Farmer Field School Program Manager at (616) 916-9823.