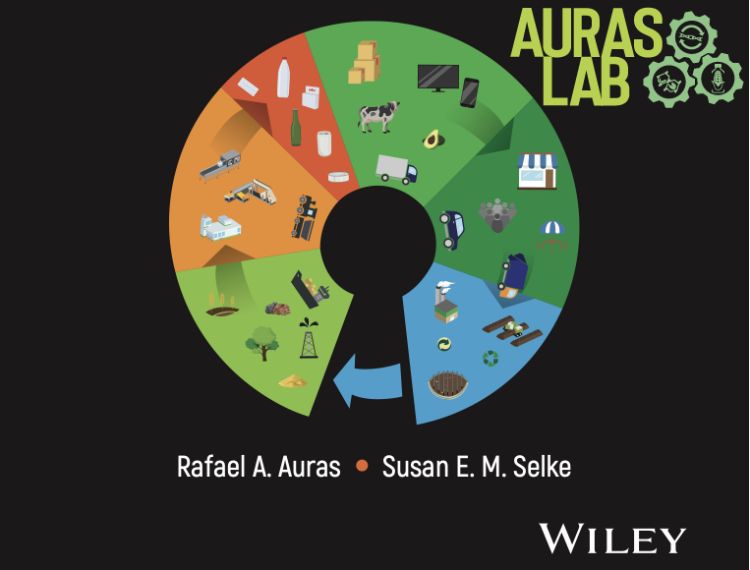 Our book "Life Cycle of Sustainable Packaging: from Design to End of Life" has been published. It has been a long but rewarding journey, with many back and forths, until we settled on the final outline and material to cover. Several pieces of the work are an evolution of material previously developed for different audiences in conferences and publications. In this journey of creating, teaching, and researching, we learned that creating packaging systems for sustainable development requires a transdisciplinary approach, extensive and meaningful collaborations, and an examination of the entire life cycle of packaging so that societally successful packaging systems can be conceived.
We organize this book so students and teachers can learn and develop future packaging systems considering the holistic benefits and impacts they produce for society. The book starts with a general framework of sustainability and circular economy related to packaging. As any new packaging begins with an idea and a desire to solve a need, we continue with an invited chapter by Dr. Euihark Lee about design thinking and how to use this methodology in packaging – thank you Dr. Lee. Since not all the readers will have training on the primary packaging materials and the types of energy required to produce them, Chapter 3 provides a general overview of packaging materials, processing, and the energy used to make them as well as a general description of the main components of packaging systems.
In the book, we give much attention to the concept of life cycle assessment (LCA) as the primary tool to evaluate the environmental footprint (EFP) of packaging systems; therefore, we spend several chapters building the necessary foundational knowledge about pollution and how to create EFP indicators. Chapters 4 to 8 provide the main knowledge about risk assessment and management, and soil, water, and air pollution. We close this section with global climate change, which has become one of modern society's most significant and concerning issues.
After covering pollution and how to create EFP indicators, we provide a general review of LCA and the main steps to conduct a streamlined LCA when considering cradle-to-gate, grave, or cradle boundary conditions.
Chapter 10 introduces the concept of municipal solid waste (MSW) and the leading waste management systems for MSW – reduction, reuse, recycling, incineration with energy recovery, and residual management. Chapter 11 expands on the reduction method of MSW. It combines streamlined LCA to quantify the EFP of the reduction strategies, further focusing on the primary packaging materials (i.e., glass, metal, paper, and plastic). Chapter 12 focuses on reusing, the main scenarios and systems where reusing is beneficial and discusses how to improve them. Chapter 13 deals with recycling from the consumer, collection, and separation perspectives and includes issues about the economy and the main systems to recycle packaging materials. Chapter 14 deals with packaging aerobic and anaerobic biodegradation and explores the requirements to certify a package as compostable. Incineration with energy recovery is an essential and growing method to deal with MSW, more in other countries than in the US, and it is discussed in Chapter 15. Finally, we finish this section with Chapter 16, discussing sanitary landfills and the methods to control and deal with the pollution created by these units.
Although not a waste management system but an important consideration when discussing packaging and its impact on current society, Chapter 17 introduces the impact of littering in the terrestrial and marine environments. We finalize the book with Chapter 18, which we called "keeping in perspective," where we evaluate the entire supply chain and the impact of packaging systems and products, also providing a consumer perspective.
We have enriched the text with case studies for each chapter to facilitate the understanding of each concept. If you are an instructor and would like to evaluate the book, please ask Wiley for a digital education evaluation copy. The book is provided with a companion website which includes the solution manual and teacher materials. We hope that the text, questions, and problems can be used to teach the next generation of packaging professionals to develop packaging systems for sustainable development.
Thank you to our students that have helped us to try out this material throughout the years and to everybody else that has been part of this journey.
Go Green!
Rafael Auras