Livestock Trailers – Considerations for first responders responding to accidents involving livestock
Michigan State University Extension offers training for deploying equipment needed for responding effectively to accidents involving livestock.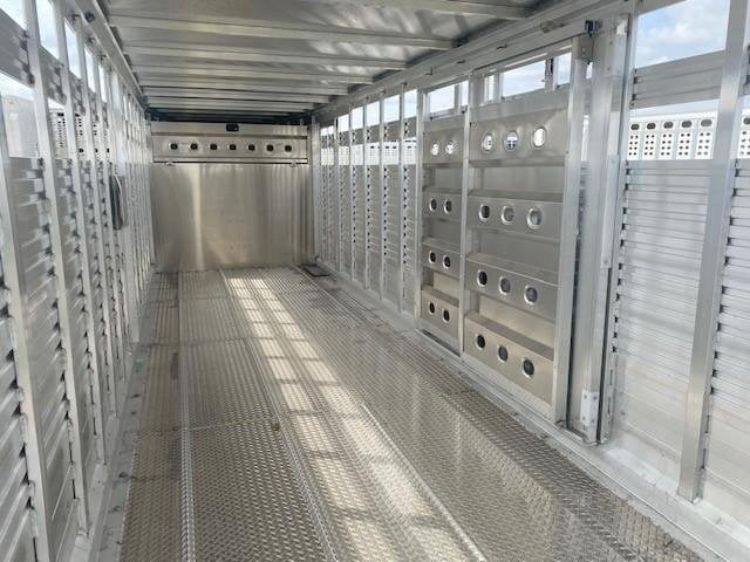 When responding to an accident involving livestock, there are differences between the types of horse and livestock trailers that first responders should take note of.
Horse and livestock trailers can come in many different sizes, dimensions, and configurations. In addition, trailers can be customized to fit the needs dependent upon use. In general, horse/livestock trailers are pulled down the road by two different hitch types, bumper and gooseneck. Some trailers may contain living quarters and have propane fueled appliances. Additionally, the capacity of different style trailers has a wide range, from two horses to loads with the ability to transport up to 50,000 pounds of livestock.
Construction
Today, many trailers are built with aluminum and/or a combination of aluminum and steel. Aluminum is lighter than steel making for a lighter load to pull down the road. However, when considering accidents involving livestock, aluminum is approximately 1/3 the strength of steel. It is pertinent to note that aluminum crushes or rips when impacted. When the weight of the rollover trailer meets the concrete or roadway, the pressure may tear open holes in the transport vehicle. Therefore, when responding to an accident involving livestock consider the type of metal and plan accordingly.
Horse trailers are typically double-walled and may have insulation and a rubber lining to protect the horse. Most horse trailers are fully enclosed to keep out rain, sun and snow in an effort to keep horses protected from the elements. Most livestock trailers are single-walled and may have openings on the side to allow for airflow. These openings become risk points if a trailer is turned on its side, allowing animal's feet and legs to fall through these holes making it difficult to extract them without injury.
Precaution: Never put your hand or arm through the side of the trailer when the trailer is loaded with animals.
Flooring
The flooring of horse trailers is usually equipped with rubber floor mats to provide the horse with better footing. Stock trailers contain tread plate, often referred to as diamond plate, corrugated or ribbed flooring to prevent livestock from slipping and falling down during transport.
Note: the floor between the two levels of a decked livestock transporter is the support that maintains the integrity of the trailer. Extreme caution should be used if attempting to cut the trailer for extrication of animals to avoid collapse of the trailer.
Dividers or Gates
Stock trailers tend to have divider gates that separate groups of livestock inside the trailer. In some trailers these divider gates may also have smaller sliding gates in them. Livestock hauled in these trailers are typically in groups within compartments of the trailer.
Inside horse trailers, there may be different types of dividers. Slant dividers are higher at the head and taper at the back. These dividers latch at the back and only swing one way toward the back of the trailer. If the trailer is equipped with a stud gate, these dividers will not taper at the back and will go all the way to the floor. In straight load horse trailers, horses may be separated by a divider and have padded breast and butt bars.
Reminder: gates and/or dividers may only swing one direction. This may dictate how animals are accessed and/or be a determining factor if cuts to latches need to be made for gates to swing both directions for unloading purposes.
Doors
Horse trailers will have full height entry doors at the front and back of the trailer which may also contain a smaller sliding gate. They may also come equipped with ramps for ease of loading and unloading. Stock trailers have a full swing rear gate that opens the whole back of the trailer and generally have a smaller side open door on the right side near the front of the trailer. Depending on the animals that the trailer is intended to haul, stock trailers may come with or without ramps located on the rear of the trailer. Multi-level large livestock transporters (semi) have an internal ramp that is locked and stored when the trailer is in motion. This ramp can be removed and utilized when extricating animals and then loading onto another trailer.
Considerations
Utilize doors and ramps (if available) for safe and secure exit strategies for animals and responders.
Never lock yourself inside a trailer without an escape exit door for emergency purposes.
Livestock are heavy animals and put pressure on doors and gates, so be sure to evaluate conditions before releasing the latch on a gate and/or before entering any enclosed areas containing livestock.
Prior to extricating animals from a trailer involved in an accident, containment fencing (or in the case of horses, handling equipment) should be in place so that the roadways are protected from uncontained animals.
First responders, law enforcement officials and others that may be involved in emergency response to accidents involving livestock will be better prepared for these situations by having a general understanding of the make-up and types of trailers that are used to move animals. On October 18, 2022, the MSU Extension ERAIL Team will host an in-person, hands-on training focused on increasing the awareness and skill set of first responders, law enforcement officials and others that may be involved in the response to an accident involving animals. This one-day Emergency Response to Accidents Involving Livestock (ERAIL) Training will be held at the MSU Pavilion for Agriculture and Livestock Education located 4301, Farm Lane East Lansing, MI 48824 and will start at 9 a.m. The cost of this training is $75 per person or $60 per person for groups of two or more. No refunds will be given after October 10, however substitutions may be made after that date. Registration is limited.
This training will develop or refined the skills needed for responders to accident scenes. The training will also provide attendees an excellent opportunity to network with local law enforcement groups, as well as formulate key questions for continuous improvement of the systems they are each involved with. It is expected that participants will come from varied professions and backgrounds, making this training experience robust and beneficial for all.
The MSU Extension Emergency Response to Accidents Involving Livestock (ERAIL) team focuses on providing training for first responders, law enforcement officials and others involved in accident response through multiple different medias and opportunities. This programming effort impacts Michigan's animal agriculture industry by preparing those involved in accident response for situations that could occur while transporting livestock. These efforts not only support the safety of first responders, they also protect the welfare of the animals involved in these situations and help provide for the safety of the public traveling the roadways. Further information on the ERAIL program and other preparedness activities supported by MSU Extension can be found by visiting the MSU Extension Agriculture Impacts webpage.