Lowell students get a lesson in business at the Grand Rapids Downtown Market
MSU Extension hosted a Lowell Junior Master Gardener field trip on August 4, 2015.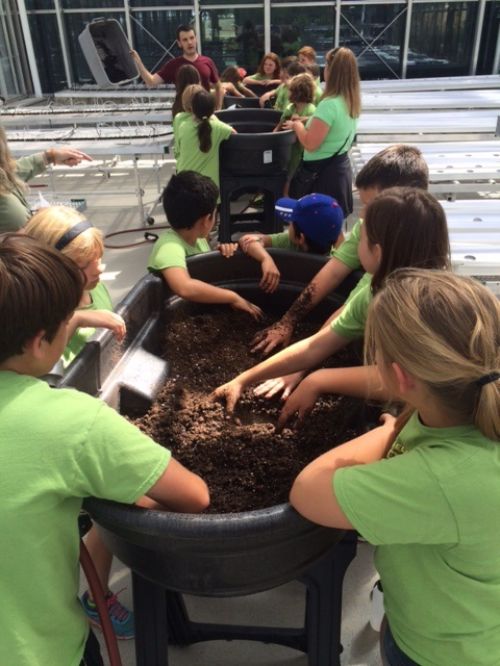 Courtney Cheers, Director of Lowell Area Schools' Wittenbach/ Wege Agriscience Center (WWC) and coordinator of the Lowell Junior Master Gardener program, brought nineteen elementary and middle school students to visit the Grand Rapids Downtown Market on August 4, 2015. Cheers worked with MSU Extension at the Downtown Market to host the field trip, which included a tour of the market, tastings of several food items, planting herbs in the greenhouse, and a food business concept activity.
The Lowell Junior Master Gardener program uses a 4-H curriculum developed by Texas A& M, which includes hands-on science, art, and math activities that compliment students' work in the WWC's vegetable garden. This was the group's first trip to the Grand Rapids Downtown Market.
MSU Extension organized a tour of the market for the first activity, which included a tasting of the Tropical Greens smoothie from Malamiah Juice Bar. "I really liked the green smoothie. We grow Swiss chard in our JMG garden and I'm glad I think it tastes good," said a fourth grader.
After the tour, the group headed upstairs to the second floor greenhouse. Mr. Josh, the assistant greenhouse manager, gave an overview of the plants they grow, which in August, included herbs (chives, wheatgrass, thyme, and basil), ornamental hot peppers and cherry tomatoes. All of these are sold to food businesses in the Market and in Relish, the Market's retail grocery store. Mr. Josh helped the students prepare a soil mixture to pot herbs for fall harvesting. Students learned that the ideal soil to moisture level for potting herbs occurs when water runs out and the soil stays in a clump when squeezed.
For lunch, the group was treated to a cheese tray by Aperitivo featuring a sheep's milk cheese and a soft Brie made with cow's milk. Michigan State University Extension also provided students with three Making Thyme side dishes: kale salad, quinoa salad and sautéed ginger snap peas. The quinoa seemed to be the most challenging for the students to enjoy. "I think it is a strange texture and maybe the strong onions," commented one Junior Master Gardener. However, many students asked for second helpings of cheese, kale salad and snap beans.
After lunch the students worked in teams of four or five to develop a unique business concept that would fit in the Downtown Market. Students were instructed that their business could not replicate products or services by an existing business and the business must have a strategy for paying rent, employees, equipment/supplies, insurance and utilities each month in addition to making a profit.
Crystal LeCoy, Incubator Kitchen Manager at the Downtown Market, worked with each group on developing their business concept. "I was really impressed with the creative business concepts that some of these students came up with," said LeCoy.
Some of the business concepts developed by the students, included: 1) Top Bun. A food business featuring hot dog buns topped with your choice of sweet syrups, sprinkles and whipped cream; 2) Artsy Fartsy. A paint your own canvas business featuring paints made from locally sourced fruits and vegetables. Professional paintings would also be available for sale; and 3) Around the World Bites. This business would feature pastries and iconic small plates from many countries around the world. Sold separately or as a package for parties and events.
Each group calculated pricing for their products and monthly sales benchmarks so they could be sure to pay their costs and turn a profit. We also discussed marketing strategy. Each group took home their business concept so they could work on developing a TV or radio commercial for their team's business.
Michigan State University Extension's Community Food Systems Work Team supports efforts to engage youth in developing Michigan's local food system. If you are interested in conducting an activity on food issues in your classroom, check out these lesson plans from the World Food Program. A lesson plan on youth entrepreneurship and business management from the University of Tennessee can be found online.