Meet Austin Struble: Alger County 4-H
A personal testimonial of the impact of Michigan 4-H from Alger County 4-H'er Austin Struble.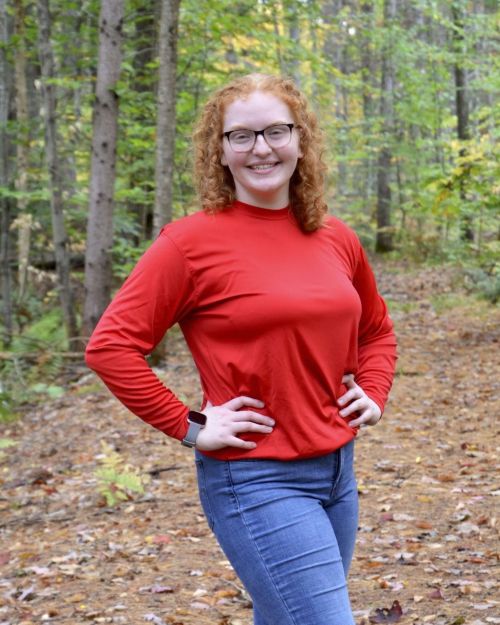 Austin Struble is an 18 year-old 4-H'er from Alger County. She's been involved in 4-H for the past five years, taking part in a variety of craft, community service, leadership and special interest programs. In the fall, she will enroll at St. Norbert's College in Wisconsin to pursue an education degree. The following is a personal essay Austin wrote at the conclusion of her senior year of high school as she reflected on the impact of 4-H on her life.
"4-H has not just affected my life, it is my life.
That probably sounds cheesy and you have probably heard that opening so many times but I do not think there is a better phrase to sum up how much 4-H means to me because of everything it has done for me. I have only been in this program for 4-5 years and how I wish I could be a member forever. The friendships I have made by attending my crafts, sewing, and service learning classes, going to Exploration Days, and being a junior counselor at 4-H camp is astounding and sure to last even as I move on in life.
I have not met a 4-H adult that was not inspirational or totally helpful in every way. I now think a little more about how easy it is for people to be left out or for them to be homesick, and how to help them overcome those mental blocks. I also learned the ways in which I can help the community around me in out-of-the-box ways. Even the smaller spin clubs like escape room, improv, gardening, yoga, self-defense, and more have allowed me to grow and expand both my connections, my heart, and my head.
I have learned problem-solving skills that I use in and out of my life, techniques to getting kids involved with the group, and ways to control my personal frustration when things don't quite go the way I think they will. My last in-person 4-H Exploration Days as a student has passed but in the future I hope to attend as an adult, helping students do and be just what I have been taught from the many amazing people in 4-H. I have learned how to communicate with someone using ASL, how to play quidditch and draw a pear, and I hope to learn as much this year at 4-H Exploration Days: Extended.
And finally, 4-H has given me a reason to keep smiling. A way to find the positive and to think clearly even when things are stressful.
4-H and the people in 4-H have shown me how to struggle and thrive because of it, how to smile even when the itinerary has been totally shreked, how there's nothing better than seeing a sad child smile, adults shine as they are given gifts or assisted with their yard, and how amazing it feels when something that was very time consuming comes together better than expected.
I cannot imagine what my life is going to be like as I go to college but I know I will never forget the people I have met, the things I have learned, and the experiences I have had in 4-H. I'm certain that 4-H is a major reason I am the person I am today. So thank you for giving me this opportunity to express how much 4-H means to me and how it has made my life change for the better in every way."