Michigan 4-H alum enroll in college at higher rate than their peers
Participation in Michigan 4-H builds life skills in youth through local and pre-college programs to enhance post-secondary education success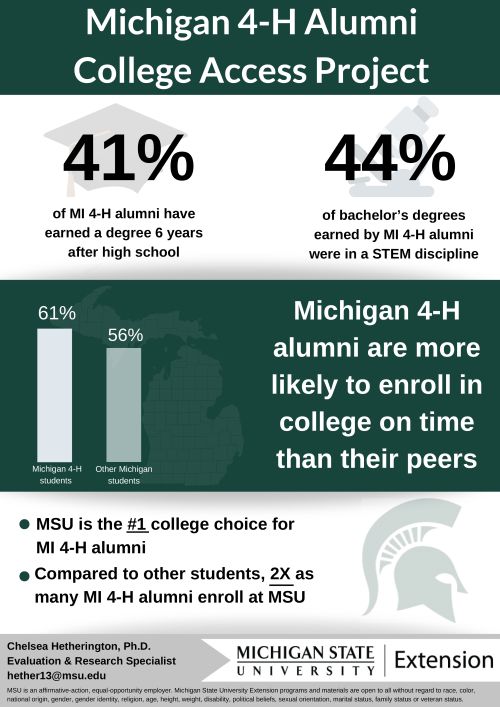 Engagement in the Michigan 4-H Youth Development program provides a supportive framework positively impacting youth college enrollment. According to the Michigan 4-H College Access Project 2018 Results, Michigan 4-H alums are more likely than other Michigan students to enroll in college on time (the fall after high school). Since 2009, 61% of Michigan 4-H youth have enrolled in college the fall after high school, a number that is higher than the average rate for Michigan students (56%). In addition, alum of all Michigan 4-H pre-college programs enroll in college at a higher rate than their peers. These are programs such as Renewable Energy Camp, Animal and Vet Science Camp, Great Lakes and Natural Resources Camp, Exploration Days and Capitol Experience.
Post-secondary education access and engagement is important. From the 2017 research study and report, "Promising Gains, Persistent Gaps: Youth Disconnection in America," "Too many young people face not one but many obstacles to educational or employment opportunities." In the state of Michigan, the 10 in 10 Years Goals and Strategies document, created in 2015 through the Michigan Department of Education, sets goals to move Michigan to be a Top 10 Education State in 10 years. As part of that plan, Goal No. 1 is to "provide every child access to aligned, high-quality P-20 system from each childhood to postsecondary attainment-through multi-stakeholder collaboration with business and industry, labor and higher education- to maximize lifetime learning and success."
Participation in Michigan 4-H programs helps youth build life skills for future success including in areas of planning, decision-making and learning to learn. Interaction with adults who are positive role models and encourage personal growth development in youth is also a benefit to the program. In addition, youth can envision their future through exposure to college and a variety of career paths. To get the most out of the 4-H program, enrolling youth in not only the local program but also statewide or national programs and events helps enhance the overall benefits for the youth.
Michigan State University Extension and Michigan 4-H Youth Development help to prepare young people for successful futures. As a result of career exploration and workforce preparation activities, thousands of Michigan youth are better equipped to make important decisions about their professional future, ready to contribute to the workforce and able to take fiscal responsibility in their personal lives. For more information or resources on career exploration, workforce preparation, financial education, or entrepreneurship, contact 4-HCareerPrep@msu.edu.