Michigan 4-H members celebrate April as a month of service
Across the state, 4-H members worked during the month of April to make the best better within their communities.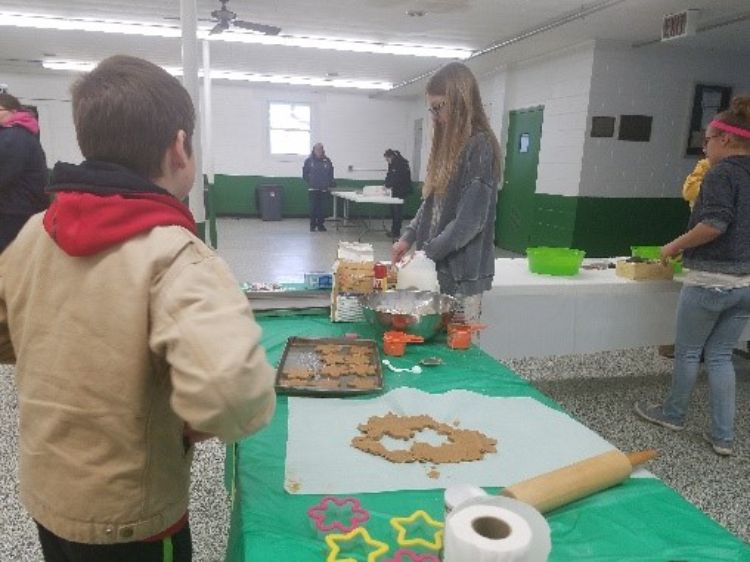 Every year, April is dedicated as a month of service for individuals, organizations and programs across the nation. Never passing up an opportunity to help others, Michigan 4-H members from all parts of the state stepped up to contribute to the nationwide effort of making the best better.
Within Marquette County, 4-H'ers worked to care for some of the 800 homeless people within their county by visiting a local homeless warming center and preparing a taco dinner with ice cream sundaes for dessert. With 18 4-H youth and six adults volunteering, they were able to serve dinner to 20 hungry people and later socialize with the individuals they served.
"I am so proud of these young people for coming together and giving their time and resources to help those who are less fortunate in our community," said Liana Graves, Marquette County Michigan State University (MSU) Extension 4-H program coordinator. "After learning more about the demographics of our area, we were all surprised to learn of the large scope of homelessness in our county, and I know many of us will be providing more dinners for them in the future."
4-H members in the Clover Crue, a 4-H club in Hillsdale County, also worked to solve a need in their county. With many of their local dogs residing in the Hillsdale County Humane Society, two teen leaders and an adult volunteer stepped up to make dog treats during a 4-H recruiting event allowing everyone to participate. During the two-hour event, over 50 participants baked more than 60 dog treats that went on to be donated to the humane society.
"It was easy and fun to make dog treats," said Brynn Harmon, a Clover Crue member. "It feels good to help other people and animals!"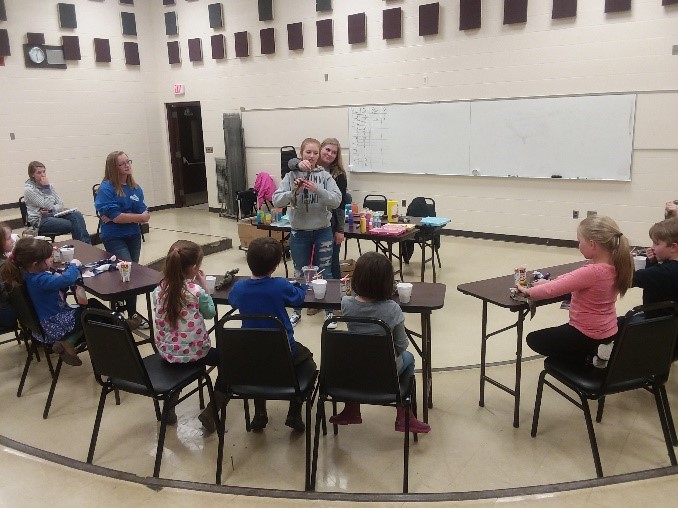 Similar to Hillsdale County, Iosco County served their local humane society by hosting a pet food and supply drive. Eleven 4-H clubs chipped in to collect 250 pounds of dog and cat food along with many cleaning supplies and toys that the Iosco County Humane Society needed. From hosting booths at their local Tractor Supply Co. to making their own dog toys, each of the clubs found their unique way to contribute to the drive. Thanks to the 4-H members' great work, the dogs and cats at the humane society were treated to the supplies that the 4-H'ers worked hard to collect.
"This project enabled Iosco 4-H members a chance to connect with another local service organization and gain an appreciation for supporting others and making a difference in the community," said Kelli Rau, Iosco County MSU Extension 4-H program coordinator. "Service projects enable 4-H members to learn the benefit of helping others and making a difference."
While 4-H'ers from Marquette, Hillsdale and Iosco counties were tackling feeding people and pets in their communities, Grand Traverse County 4-H members were cleaning up the Traverse City State Park. Seven 4-H members and five adult volunteers faced the blistering spring wind to pick up trash, rake fallen branches and pick up brush on the state park's trails. Collecting over three bags of garbage, the 4-H members made a positive impact on the environment during their day of service.
In Shiawassee County, the summer 4-H camp counselors assembled to help clean up Camp Neyati where they host their 4-H camp every year. The 4-H members cut and stacked firewood in preparation for upcoming camps, picked up branches, raked leaves across the grounds, painted the newly remodeled bathrooms and deep cleaned the kitchen and dining halls. The 20 camp counselors along with five adult volunteers helped make Camp Neyati a beautiful place to make memories for the youth in their community and the 4-H'ers that attend camp.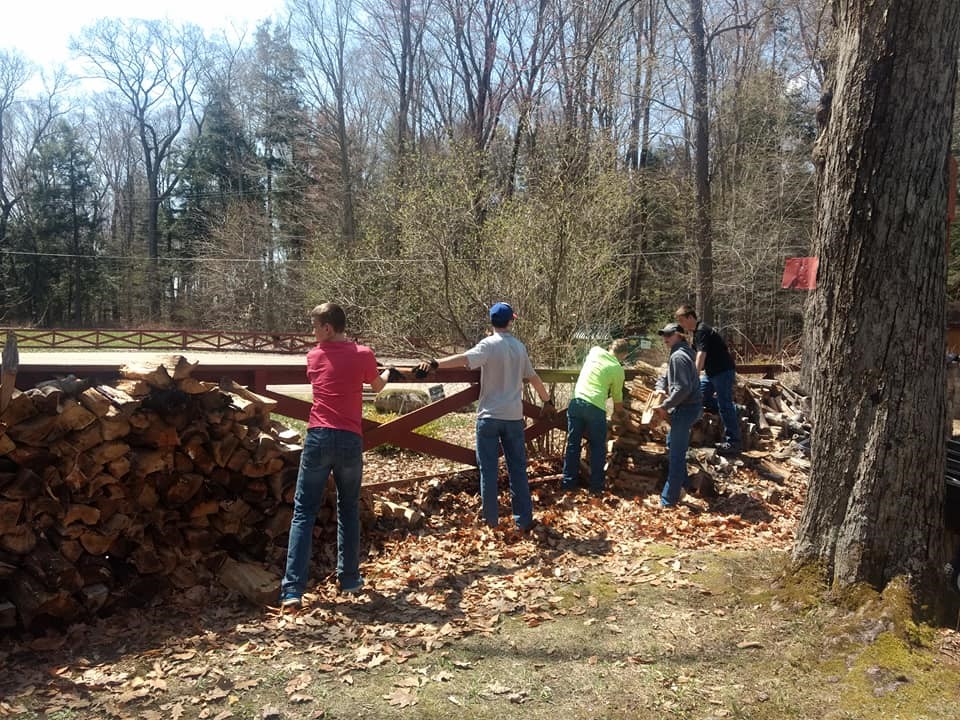 "Camp Neyati has hosted the Shiawassee 4-H camp for countless number of years and has given so much to our 4-H program and its youth throughout the years," said Nikki Hersch, Shiawassee County MSU Extension 4-H program coordinator. "The teens love to be able to show the camp staff what 4-H is all about by giving back to those who have helped them so much. This project allows our camp counselors to bond and give back to the camp all in one weekend."
Contributing to the great work during the month of service, the Macomb County 4-H Horse Program Committee cleaned up the park where they regularly show their horses. In preparation of show season, the 4-H members weeded flowerbeds, fixed gates and prepared the ring for show. Because of the 10 4-H youth and 13 volunteers that worked hard to ready the park, others within the community can enjoy the view and appreciate the 4-H'ers' hard work.
"Although our service project took place on a chilly Saturday, it didn't stop our hardworking and determined 4-H youth and volunteers from helping complete the long list of projects necessary before our show season started," said Mike DeFour, Macomb County 4-H Horse Program Committee adult president. "4-H came through again to help make the best better!"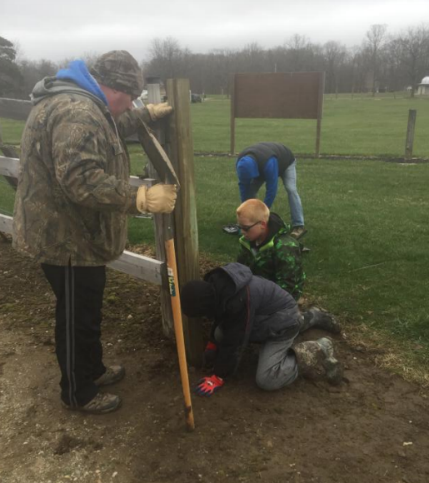 Also braving the weather to host a community service event during the month of April was Oakland County 4-H. Nearly 600 youth and adults participated in 4-H Discovery Days, an annual event made possible by a partnership with Oakland County 4-H and Oakland County Fair. Thirteen Oakland County 4-H clubs with over 100 youth and adult volunteers worked together to set up tables with demonstrations, activities and crafts for the public introducing them to 4-H.
"4-H Discovery Days is one of the cornerstone events in Oakland County 4-H," said Jason Scott, Oakland County MSU Extension 4-H program coordinator. "It allows 4-H'ers to develop life skills like leadership, responsibility and confidence by providing young families amazing hands-on learning experiences that aren't available anywhere else. It also opens the door to the communities of Oakland County to the many possibilities there are in 4-H."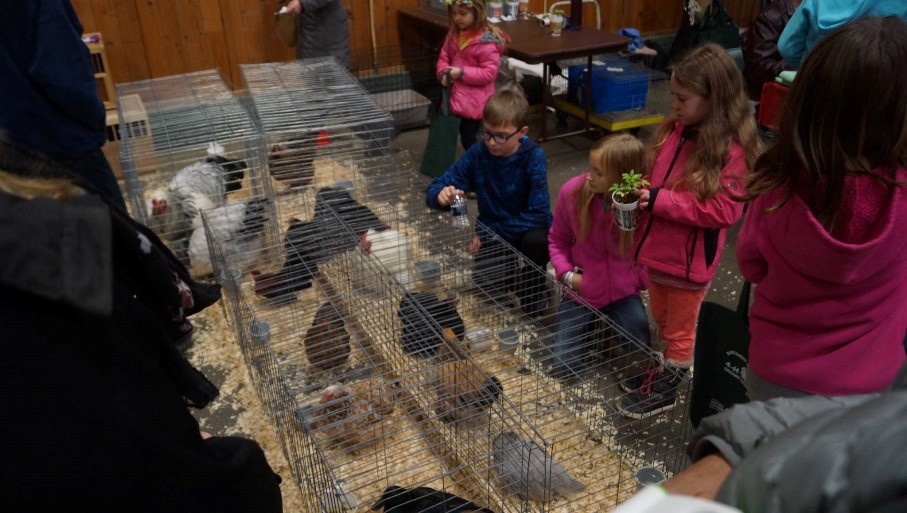 In Lenawee County, the 4-H Small Animal Board Committee partnered with Michigan Farm Bureau to educate fourth graders in their local schools about agriculture. During the two-day event, titled Project Red, 4-H members and adult volunteers organized educational stations that were visited by students from nine different school districts. The nearly 700 participants gained knowledge in everything from dairy to water quality as they rotated through each of the five stations led by 4-H members. Taking part in this service activity allowed the 4-H members to gain leadership and public speaking skills while educating the youth in their community.
From all regions of Michigan, 4-H members understand the importance of giving back to those in need, never holding back a helping hand. Throughout the month of April, 4-H'ers from these seven reported counties gave over 350 hours of service. Michigan 4-H'ers are proving to be a force of good within our communities, and regardless of the month, they can be found in our homeless shelters, our parks, our humane societies, our schools and wherever there is a need, striving to make the best better for our clubs, our communities, our countries and our world.