Michigan Dairy Ambassador Scholarship and Leadership Program applications for 2019 are now available
The Michigan Dairy Ambassador Program provides young people an opportunity to grow as leaders with a focus on the dairy industry. Applications are due Jan. 11, 2019.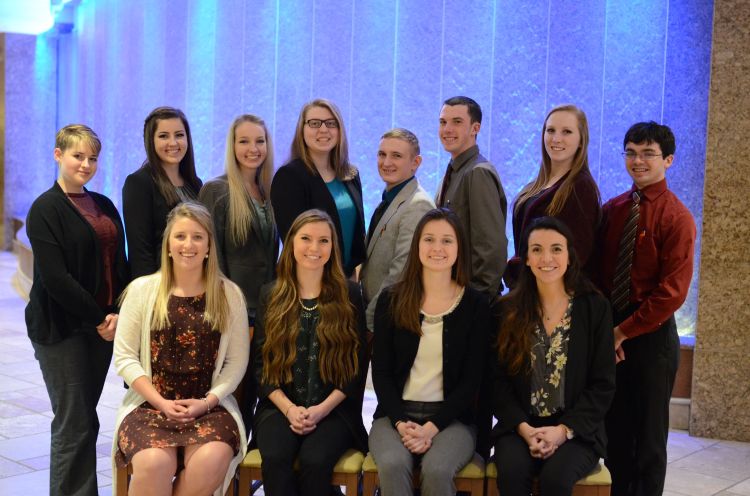 One of Michigan's strongest youth develop partners is the Michigan dairy industry. Local producers, co-ops, nutritionist and many others help to support and offer additional programming for youth. One such program is the Michigan Dairy Ambassador Scholarship and Leadership Program, a leadership and scholarship opportunity held in conjunction with the Great Lakes Regional Dairy Conference (GLRDC). The 2019 conference will be held at the Bavarian Inn and Conference Center Feb. 7-9, with the Ambassador program taking place on Friday, Feb. 8.
This Ambassador program is a fun way to meet other young, passionate industry members who hope to share dairy's great story. It offers leadership development, communication training, industry networking opportunities, scholarships, and much more for youth who have a passion for the dairy industry. To become an ambassador, youth should follow directions on the application and submit it before Jan. 11, 2019.
There are two age divisions for ambassadors, junior (9-12th grade) and senior (college students aged 22 years old or younger). The program runs throughout all of 2019 and scholarships are awarded based on participation in dairy promotion outreach, industry events and an interview with dairy industry judges at the 2020 GLRDC. Applicants should plan to attend the day-long training on Friday, Feb. 8 and will be 2019 Michigan Dairy Ambassadors, representing Michigan dairy farm families. The February training, in addition to other meetings throughout the year, will inspire and equip ambassadors with messaging and skills to practice and effectively communicate with consumers through multiple modes of communication.
As ambassadors participate in communication and leadership trainings, dairy events and dairy promotion activities, they will earn points with the opportunity to advance to being interviewed. Scholarship recipients will be selected based on their Dairy Ambassador application, resume, participation throughout the year, and the interview. Two scholarships will be awarded: the senior winner will receive $1,500 and the junior winner is awarded $1,000. Scholarships may be applied to higher education or the purchase of a dairy animal in the upcoming year.
Ambassador program participants do not need to come from a dairy background, however, they must be planning to pursue a career in the dairy industry. Scholarships is funded through a benefit auction held annually during GLRDC.
For questions or to find out additional information about the Michigan Dairy Ambassador Program, contact Jessica Welch at 248-474-6672, ext. 303 or jwelch@mimilk.com. Application may be downloaded from the GLRDC website (https://www.glrdc.org/ambassadors/, clip on APPLY NOW) or contact Megghan Honke Seidel at 989-666-3773 or 1glrdc@gmail.com. Applications must be submitted electronically to 1glrdc@gmail.com and will be accepted until Jan. 11, 2019
Today's youth will be the voice for tomorrow, thus it is important they have support and the tools to help them reach their fullest potential. Michigan 4-H, the youth development program of Michigan State University Extension, helps to accomplish this goal through programming teaching youth life skills, developing civically engaged leaders, preparing youth for future careers and employment, building science literacy, and much more to be successful adults. There truly is something for everyone and every interest in the 4-H program.